Carnival Miracle
6 day Mexican Riveria Cruise on November 1, 2015
| Date | Port | Arrive | Depart |
| --- | --- | --- | --- |
| Oct 31 | PHX-LAX, then Hyatt Regency Long Beach | | |
| Nov 1 | Long Beach, CA | -- | 4:30 pm |
| Nov 2 | Fun Day at Sea | | |
| Nov 3 | Cabo San Lucas, Mexico | 9:30 am | 4:00 pm |
| Nov 4 | Puerto Vallarta, Mexico | 9:00 am | 9:00 pm |
| Nov 5 | Fun Day at Sea | | |
| Nov 6 | Fun Day at Sea | | |
| Nov 7 | Long Beach, CA - rent a car and drive home | 9:00 am | |
April, 2013 we were booked on the inaugural sailing of Carnival Sunshine (blog for that cruise). About three weeks before we were supposed to leave for Europe, I saw a FaceBook post the cruise had been cancelled. It took a few days to get through to Carnival to hear that yes it was cancelled and they would refund our expenses and provide us with a 25% off a future cruise. I really think that was a crappy offer given the travel planning for a European vacation but it's what they gave us. It's taken 2 1/2 years to even consider sailing Carnival again but we will try. I still don't trust them but I love cruising and there are aren't many options from the West Coast anymore. We booked this cruise less than 3 weeks before the cruise departs so not much pre-planning but this is our trip report
We found very affordable flights on SouthWest airline, one way direct for either $49 per person or 5,000 points. So that began our adventure!
Packed and ready to go.
So we left our dog Sport with "Grandma Sharon" (our neighbor). He wasn't even sad to see us leave. Grandma Sharon has a golf cart and takes him for daily rides around the neighborhood on the golf cart.
Easy flight on SWA, on-time, luggage arrived. Drinks were free for Halloween!
At LAX we caught a cab to our hotel. This was Halloween night in Long Beach, CA so it was interesting! I used points for a free night at the Hyatt Regency. Points were earned when my boss sent me to Connecticut for 2 weeks in January (stayed through two snow storms - there is a reason we live in Phoenix!)
Hyatt was awesome and we had a great room with a view of the port.


We went out to explore and when we came back there was a complimentary cheese and wine set up with a thank you for using points to book a room.

We walked around Long Beach, went to the store to buy some Coke Life to take onboard ship. Then we went walked around the waterfront looking for dinner. Being Halloween there were lots of parties, but also very touristy. We ended up at Texas Roadhouse for a more peaceful meal. Back to the room where we saw an incredible nighttime view.

Then a wonderful sunrise view and watched the ship returning from its previous cruise dock at the pier.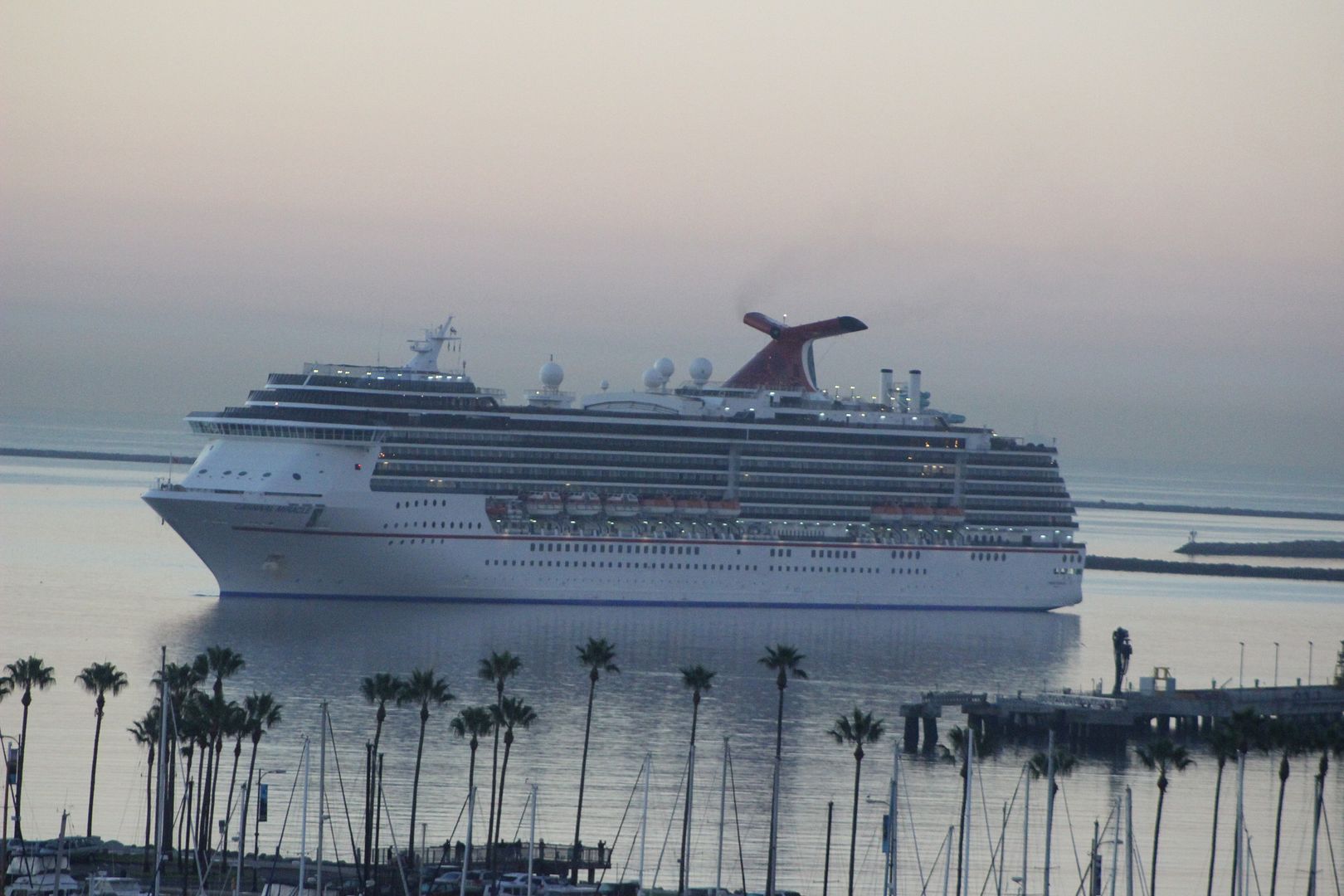 We had a nice breakfast at the hotel, packed our bags, requested a late check out, walked around a bit, then went to our room to watch the University of Louisville football game. The game went well into the afternoon so about 11 am we checked out and asked for a cab to the port.

The beginning of the madness: We exited the cab and went across the car lane to a madhouse. People going every which way and a tall blond woman screaming at people to go back to the other side of the parking garage and get into another line. I was hurting a bit from all the walking last night and this morning in heels so I sat down while Terry stood in line. About 10 min later he gets to the blond woman who tells him its ok, he can enter the building. As I sat there, lots of people bypassed the blonde lady's line to just walk into the building so I have no clue why she was screaming at people to line up to go in the building.

Yeah - we are in the building! Wait....another line. OK, so we get into the line for security and after a bit, we get our bags scanned and we walk through the metal detectors. There were folks in line with large suitcases as it wasn't very organized out front and they didn't know they had to go into the parking structure to leave bags with a porter. We wouldn't have known if the taxi driver hand't told us. You can imagine how angry they were after standing in the line so long already.

Yeah... through the metal dectors, into another room and oh wait - another line. OK so this line isn't so long. At the front on this line there is a woman who sends you to stand in a line behind a pole with a number. The staff often chatted with each other as other employees came out to discuss something. This caused folks in the previous line to not understand the system and skip the numbered poles and just walk into the next room. I was starting to get angry seeing all the people skip lines because of the disorganization. So yes, we stood in line at the pole marked number 7 until they called our number and we could go into the next room.

Yeah..... finally into "the room" but wait..... another line. Yup, lots of very cranky people now. This line was set up with stanchions that just went back and forth until you finally get to the check in desk. We made it! Almost 2 hours standing in line after line after line. We got our sign and sail cards, and walked toward the ship. Yup... a line to get on the ship.

Good news - the rooms were ready so we went to our room and dropped off my backpack and Terry's carryon. We had a great view of the Queen Mary next door.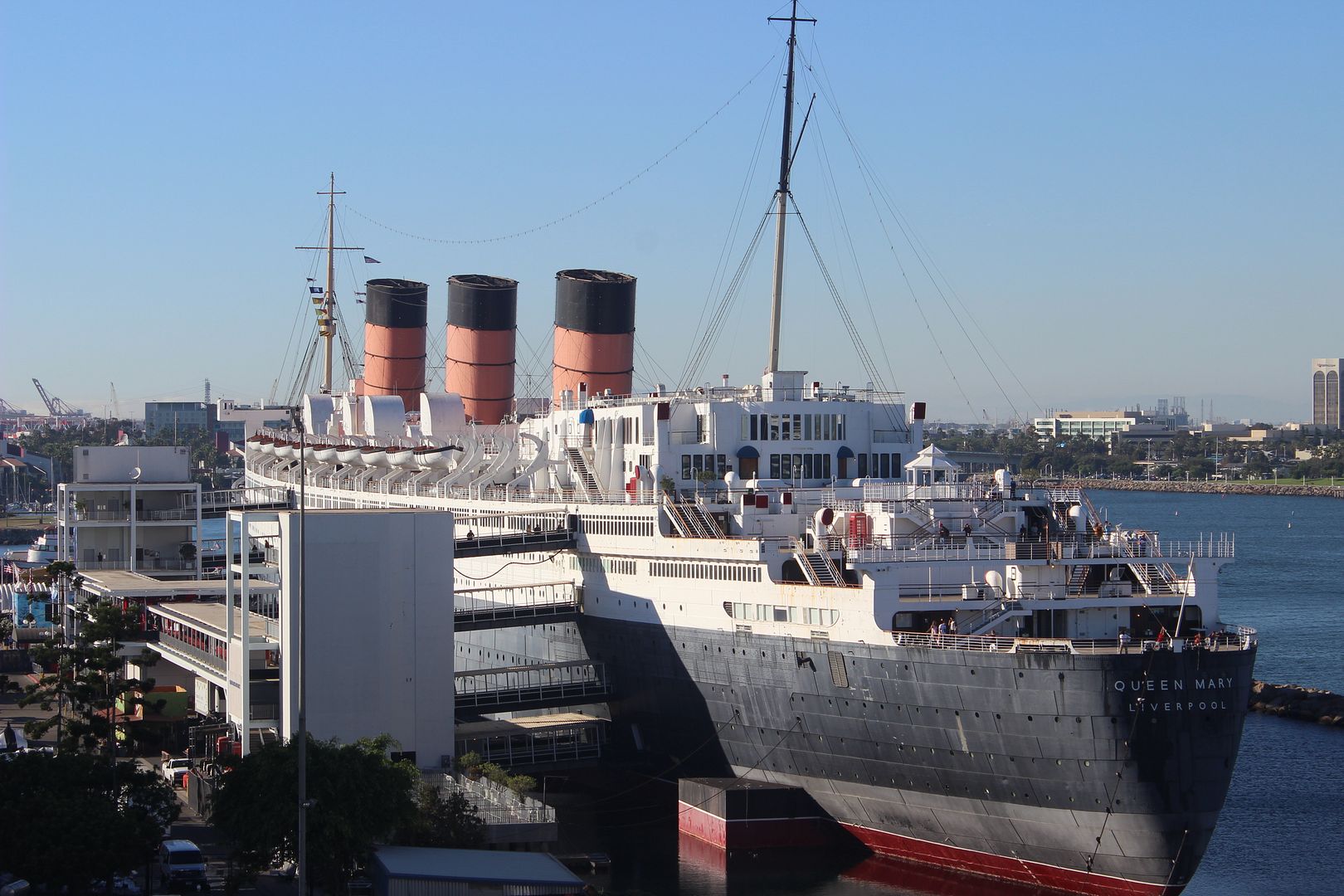 Nice view of Long Beach from the ship.


The room was nice but I did NOT like the balcony. The family next door had 2 cabins to accommodate their children. Most of the time they were in the cabin next to us or on the balcony. Because the dividers weren't fitted, the kids could not only watch us on our balcony but also look directly into our room if they stood on a chair or the small table. I almost never close the curtains in the room because I want the view. But the kids next door could watch us at anytime. This was a bad design in my opinion. The two twin beds pushed together had nothing to cover the gap in the middle and you could definately feel it! The bed was hard yet saggy in the middle - It was so nice to get home and sleep in a good bed!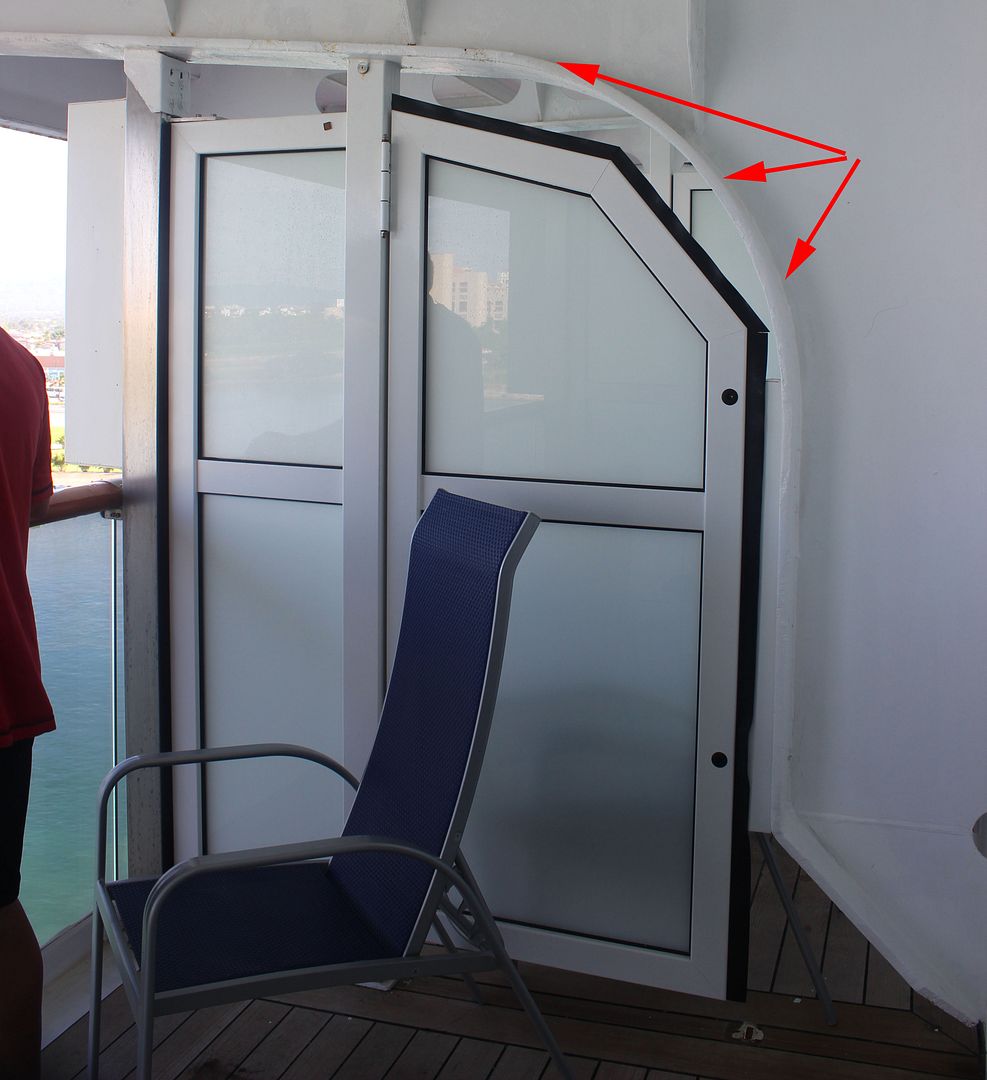 We went to the buffet for a quick bite of lunch since it was about 1:30. The layout of this ship is difficult. The buffet has lots of bottlenecks and is very small and crowded. I was disappointed the salad bar was so small, just one short section about 6 feet long maybe.




But we had a small lunch, then wandered around before muster drill.

Muster drill was interesting. We stood for about 30 minutes after being lined up several rows deep on the outside deck. The sun was directly on us and it was getting hot, even for October. An elderly lady behind us had to sit down as she wasn't feeling well. We got the attention of the crew and they just asked her to "hang tight" until it was over. Well, the safety briefing was quick but we stood for 30 minutes either just waiting for the next "announcement" or listening to the "announcements" most of which were about ship policies and sales opportunities. I'd guess about 70% of the "announcements" had nothing to do with the safety briefing. So the poor lady who wasn't feeling well was forced to sit on the deck in the sun in a crowd to listen to these "announcements.

I didn't like the way the safety briefing was done, but now it was over. We rested until our suitcases arrived, then explored, and dressed for dinner.

It's been a few years since I'd been on a Carnival cruise but the menus were still the same. Here is a sample from the first night.


And of course food pictures!


Picture of the ship.


Our towel animal for the evening.


Breakfast the next morning from the buffet.


After breakfast, we grabbed a few chairs on Serenity to try and get some sun. This was a bit of a challenge as lots of the furniture was either broken, stained or missing pieces. One chair stained Terry's shorts which wasn't fun, but it was a bargain priced cruise.


For lunch, we had pizza. This was the highlight of the food onboard - Oh my was it good and the caesar salad too! I had the four cheese pizza almost every day!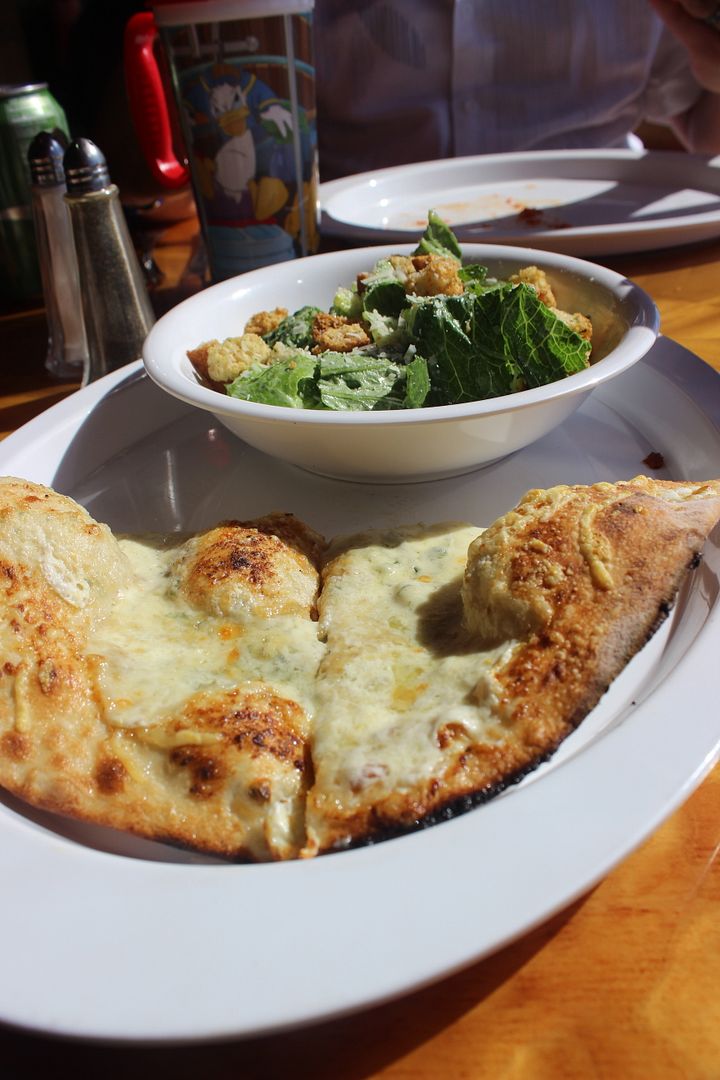 A nice afternoon nap and sunset from our balcony.


Cabo San Lucas! Beautiful bay.


Tendering was a painfully slow process. It took a couple of hours and we were one of the first to get "non excursion" tender tickets. Lots of sitting around waiting for them to call our number. There were 2 other ships in port with us including Holland America Veendam. The last time we saw this ship, we were in Malta and it was in dry dock. Funny running into her again half way across the world almost.


Finally in Cabo!


We walked until we found Cabo Wabo Cantina - it was very crowded!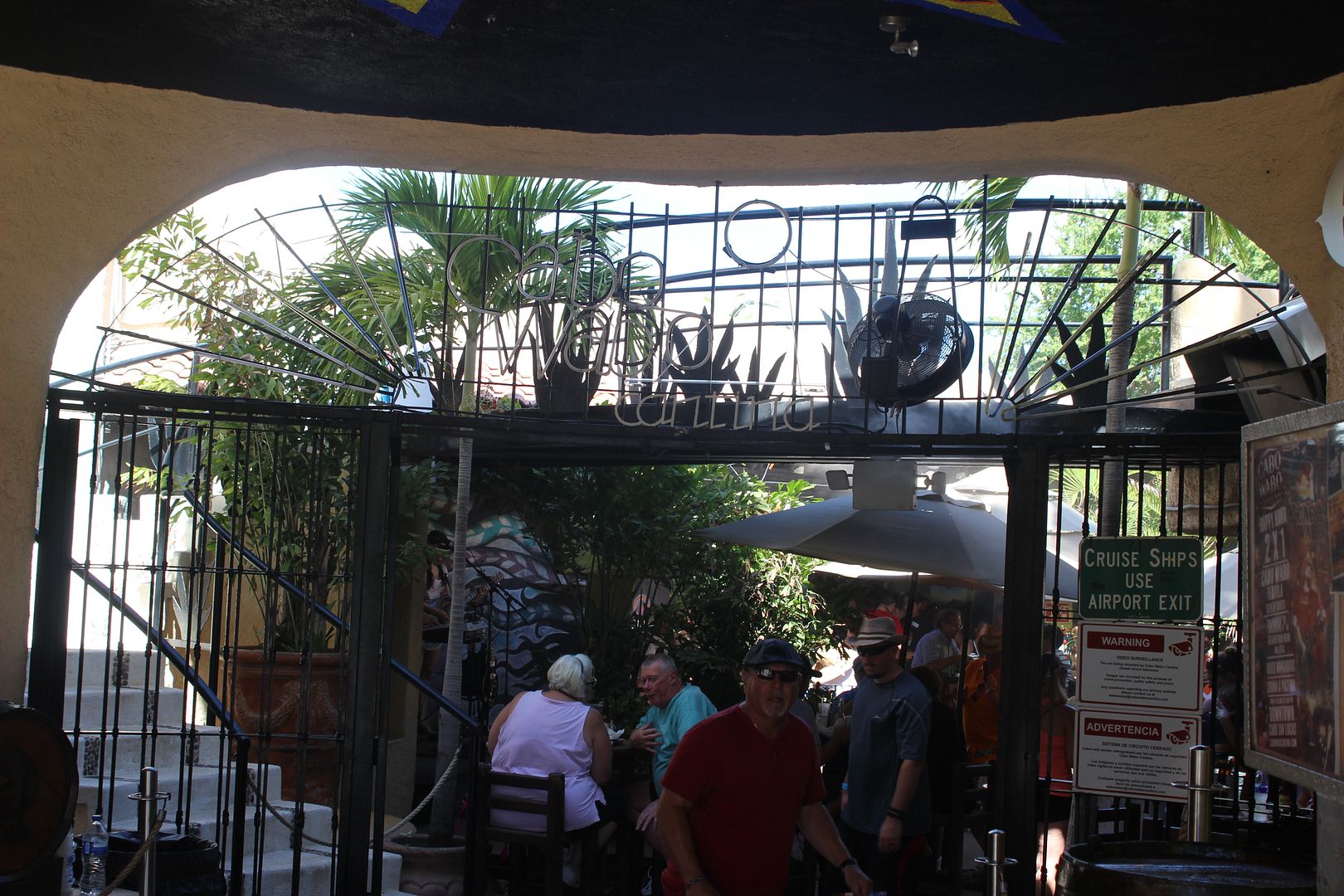 A very nice couple offered to let us share their table since there was no tables available. Candy and Bob quickly became friends and we had "a few" margaritas. I think we had nachos and I ordered a fish taco which was REALLY good!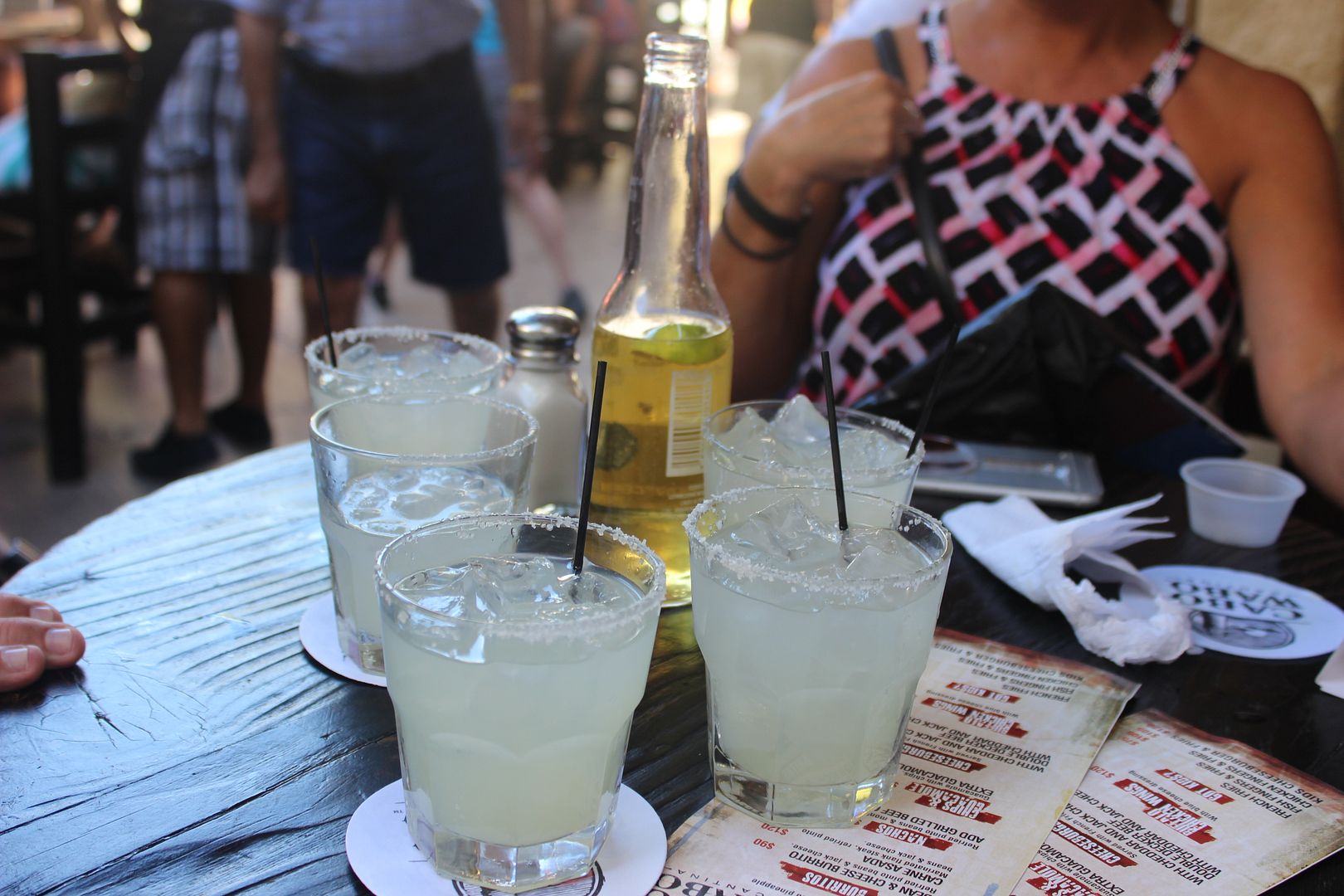 Terry with Candy and Bob.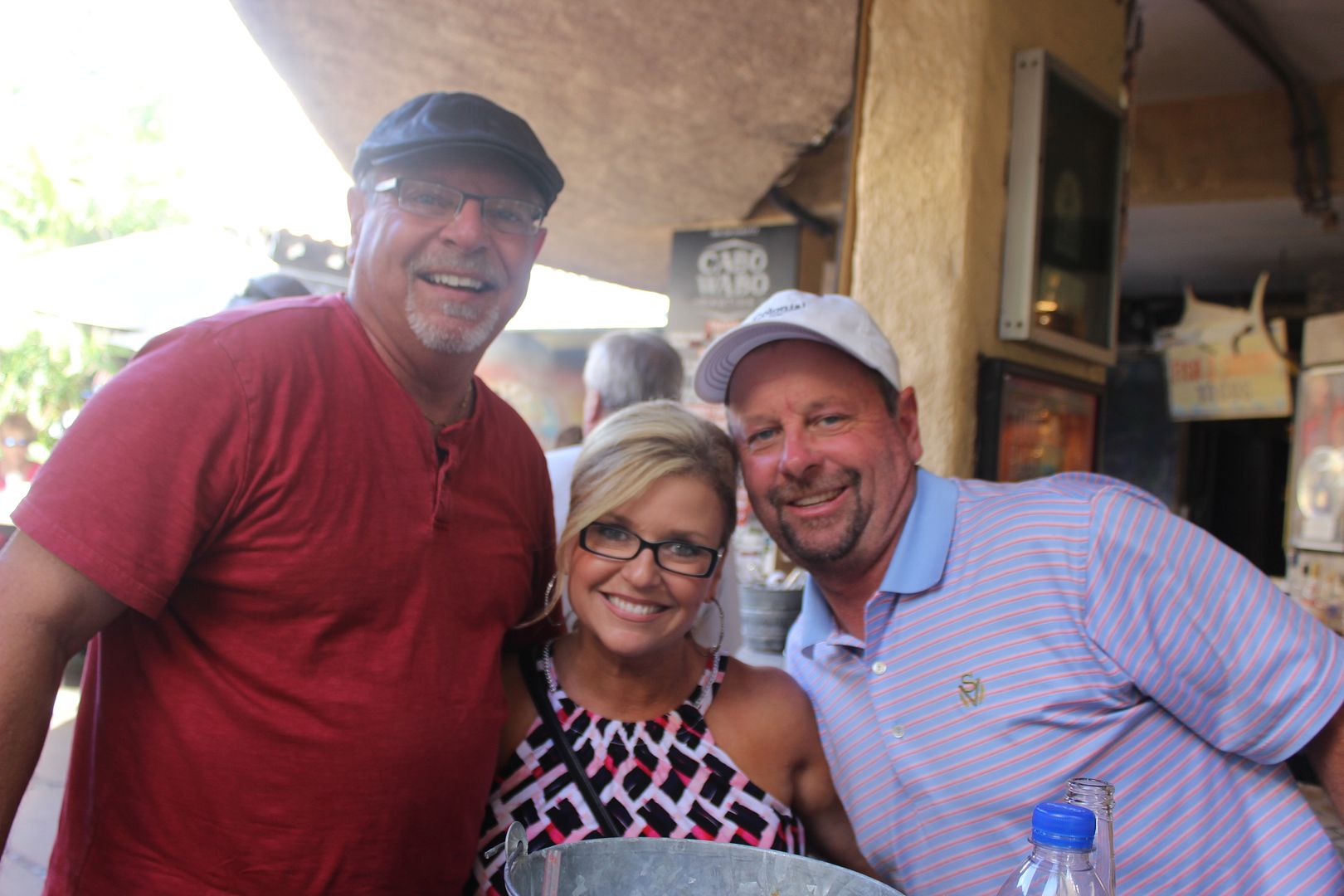 I am very vague on getting back to the ship but apparently we did make it back, in tact and with most of our money since I shopped on the way back (I hate shopping). Got a great fishing t-shirt for my son Brian since everything in Cabo seemed to be fishing related. Terry bought a Christmas ornament and maybe we bought other stuff but am not so clear. I'm not used to tequila!

Tender back to the ship.


We slept for a bit, then went to dinner. So yes, more food pictures!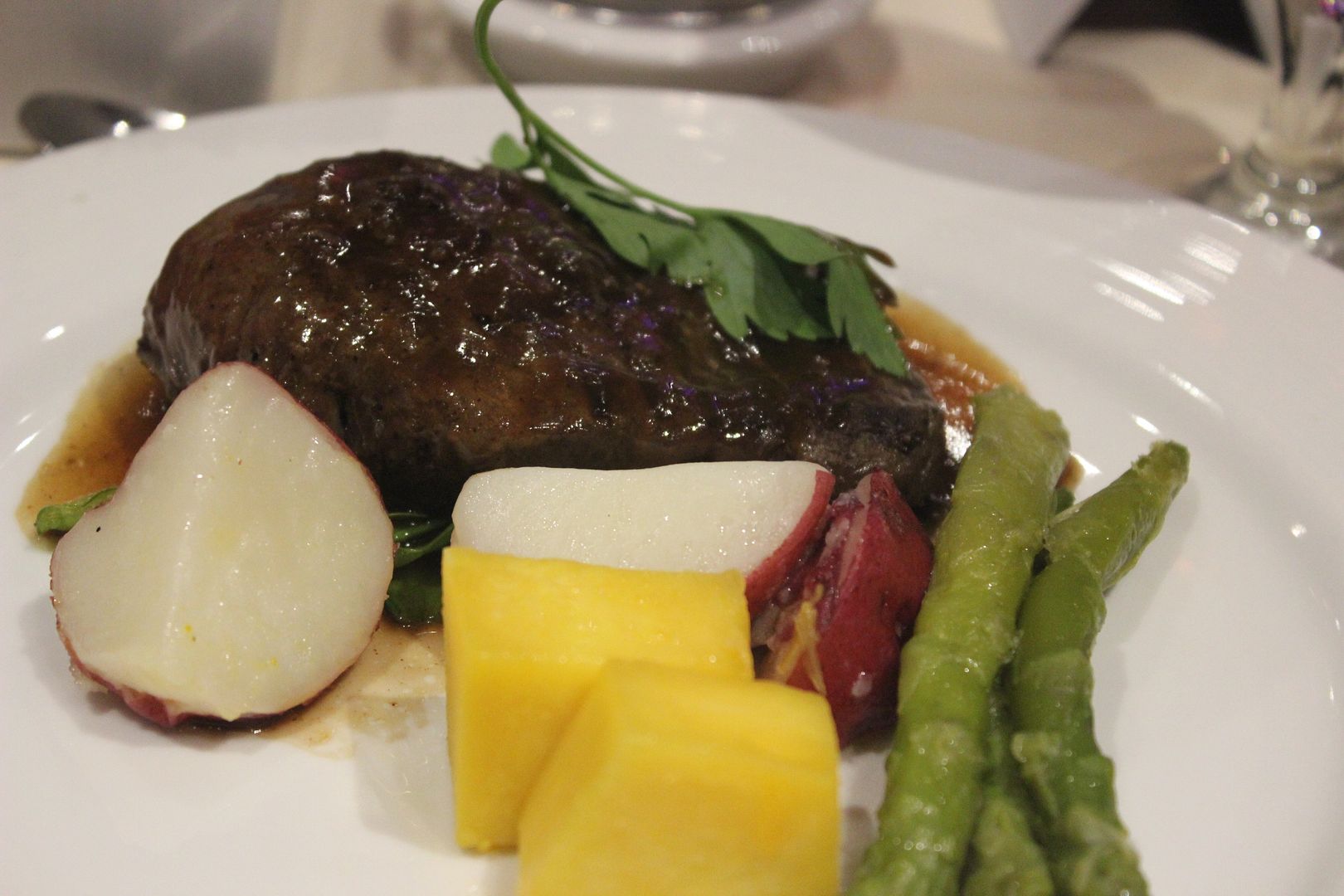 I don't remember that evening as I think we were "recovering from tequila". Great thing was... I didn't have a headache the next day! Gotta love Cabo Wabo tequila. The next day was Puerto Vallarta - yeah, we are docked, no tender!!


This was our favorite port and we plan to come back here some day. It was a bit hot but this was not like the other ports we've been to in Mexico. It was very tropical, more jungle like (including humidity). But the beaches and the people were so nice! We had breakfast and headed out. So, I was having a hard time with the coffee on the ship. Even the premium coffee tasted "ashy" to me and burnt. So today we walked off the ship and just started walking down the street until I found a coffee shop - Starbucks of course.

But first - the mariachi band at the port - very nice and fun. Some shops at the port - I love these gauze shirts and did buy a few. They travel well, don't need to be ironed and are cool in hot weather.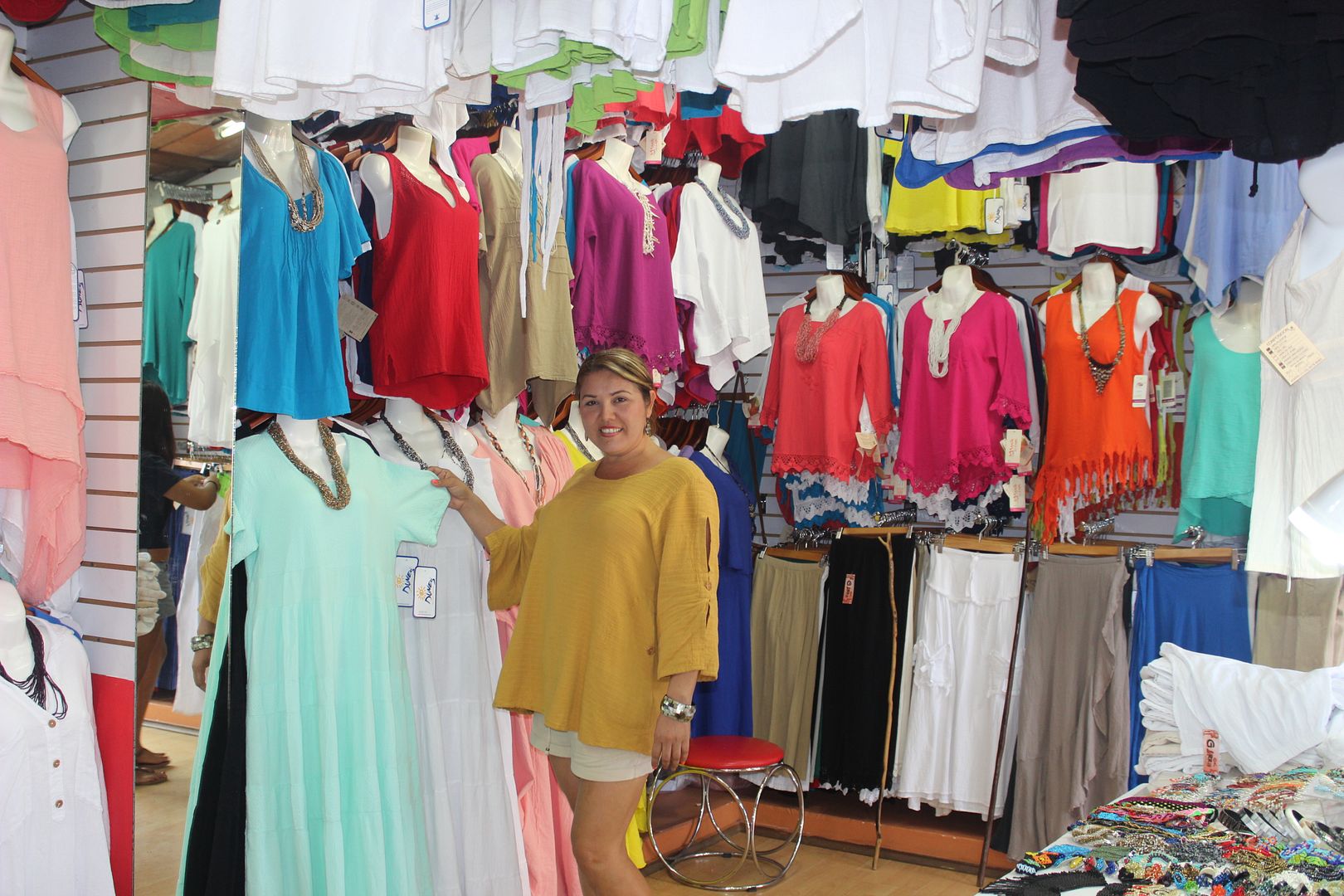 An old VW with Porsche hubcaps.


I got a coffee, we rested and checked email. Then we left to keep walking - no plans, just walking to check out the town. We eventually found a small pizzeria and by this time it was almost lunch, I was hot and we were tired. We stopped for pizza and a cold soda. The owner was a nice lady for Arizona who retired to Mexico to open the pizza shop.