Thank you for giving us a great excuse to have another adventure!

This is our trip report for the "girls trip" which is mom and I celebrating her milestone birthday (not saying which one)
Day
Date
Location / Activity
Thurs
Oct 20
Flights MIA - LHR - AMS
Fri
Oct 21
Arrive in Amsterdam - Hyatt Place Airport - arrive in AMS at 5pm local time
Sat
Oct 22
Amsterdam - Hyatt Place Airport
Sun
Oct 23
Amsterdam - Hyatt Place Airport
Mon
Oct 24
9:33 am Train to Barcelona via Paris - Hilton Barcelona
Tues
Oct 25
Board the ship - Celebrity Equinox
Wed
Oct 26
Cartagena, Spain
Thurs
Oct 27
at Sea - Knitting 10am - noon Martini Bar
Fri
Oct 28
Agadir, Morocco - tour with the cruise line so we keep it safe
Sat
Oct 29
Arrecife, Lanzarote, Group Tour with Rini - pay Michael middleton in 7320 - 140 Euros The guide will be waiting at 0115. ...with a sign INDRANI MUKHERJEE
Sun
Oct 30
Tenerife, Santa Cruz, Canary Islands - Northern Highlights tour with Patsy Little - contact is Portia Hirschman cabin 2105 Meet at Passport bar @0845
Mon
Oct 31
at Sea - Knitting 10am - noon Martini Bar
Cabin Crawl 2:30 pm
Tues
Nov 1
at Sea- Knitting 10am - noon Martini Bar
Wed
Nov 2
at Sea
Knitting 10am - noon Martini Bar
Silk Harvest Group Dinner @ 7pm
Thurs
Nov 3
at Sea - Knitting 10am - noon Martini Bar
Fri
Nov 4
at Sea - Knitting 10am - noon Martini Bar
Sat
Nov 5
at Sea - Knitting 10am - noon Martini Bar
Sun
Nov 6
at Sea - Knitting 10am - noon Martini Bar
Mon
Nov 7
Fort Lauderdale - fly home
I didn't start packing until just a few days before the trip. I had one 29" hardshell case, my Pacsafe backpack and a tote bag carryon.





My packing starts by just throwing everything on the bed, then sorting into piles and using vacuum bags to condense if needed.

I organized packing this year so everything I would need while in Amsterdam would fit into one vacuum bag so when I opened my suitcase, I only removed one bag and the rest would stay organized. Clothes just for Amsterdam:


And of course my dress collection and vacuum bags ready for the suitcase

Bathroom stuff also organized and all set to go!
The plan - I would fly from Phoenix to Miami, mom would fly from Orlando to Miami and we'd meet up in Miami for our trip across the ocean. Well, to make this work, I had a redeye flight. Every time I do one of these, I always swear no more redeye flights. As I get older, it's harder to sleep and then I'm awake but exhausted. For some reason, I am very antsy on a long flight where I can't seem to rest. The Phoenix to Miami flight was a bit bumpy but not bad. We arrived on time and since I had a few hours to pass, I walked all the way to the premium lounge in Terminal E at Miami. It was larger but older and the staff was very nice. It was VERY cold though. I found a quiet corner for a little rest and watched election coverage. After a few cups of coffee, I left to meet mom at her gate. It was so good to seem mom again! We proceeded to the American lounge in the D Terminal and after a short time, decided to make the journey back to the E lounge where they had switched service over to lunch with a full open self service bar! Great food and we hung out for a while before going to the gate.
So yes, I ended up splurging and upgrading to business class for our flight. I was so thankful for this opportunity after not getting any sleep the evening before. We boarded the plan and tried to figure out how the seats worked. We were facing backwards which was new to me. Take off and landing made me a bit nauseas, but other than that, it wasn't bad.
Dinner on the flight was really good!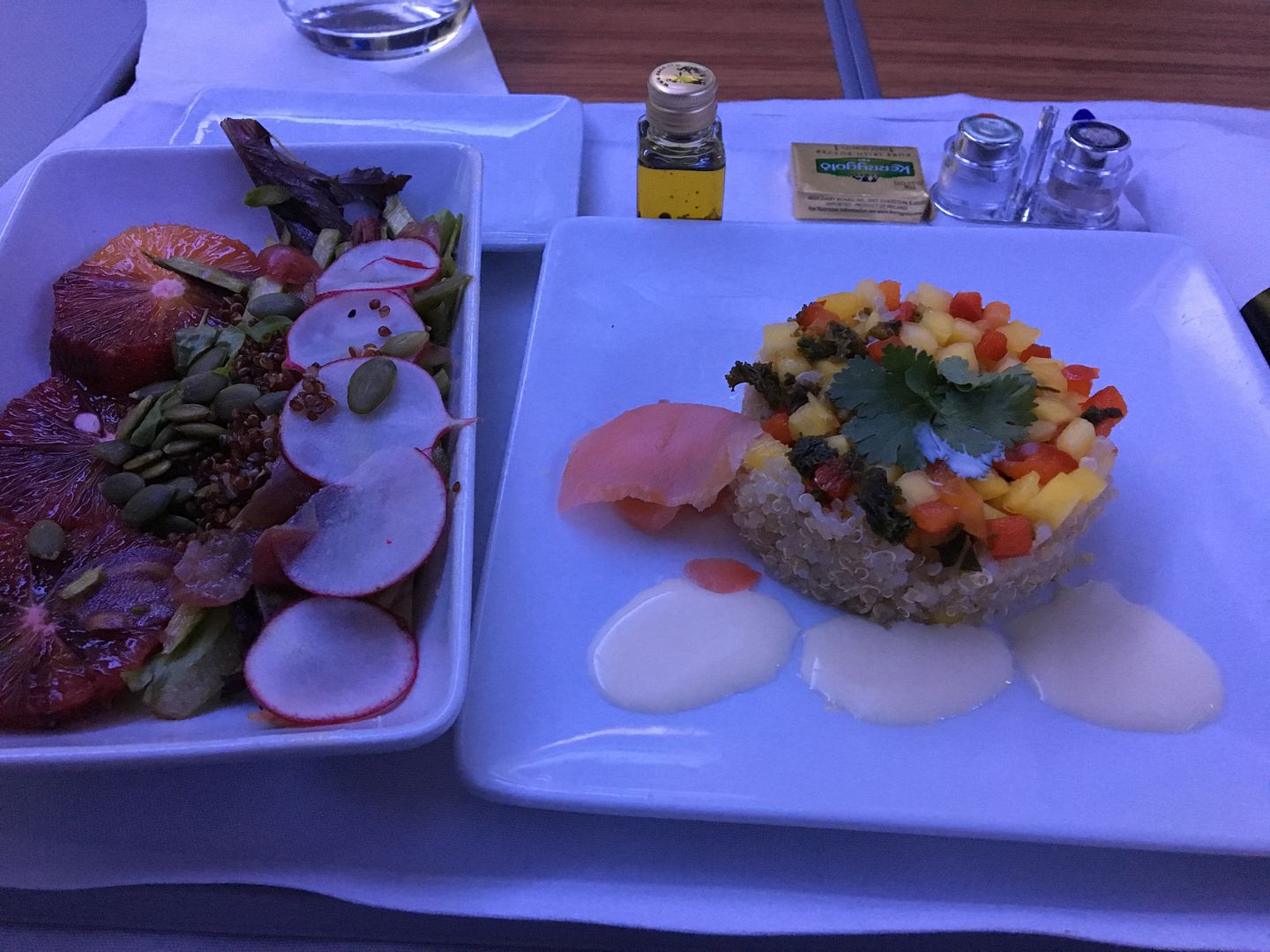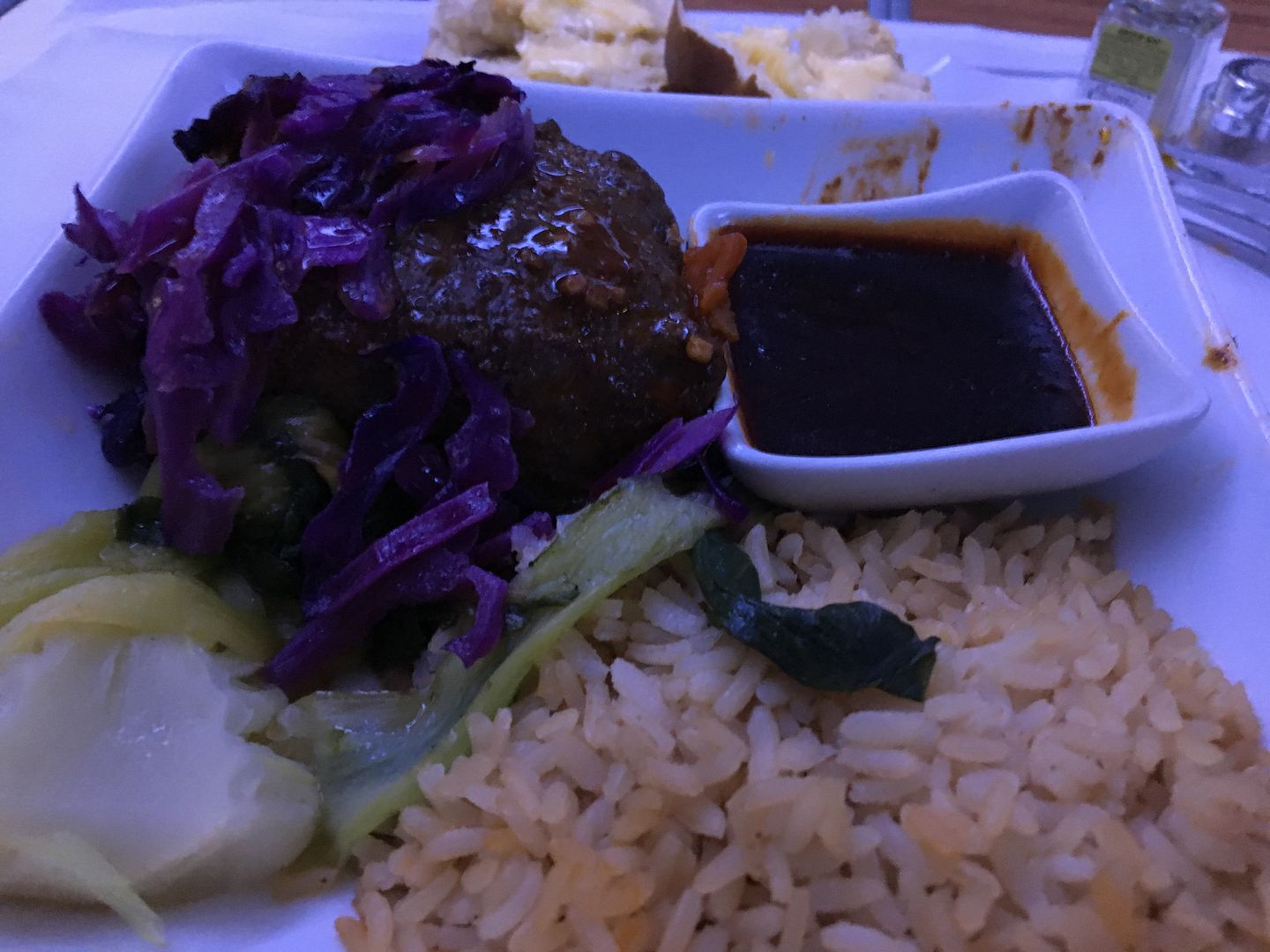 After dinner I set the seat to lay flat and slept pretty well except somewhere I lost an earring. The next morning the flight attendant almost tore the seat apart trying to help me find it but no luck. If anyone sees the match to this Silpada earring, let me know? Thank you.
And while we are at it, I lost the match to this in Rome airport earlier this year!
Breakfast was not so good, I couldn't even begin to describe the eggs, although the rest was not bad.
We arrived only a little late in London, then the Heathrow experience began...... On the plane, we had 2 cards, one for immigration fast track and one letting us know we could use the welcome lounge to take a shower. Since we had several hours, we definitely opted for the shower. Given I had 2 overnight flights in a row, I really wanted a shower. At Heathrow we walked for ages down corridors. We stopped and asked the employees at the help area if we could use the AA Welcome lounge since we had a connecting flight to Amsterdam. After conferring between themselves, they pointed us down a hallway to the door on the left. We followed and found ourselves in a small security checkpoint. We went through to find we were in T3 International departures. OOPS. We walked through out the security area and finally found the lounge but lots and lots of walking and confusion with staff over our question of how to find the welcome lounge.

Finally, at the lounge! Showers were available immediately and it felt so good to take a hot shower. I used the service offered to have my shirt ironed and then we went off to breakfast in the lounge.


After breakfast we started looking for T5. A quick train ride, another security screening and we were there. There was no gate assignment and seating in the terminal was very difficult to find. I don't like Heathrow at all. We never found any assistance for helping disabled passengers or persons with mobility issues. You just have to walk and stand and wait. Have I mentioned I really hate Heathrow airport?

Finally, a gate assignment appeared and we set off to the gate. I will say boarding was very organized and not like boarding the U.S. where everyone crowds the gate area. A short flight later we were in Amsterdam. British Airways did serve us tea on the flight and I discovered I really like cheese and caramelized onion sandwiches!
Another very long walk but we collected our luggage in Amsterdam and headed for the shuttle to the hotel. Hyatt Place shuttle pick up was a shared room at the end of Arrival Hall 4 where we could sit and wait for the shuttle in a nice climate controlled area. The shuttle drivers stop out front and actually come into the waiting room to call for anyone using their shuttle. I love the organization of this system. Was such a nice contrast to standing outside and trying to find the right spot on a crowded curb for your shuttle.

Check in at the hotel was easy and we were in our room very fast. I unpacked quickly as I had one vacuum bag in my suitcase with all my "Amsterdam" stuff.. Mom and I then headed down to the bar for a drink and a quick dinner. We were too tired to think of going out. We tried the dutch sampler, however fried food after long travel days is NOT a good idea. We called our friend "Ron" who lives in Rotterdam and agreed to meet him at 9:15 in the morning. I think we were in bed by 8pm that night.


Saturday, October 22, 2106 - Amsterdam

Neither of us slept well, guess it was just too much excitement, exhaustion and strange places but we were up at 4 am chatting before finally falling back to sleep only to be awaken by housekeeping entering the room. They must have knocked but we were dead asleep. They quickly retreated and we fumbled for phones to find the time.

Uh oh..... it was 9:20 am! I ran to the shower only to hear the phone ringing. Mom answered and Ron was in the lobby waiting for us. We were dressed and downstairs in 20 minutes. A quick breakfast and we were off using the hotel shuttle to go back to the airport where the train would take us to downtown Amsterdam.

About Ron.....

Ron used to work with my mom at a restaurant in Florida about 30 years ago. I vaguely remembered him but he was a good family friend and offered to take time off work to show us around Amsterdam for our visit. He was so nice, patient and thoughtful that Ron really did make our Amsterdam time enjoyable. He spent a lot of time researching things to do but mom and I weren't so focused on what to do other than just soak up the atmosphere and see what Dutch life was all about. I found Ron to be super smart, very well dressed and a bit of a smart ass, in a good way of course. He was a great tour guide.

We took the train into Amsterdam and Ron had gotten us day passes for the trams as well. We rode trams, walked around and explored. I was fascinated by the canals of course.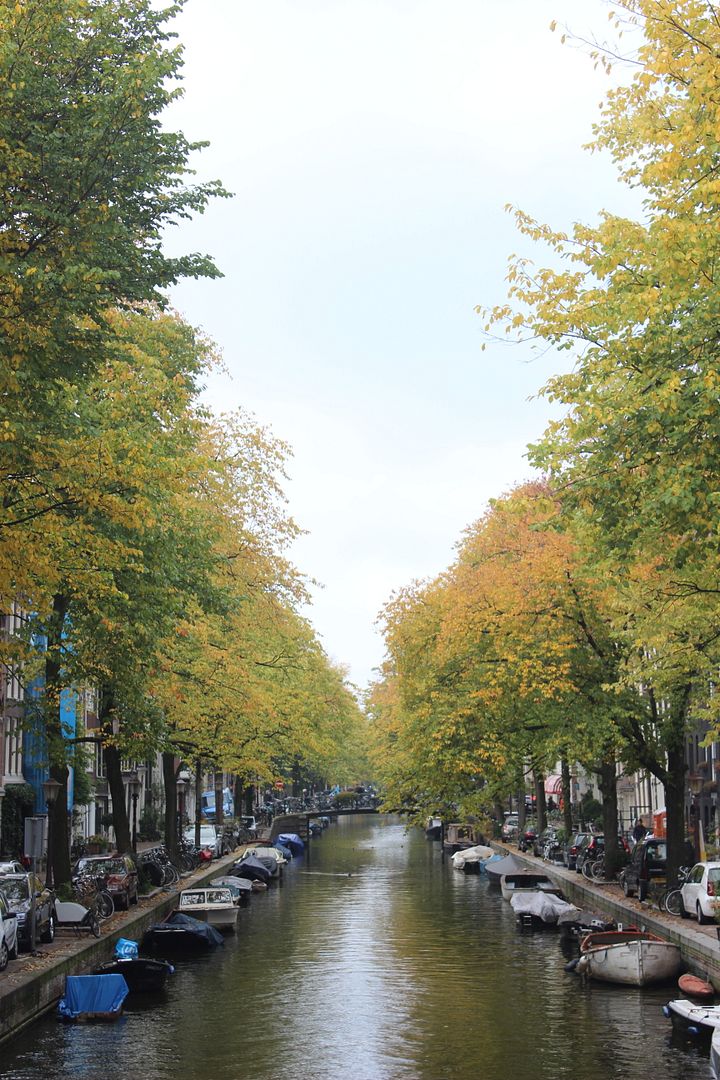 One of the first things we did was find the place where President Bill Clinton had apple pie - Papeneiland Pub. Mom and I didn't know anything about this but Ron had done his research. We sat at a small round table with 3 other locals and Ron ordered our pie. This was my first time having Dutch Apple Pie and now I get it! Mom and I started analyzing how we could make that Dutch Pie and crust ourselves. It was so good I completely forgot to take a photo before devouring the entire thing! I did get a quick photo of part of the restaurant as we left, but the place was very small and so full of people i couldn't get a photo of much else due to me being very short and everyone else being so much taller!
We did walk to the Anne Frank house but because we had not bought tickets in advance, we couldn't get in today. Ron had warned us but we didn't listen as we didn't want to have to be anywhere at a certain time, instead just play it by ear. So next, Ron took us for a canal boat tour that was wonderful. Ron had done a lot of researching to make sure we had the best boat canal tour. We loved the boat tour! I'm sure this is everyday stuff for the Dutch, but for me, it was a lot of fun even if the weather that day was a bit cold.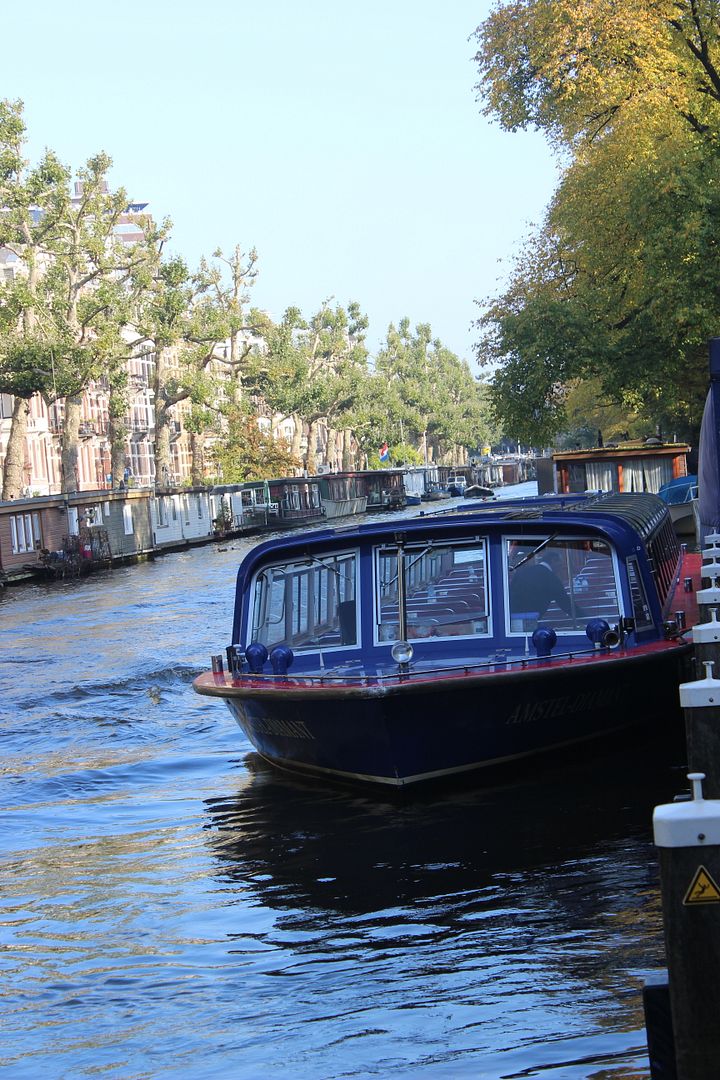 The boat tour pointed out the narrowest house in Amsterdam - this is just the width of the window.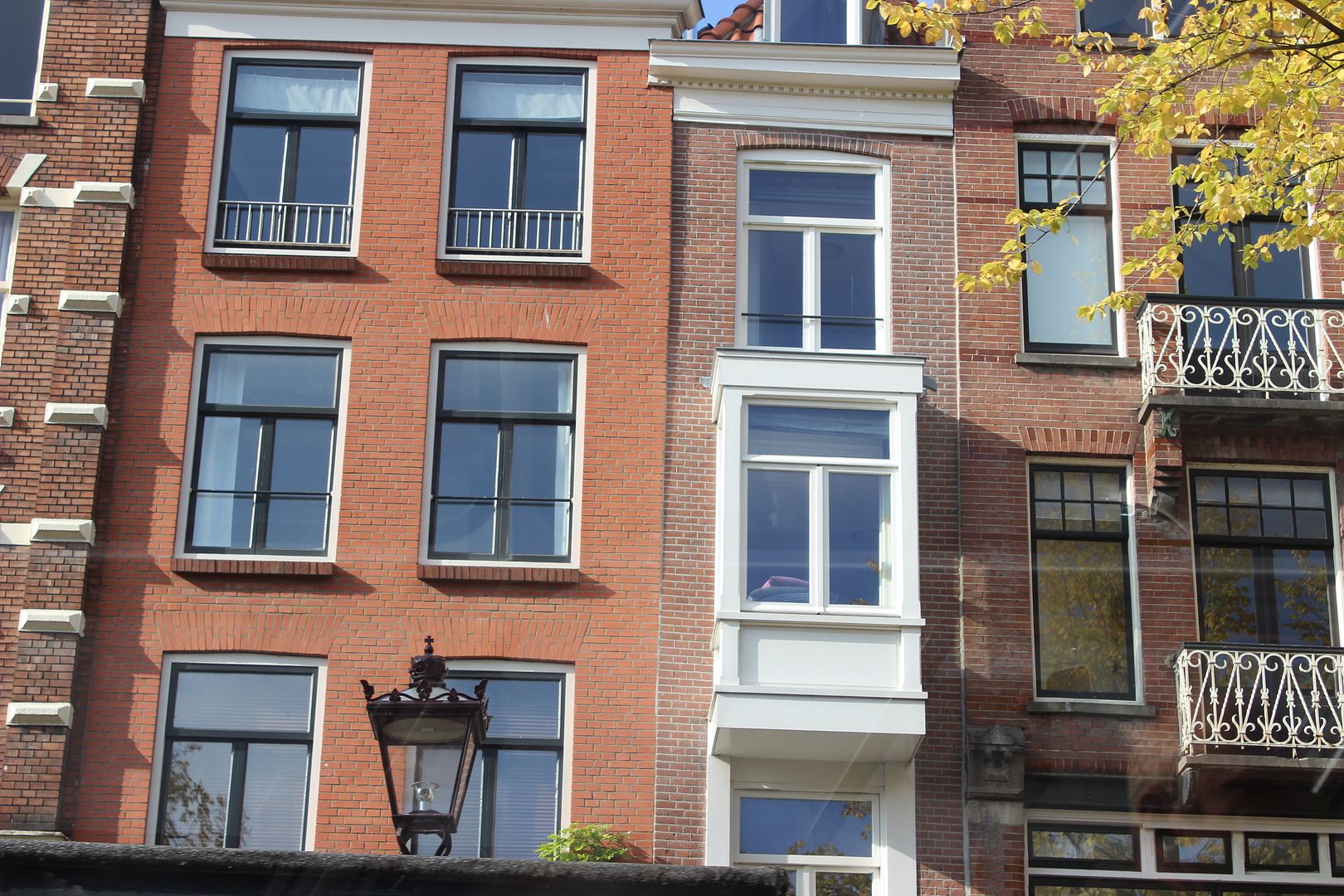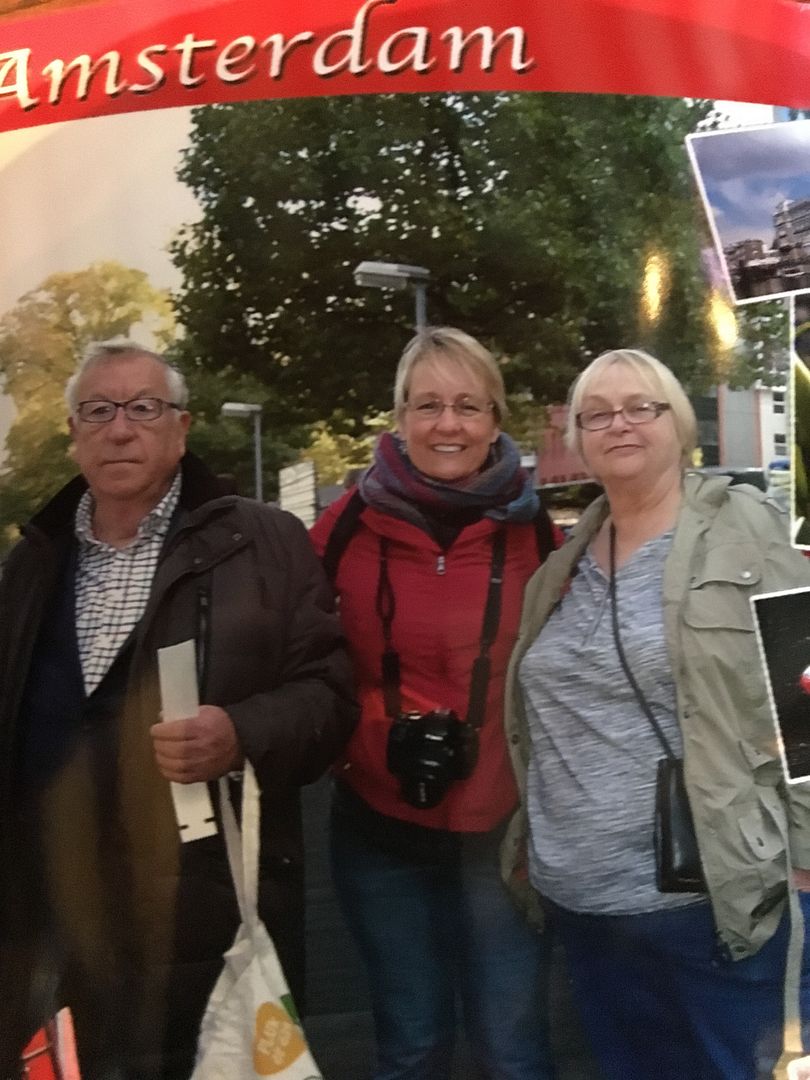 I think this is my mom's look that means "really, you are taking more photos as if the first 10,000 weren't enough"
We tried to get back on the Tram but they were all packed, there were lots of people everywhere. We ended up walking a lot and after a while, we stopped for a drink just to have a place to sit and rest. Honestly, I loved just sitting in the pubs, having a drink and watching the people. walking around was fun, I took so many photos it is hard to parse them down.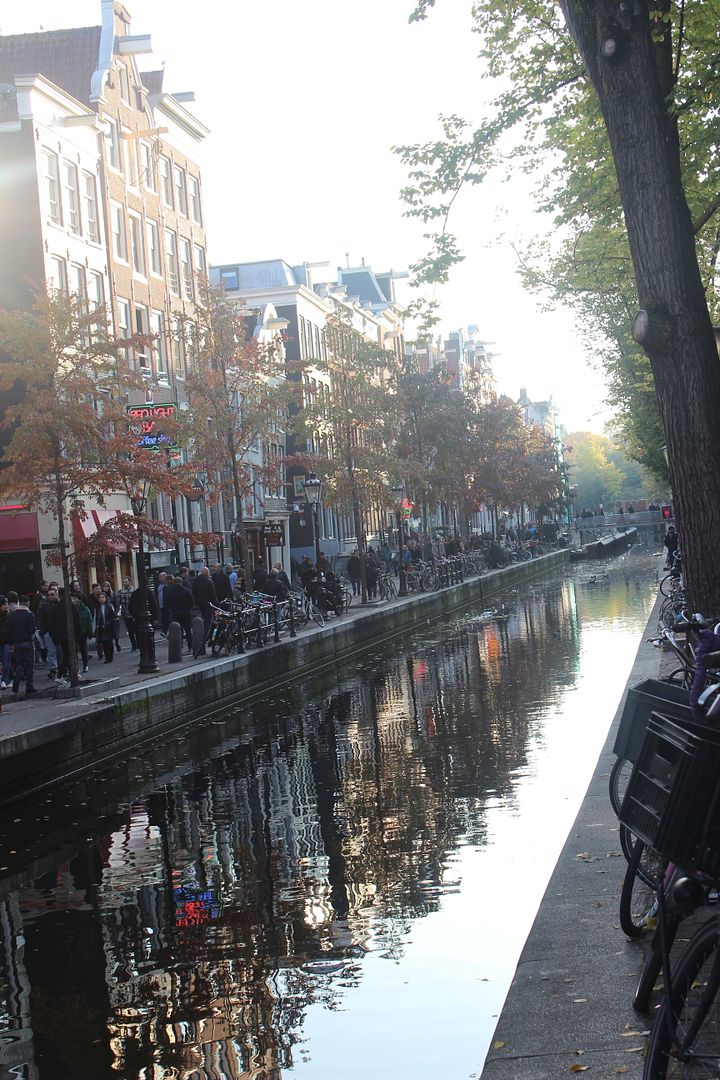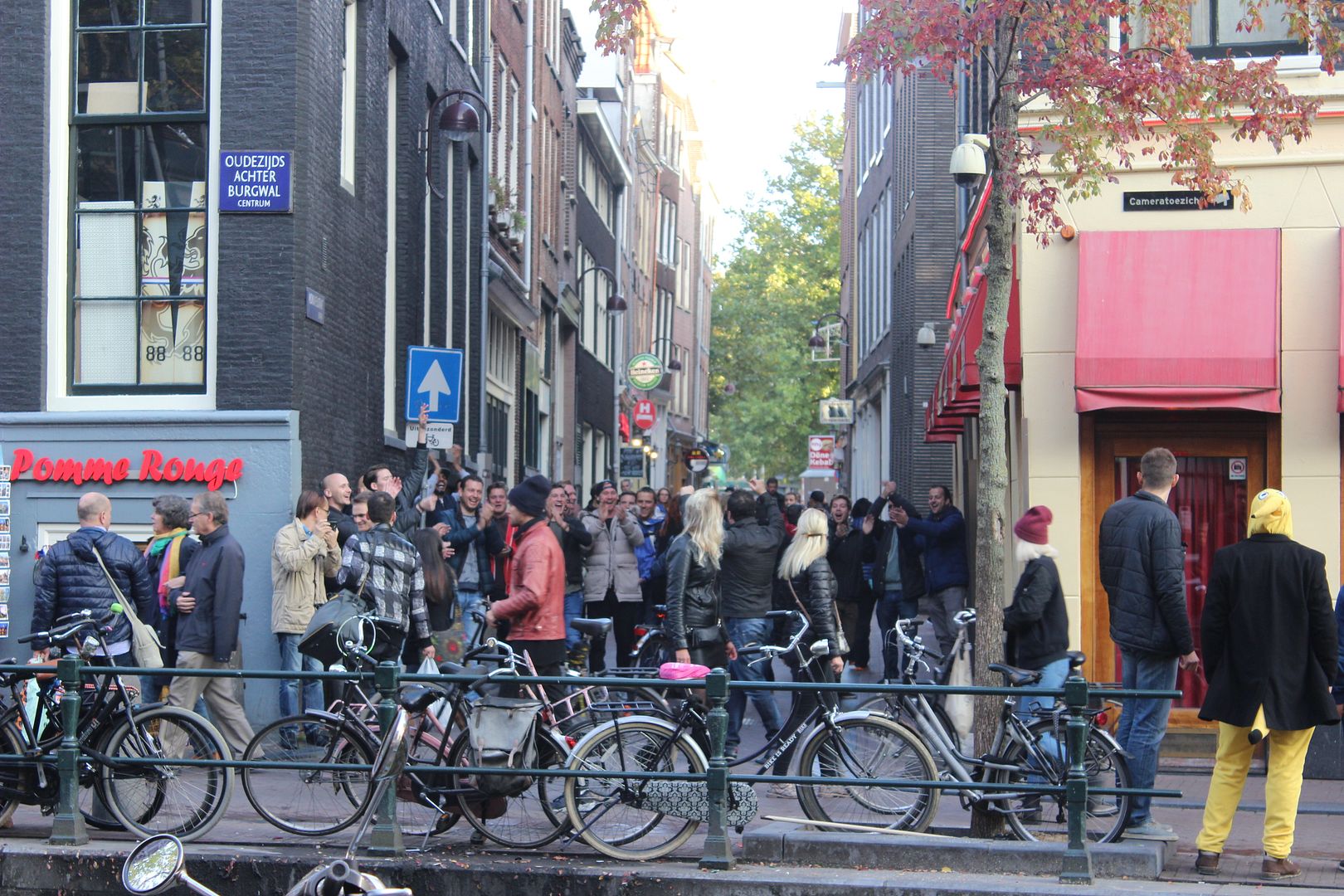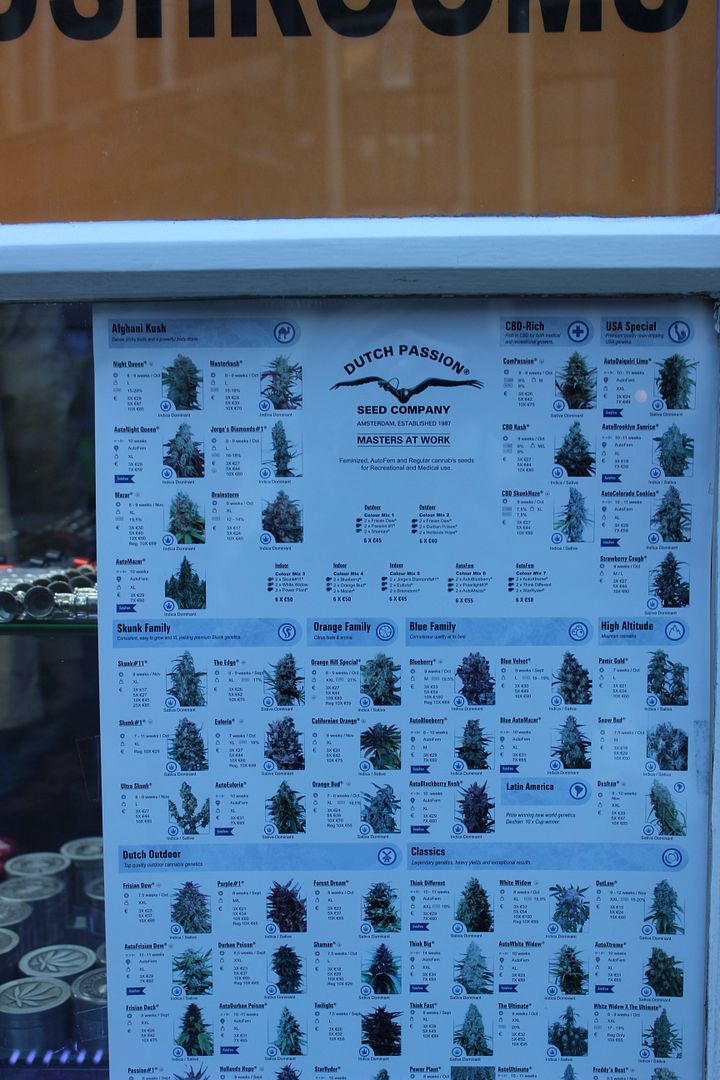 This was just a movie theater but it was such a beautiful building. Ron made sure we got to see this and he deserves thanks!
It was late afternoon so we thought it would be a good time to check out the red light district. There were woman in the windows and lots of places to buy marijuana. We walked through, saw the sights and continued on. Out of respect, I did not take any photos. I can now say been there, done that!
I can't imaging parking here, I don't think I would even try.
Wow, what a long day and it was dinner time. Of course Ron had again done his research and knew the perfect place for us to go, Haesje Claes. Honestly, I would go back to Amsterdam again just for the food, including this place! Mom and Ron had beer but I had a glass of red wine along with a steak and something close to rice pudding with wine poached pears. The steak was very good but I think I have dreams about that dessert. Ron had ice cream which comes sliced in a triangle atop a cookie I think. I was too involved in my rice pudding to notice much else.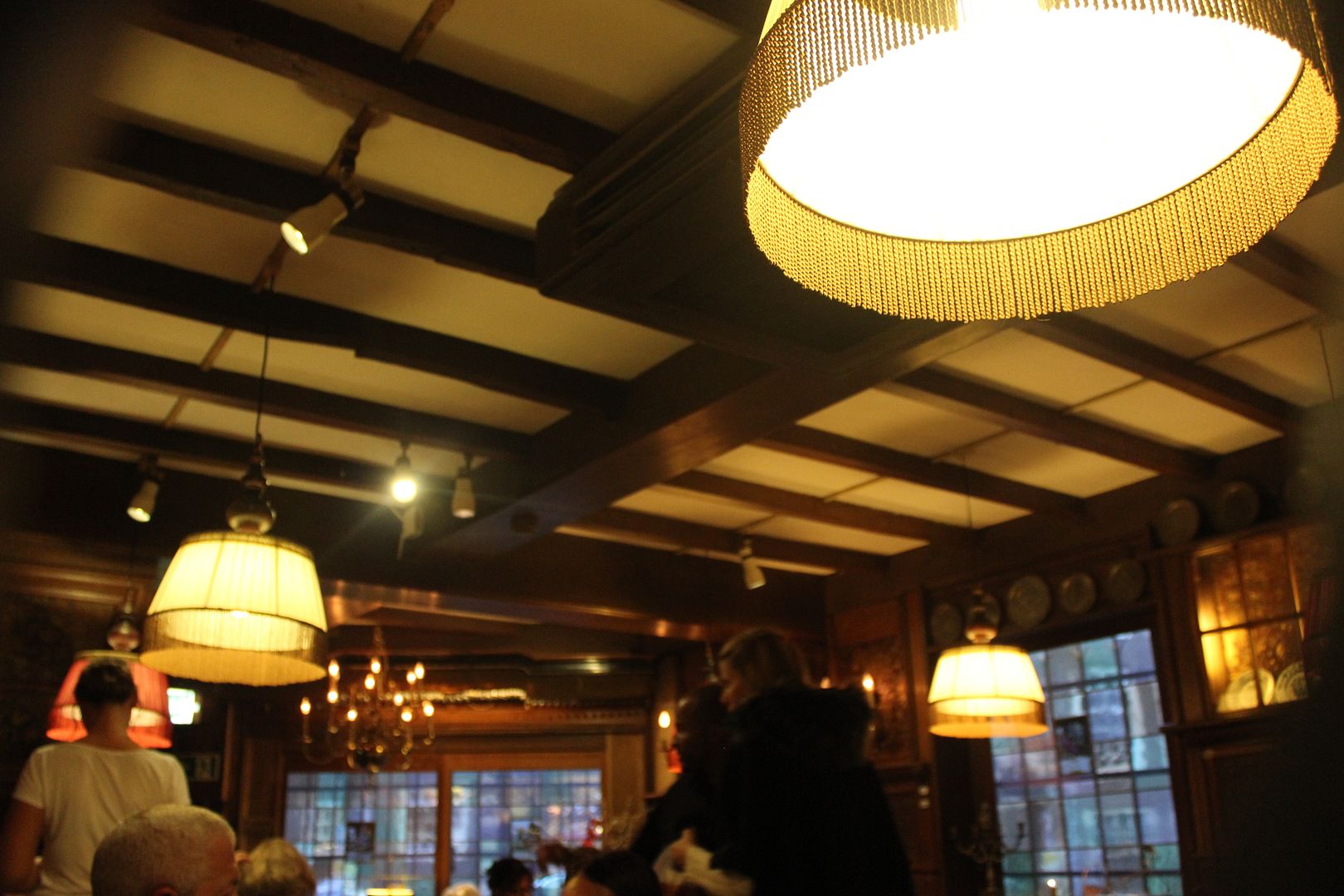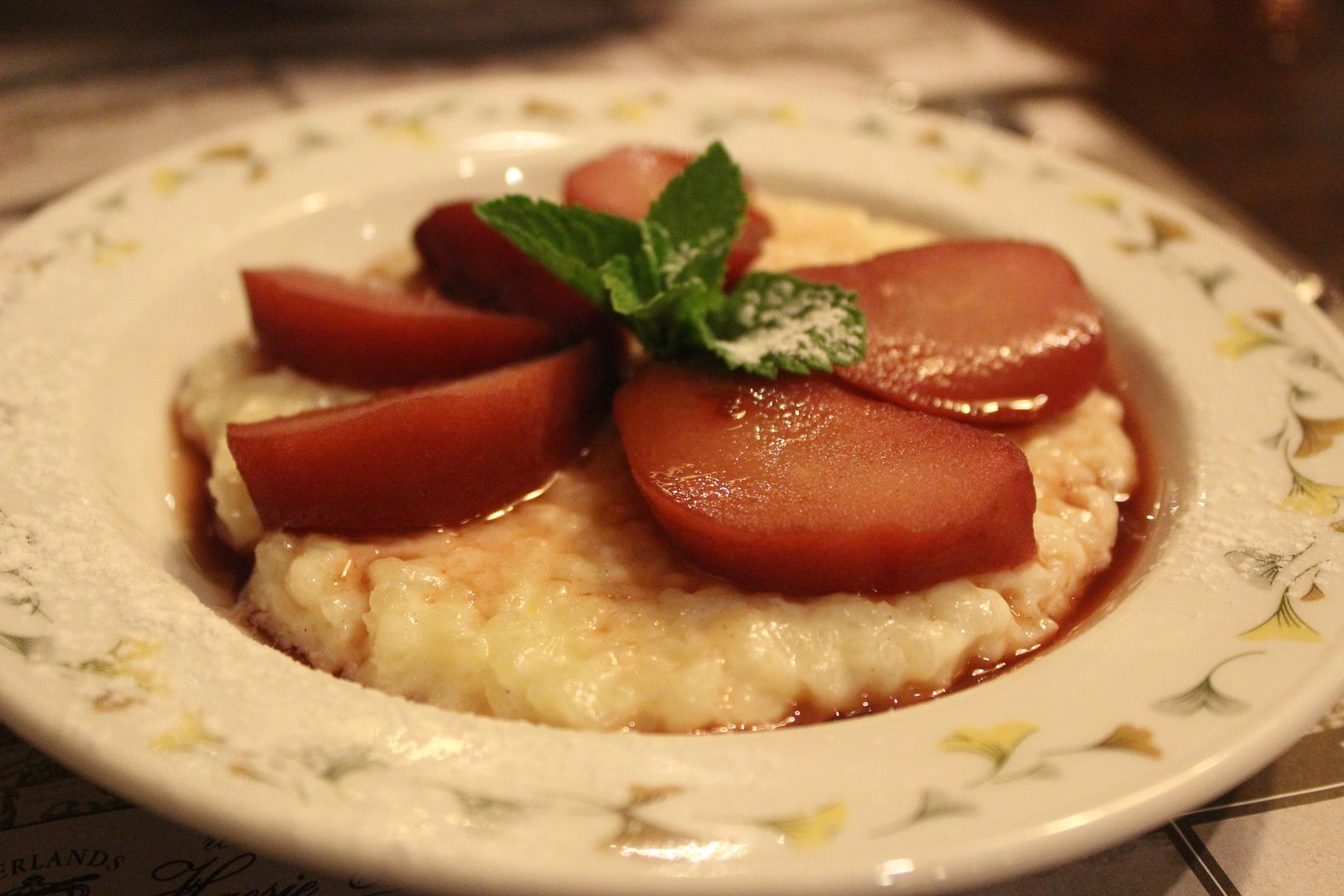 After dinner we were so full and so tired I couldn't even imagine trying to get back to the train station so I splurged and used my Uber app. YEAH - Amsterdam has Uber! Ron warned me that people would walk up and steal your phone right out of your hand. I was so focused on what I was doing I heard him but didn't really pay attention to what he was saying. I didn't get my phone stolen, but later I heard more about this and realized I was lucky. I should have listened to him. I'd rather be cautious than lucky.

At first we were going to take Uber to the train station but once in the car, we decided to just have him drive us to the hotel. Thankfully we had Ron with us as the driver didn't know much English but Ron could converse in Dutch so again... he saved the day. We were exhausted and slept very well that night.

Sunday, October 23, 2106

The next morning we were up early and at breakfast when they opened at 6am. It took them over 30 minute to set out all the options even though breakfast was supposed to start at 6am and even at 6:30 several stations were not available so you had limited breakfast choices until well after 7am.

Ron met us at the hotel and we took off in his car to see the countryside. He even brought us extra jackets but by this time we had layered our clothing pretty well and were warm. It was nice to have someone so thoughtful as a dedicated tour guide. We drove through Amsterdam since it was Sunday morning and traffic wasn't as bad as yesterday. The windmills were fascinating of course. I could have ridden in the car all day and just gapped at the sights. I guess I'm easy to amuse.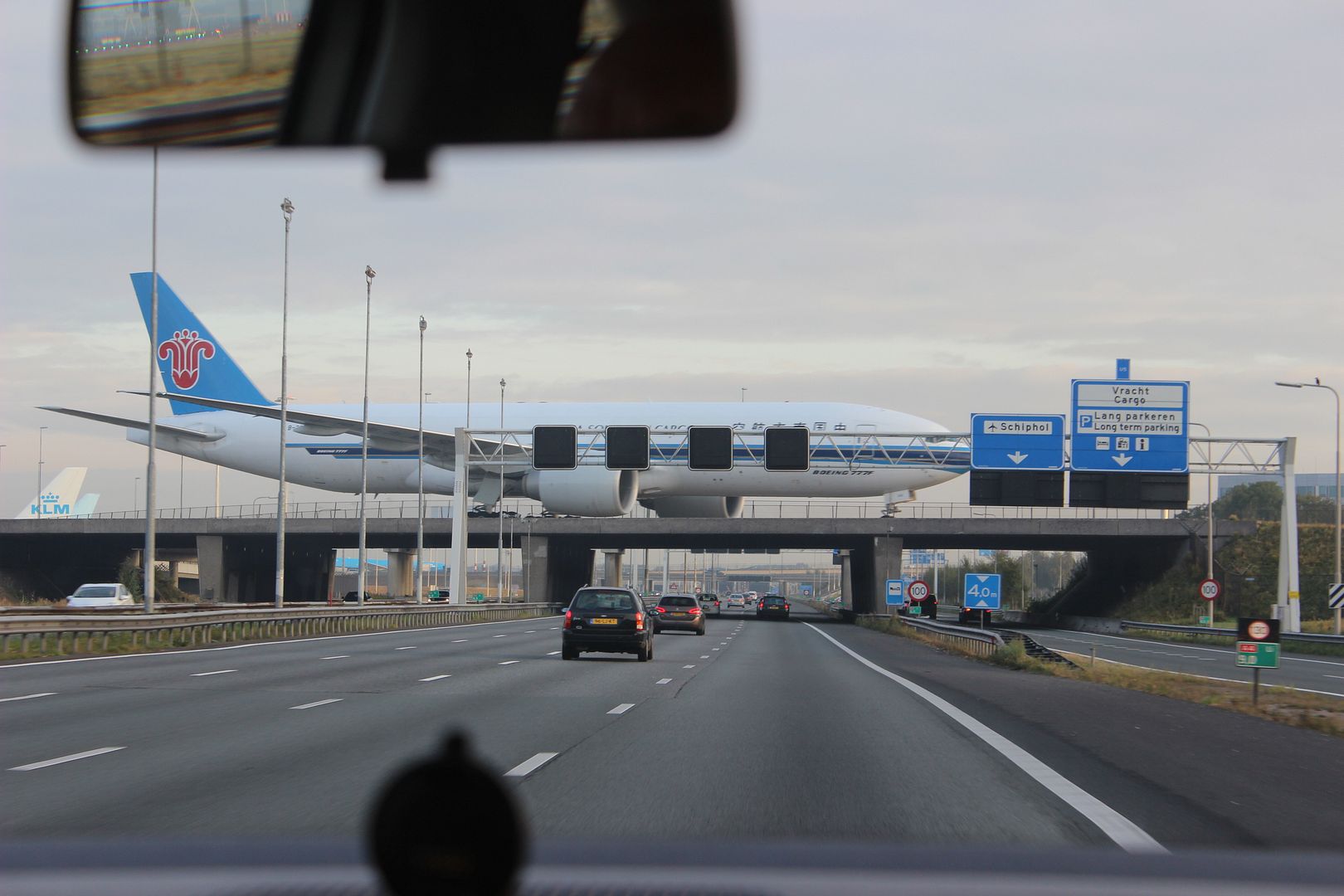 Ron stopped at this building just so we could see inside. I am fascinated with architecture and I get the feeling Ron is also. These buildings were amazing just to see the lobbies, the grand stair cases, the ornamentation and the design.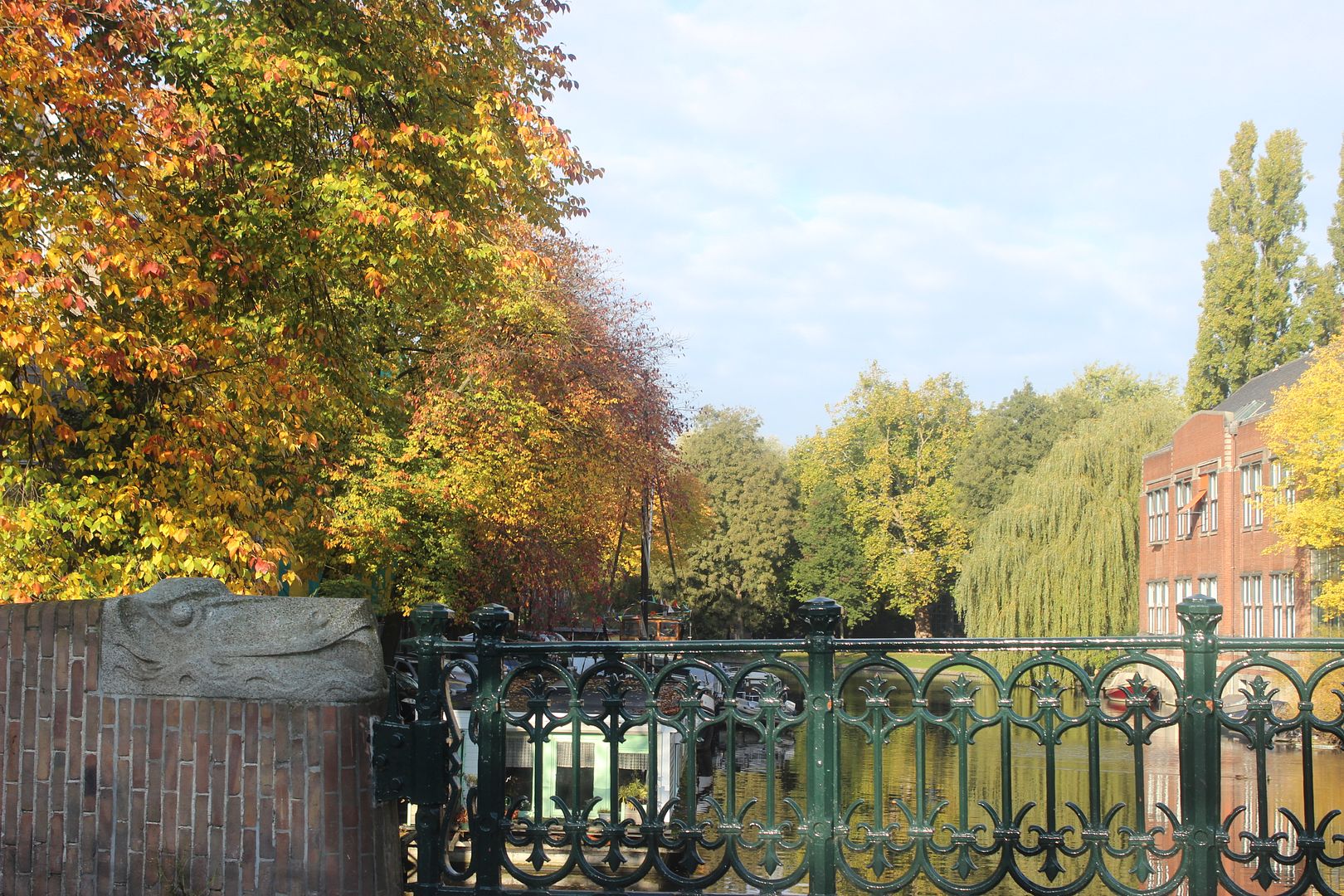 We stopped near the zoo after a while and had coffee and an early lunch. Since mom and I had breakfast at 6am, we were hungry by 11 am. We ate at Plantage where I had a latte macchiato and Holland Geitenkass which was a goat cheese, pear and honey open face sandwich. Another amazing meal and I wish I could find this here in Phoenix. Again, we stopped here because Ron had spent so much time researching to find us the best stops in town, which he did. In fact, we all ordered the same thing. Our lunches arrived and we ate with enthusiasm.
We walked through part of the zoo before heading back to the car to set out for the countryside. We drove to a castle and it was fun but 15 Euros to see the shell of an old castle was a bit much. It was nice to see the history and had it not been so cold, I would have enjoyed the opportunity to explore the gardens. I did get to see a really old castle in Amsterdam which in itself is kinda cool!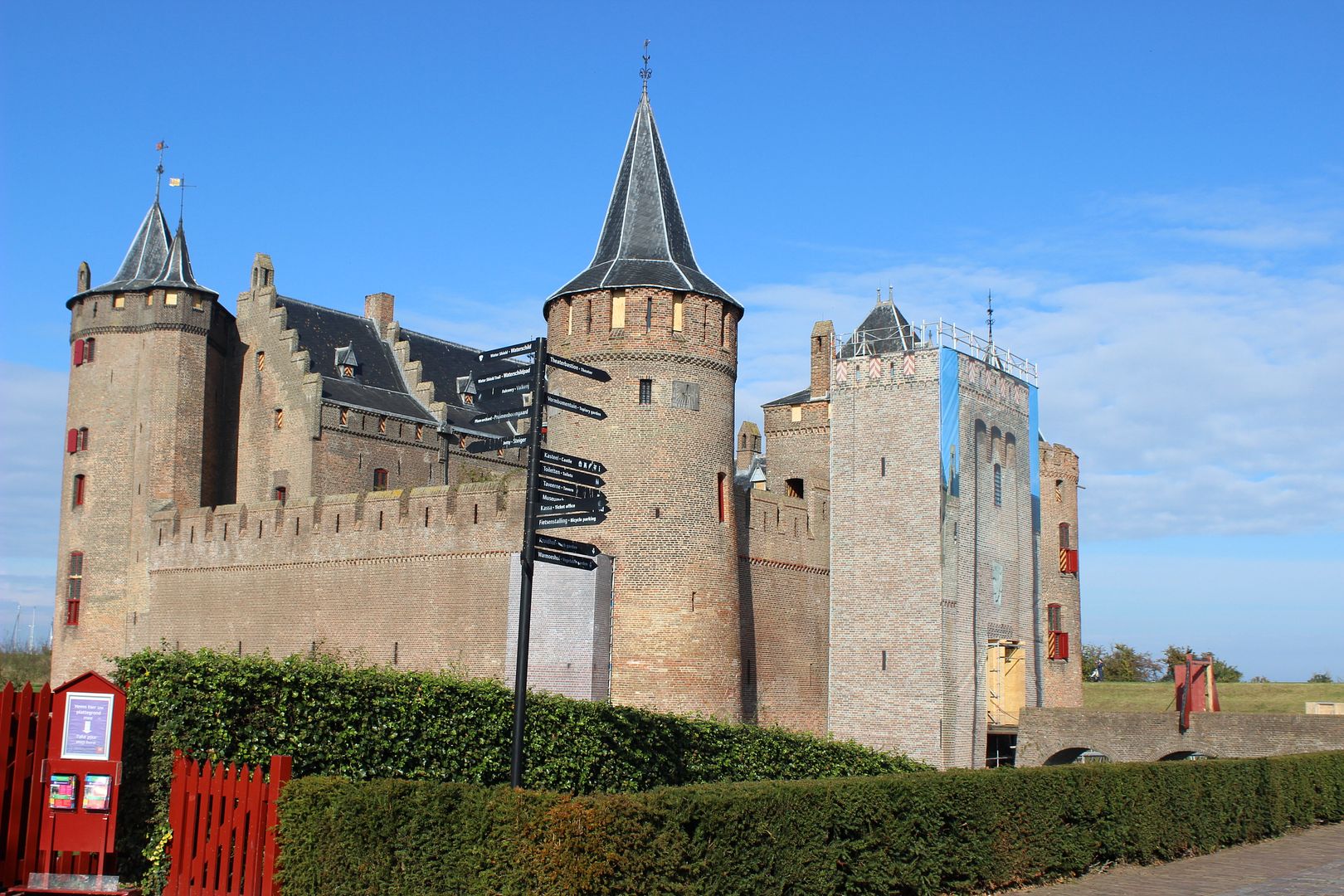 We returned to the car and Ron drove through the countryside. I loved just seeing the country and the windmills. He did park so we could walk up and see one close although it was someone's private residence. As tourists, we were fascinated but I'm sure it's nothing unique to the locals. We drove some more until we reached Volendam where we found a place to park and walk along with city street near the water. Ron suggested we do a photo in traditional Dutch costumes. I wasn't crazy about this idea but finally agreed. Wouldn't you know, this was one of my favorite photos. I am so glad we did this. I loved walking through the town and just sitting and watching the people. I did find a storefront that specialized in Stroopwafles. You can't come home without these. However I don't think I did share any with my husband.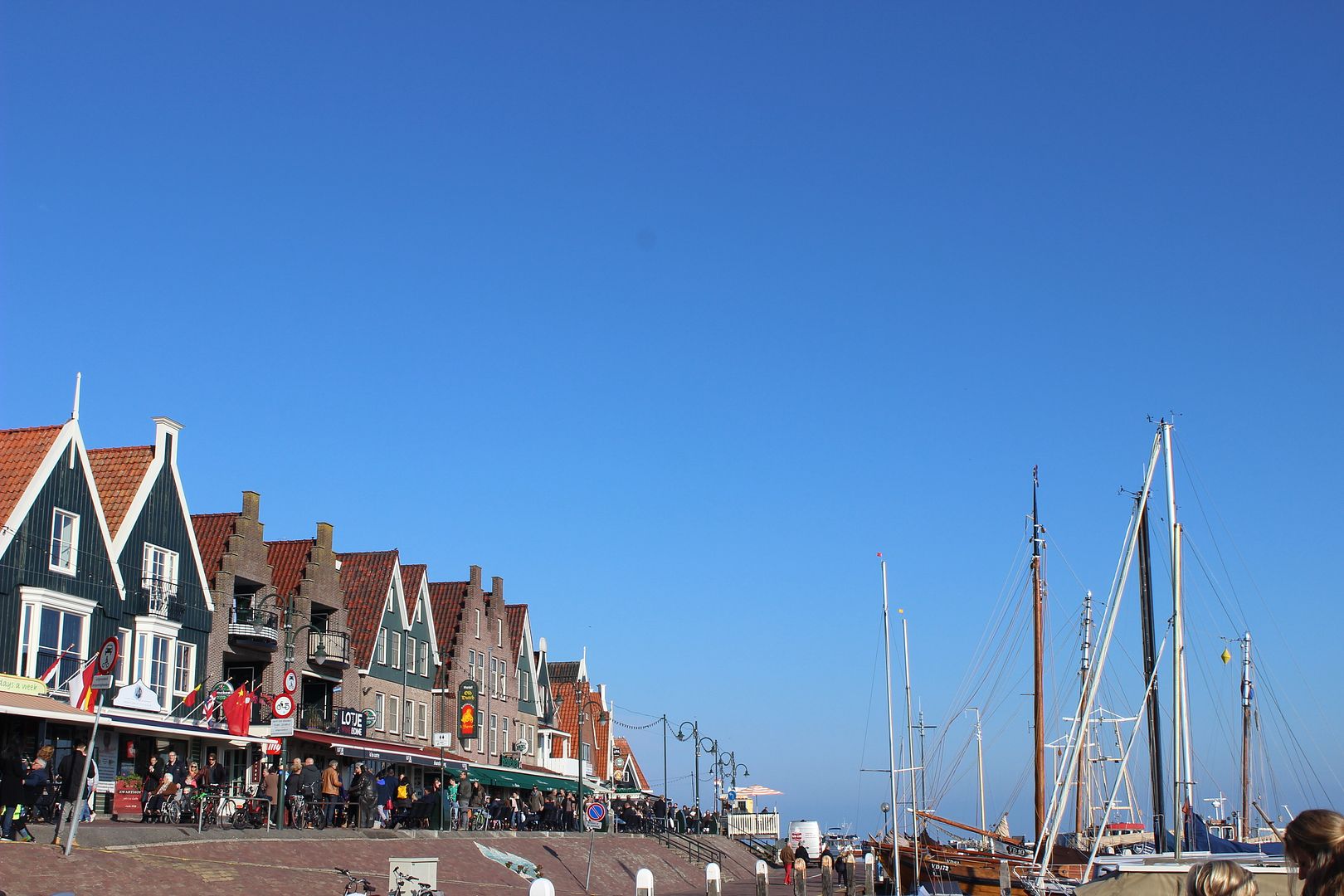 As we walked back to the car, we stopped at a grocery store as we needed to get some lotion while we had the opportunity. Honestly, we got back in the car and started driving but I fell fast asleep in the backseat as mom and Ron chatted along the drive. I completely missed all the sights this afternoon. I think they took pity on me, so we returned to the hotel. I was exhausted as the travel, the sightseeing and the time zone change all caught up at once. It had been a wonderful, but long two days. Mom and I had a quick dinner at th hotel, a glass of wine and went to bed. Although they did have a great dessert buffet so we had to sample that.
I loved Amsterdam and hope to go back some time. I really liked seeing Ron again and honestly miss him. He was such a wonderful and thoughtful tour guide. Ron is was really made our trip to Amsterdam memorable.

Thank you Ron.
Monday, October 24, 3016

We both woke early again and after a shower, we packed our luggage and went down for breakfast. We then caught the hotel shuttle to the airport and found our way to the Thalys train to Paris. I must say, Amsterdam train station is well organized with great signs and helpful staff. This was the beginning of our next big adventure - the train. Being paranoid, we were over an hour early for the train so we just sat and watched. The train was easy except for luggage. I had to hoist my 43 pound suitcase over my head on to the top cargo rack. Then we found room for mom's. Finally onto our seats but they were taken. Three of us claimed to have the same seat number. I mused aloud over how could they assign seat number 38 in car 15 a total of 3 times? At this point the other two seat 38 claimees realized they were in car 16 and 17. So they packed up and I felt good knowing that for once.... I got it right! Oh, and thankfully they were nice and spoke English. The train was VERY comfortable and we enjoyed the 3 + hour ride to Paris in quiet and comfort.
Paris - UGH

We arrived at Gare du Nord and collected our luggage as we got off the train. It was a long walk but we found our way out. Bathrooms were only pay for use at the station and very smelly and dirty. Not fun. We paid, we did our business and then finally found the taxi stand (after carrying both suitcases up a flight of stairs as all escalators and elevators were out of order). We found the taxi stand and there was no line, yeah! A driver at the font summoned us over and I said "Gare de Lyon". He put our suitcases in the trunk and I asked him how much to which he replied 95 Euros. He pulled out a piece of paper and pointed at a line that read 95 Euros. I couldn't see the rest of the sheet but held firm on my "no". I offered him 25 Euros (yes I had done my research). he said no, that 95 Euros was a flat rate. I had him remove our luggage and went back to the taxi stand. Other drivers approached us quoting 75 Euros then 65 Euros. I got my Iphone and opened the Uber app to see if Paris had Uber service. Several cab drivers were very interested in what I was doing. Mom simply said "Uber". After a quick discussion among the drivers, they offered us 15 Euros. We loaded up the luggage and headed out to Gare de Lyon for 15 Euros! I did leave the driver a nice tip though.

Gare de Lyon was insanely crowded and dirty. There was signage directing us to Hall 2 but no way to find your platform. We bought some takeout sandwiches for lunch to eat on the train. I walked up and down waiting for a platform screen to display our train. People were aggressive about seating and a bit pushy, actually pushing past people for open seats. Finally we found the screen for the Barcelona train as we saw a sudden run of people and luggage. It was a zoo. A crush of people and bags pushing down a narrow platform between train tracks. we walked all the way to the beginning of the train before finding and employee to ask. He pointed even further down the track saying "next train". So we kept walking past the first train, down to almost the end of the second train. Yes, we were in the last car of the last train. We boarded, stored our luggage and found our seats. We were done with Paris, loud, crowded, dirty and not very friendly as seen in our tiny introduction that afternoon.


This train was very different from the last one. the seats, however were comfortable and we settled in for our 6 1/2 hour ride. We tried to use the bathroom but the first 3 I passed were always busy or broken. The one we finally got to use had no water and yes, urine all over the floor as evidenced by the color, smell and crust. I couldn't wait to get off this train. We did eat our lunch, I worked on my knitting and we passed the time. Oh, and only the first Thalys train had wifi, this train did not. It was a nice trip and chance to chat with mom though. It can never be terrible when you have great company. Barcelona Sants station was a blur. We found a taxi and made the quick trip to the Hilton Barcelona. I had checked in online while in the taxi but at the desk when they handed me our keys, I noticed the room had changed. They didn't say anything about changing my room until I questioned them. The woman simply said it was the same room type. I was miffed. instead of the 8th floor, we were on the second floor front corner near the busy street. The room was very noisy and I didn't sleep well. I don't get why communication is such a challenge - just talk to me and tell me whats going on, don't just change my room, especially when I have status with Hilton and my profile states quiet room away from elevator and noise. We did go next door to Piscolabis for diner which was OK, not as great as the last time I ate there, maybe we were just tired and cranky.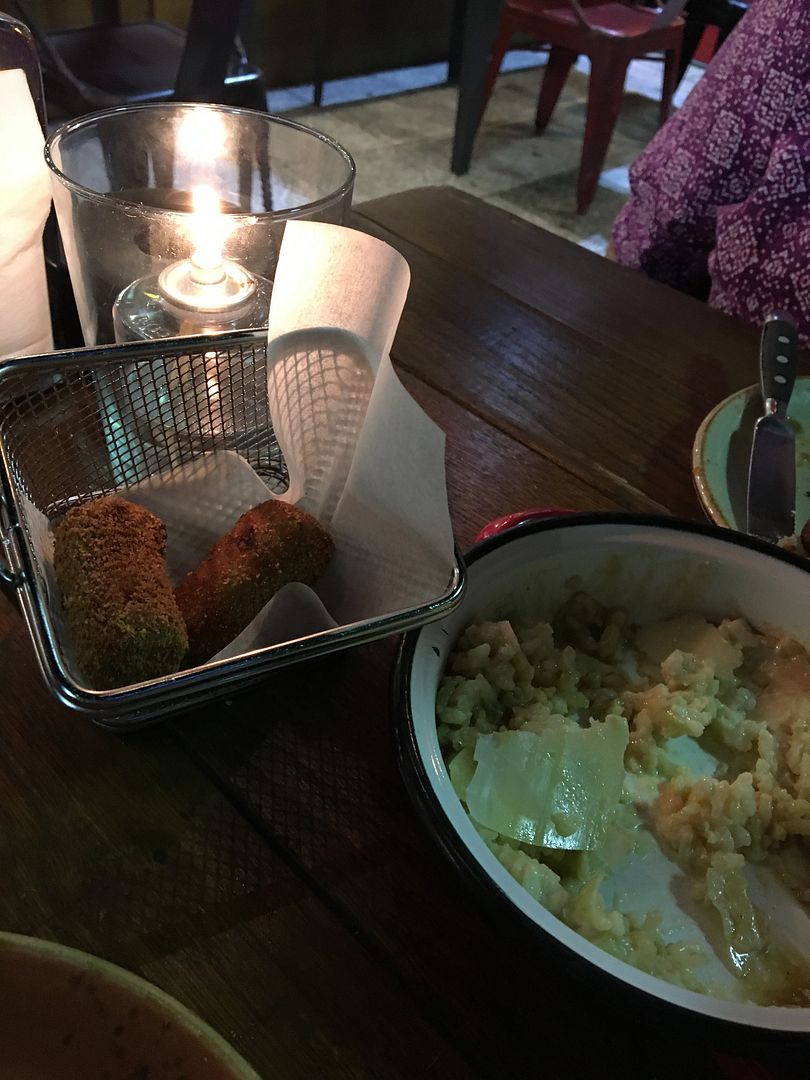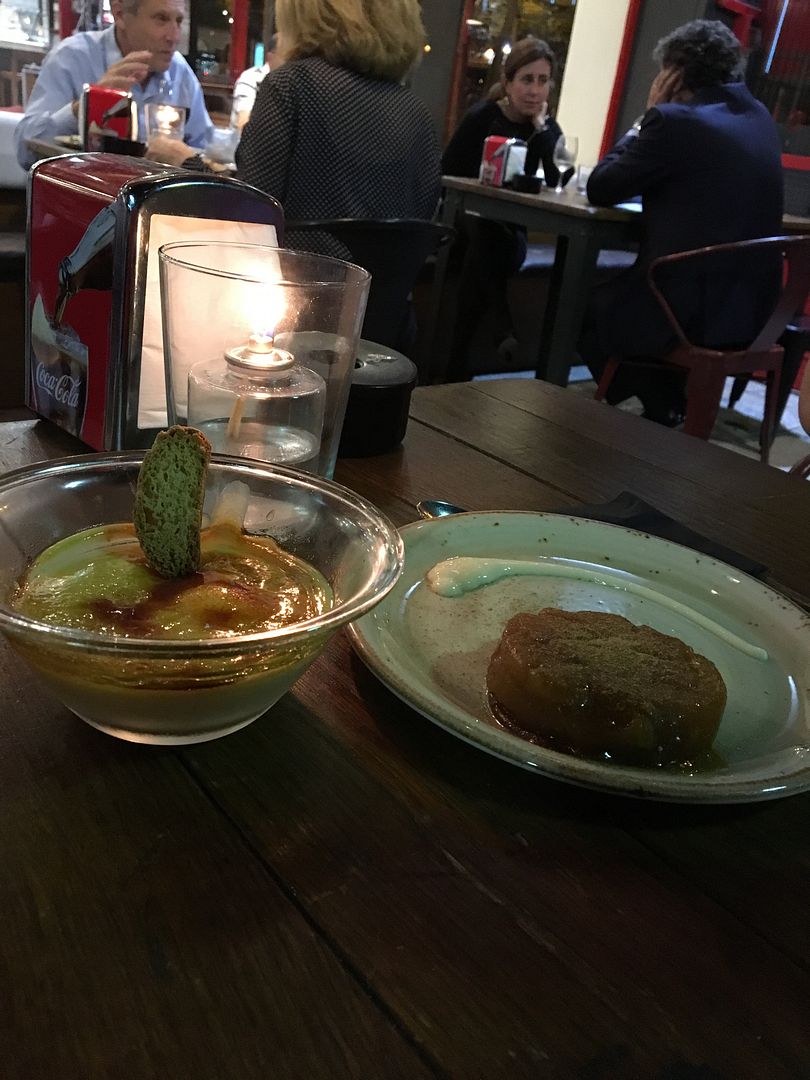 October 25, 2016
We got up the next morning, showered, packed and went to breakfast. They have a great breakfast here and sorry I did not get any photos. We hung out for a bit and took a taxi to the ship. It was raining. After dropping off our bags, we were directed to the end of a very long line that went down the sidewalk in the rain. We stood in the rain for about 15 minutes but the line moved quickly and we at least got under the awning and out of the rain. We made it through security and then were lined up for check in. That was a breeze and we were onboard quickly. At 11:45 am the boarding area was crowded so we went directly to the ocean view cafe and found a seat and had a good lunch. Rooms were ready quickly so we checked it out before going exploring. We were in room 7240.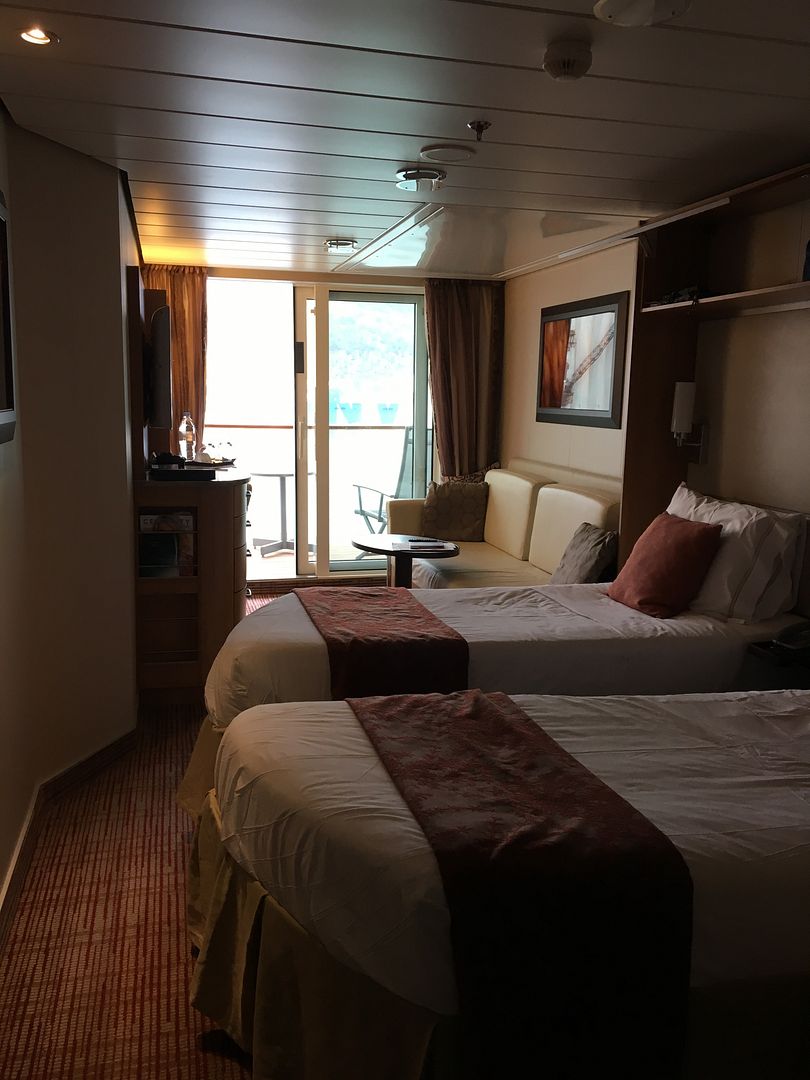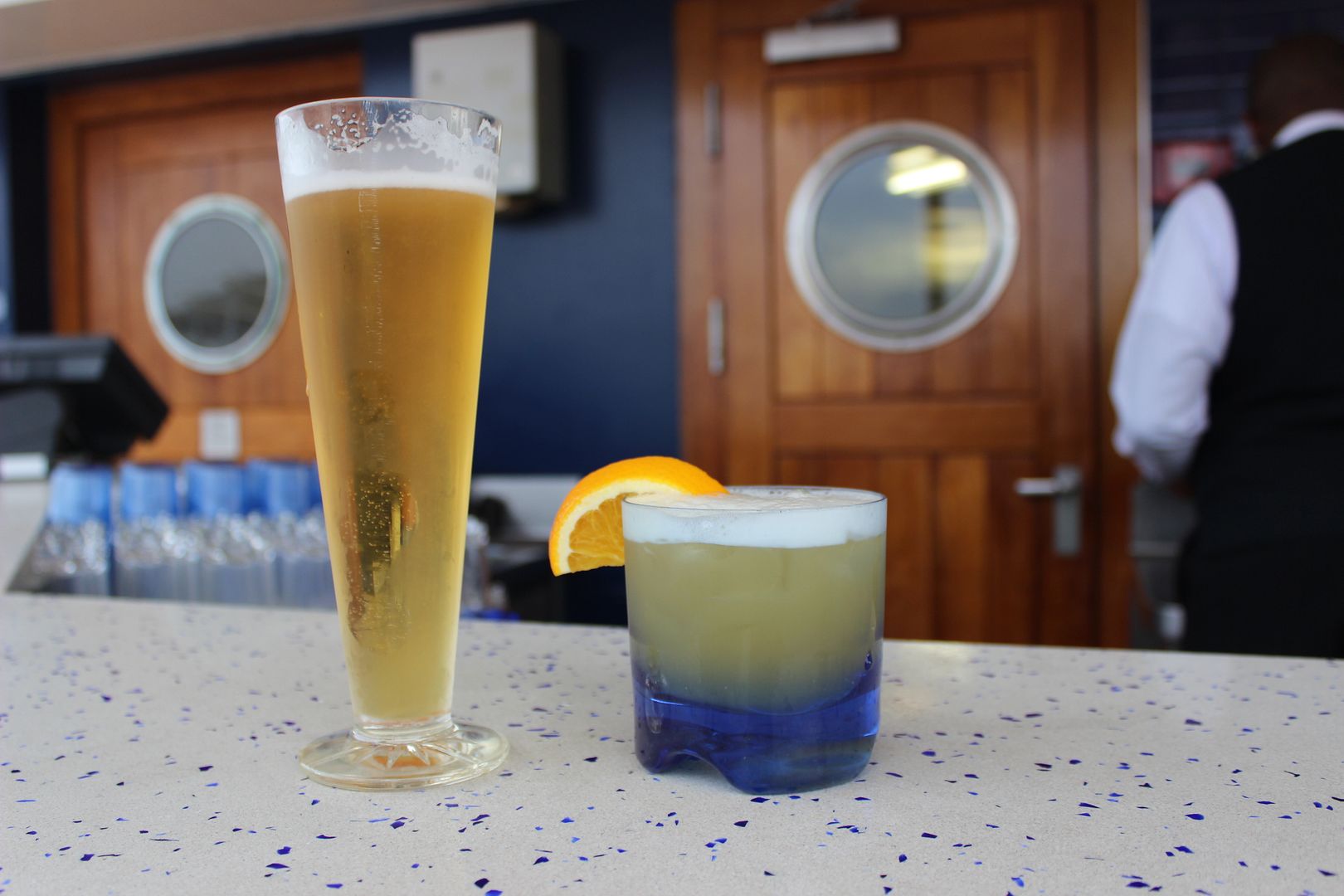 The lifeboat drill was at 4:30 which was the worst one I've experienced at Celebrity. It wasn't awful, just challenging. Our assigned area was the lobby but there were no seats. Several elderly people were trying to sit on the stairs or anywhere else they could find but were repeatedly told to stand up. We were there for what seemed like ages and I'm not sure what was going on as we couldn't understand they young lady trying to speak. The acoustics just weren't working. Very few people could see the presentation so it was more playing lip service to the requirement. At the end, staff were still telling some older people they couldn't even sit on the floor, but they had to stand. It wasn't the staff's fault, they were following directions but I think they should provide seating to those who need it at the lifeboat drill if they are going to last more than 15 minutes. At dinner that night we met our table mates and had a nice meal. I had jerk chicken which was OK but too spicy for me.. We went to the show "Queens of Rhythm" and it was pretty good.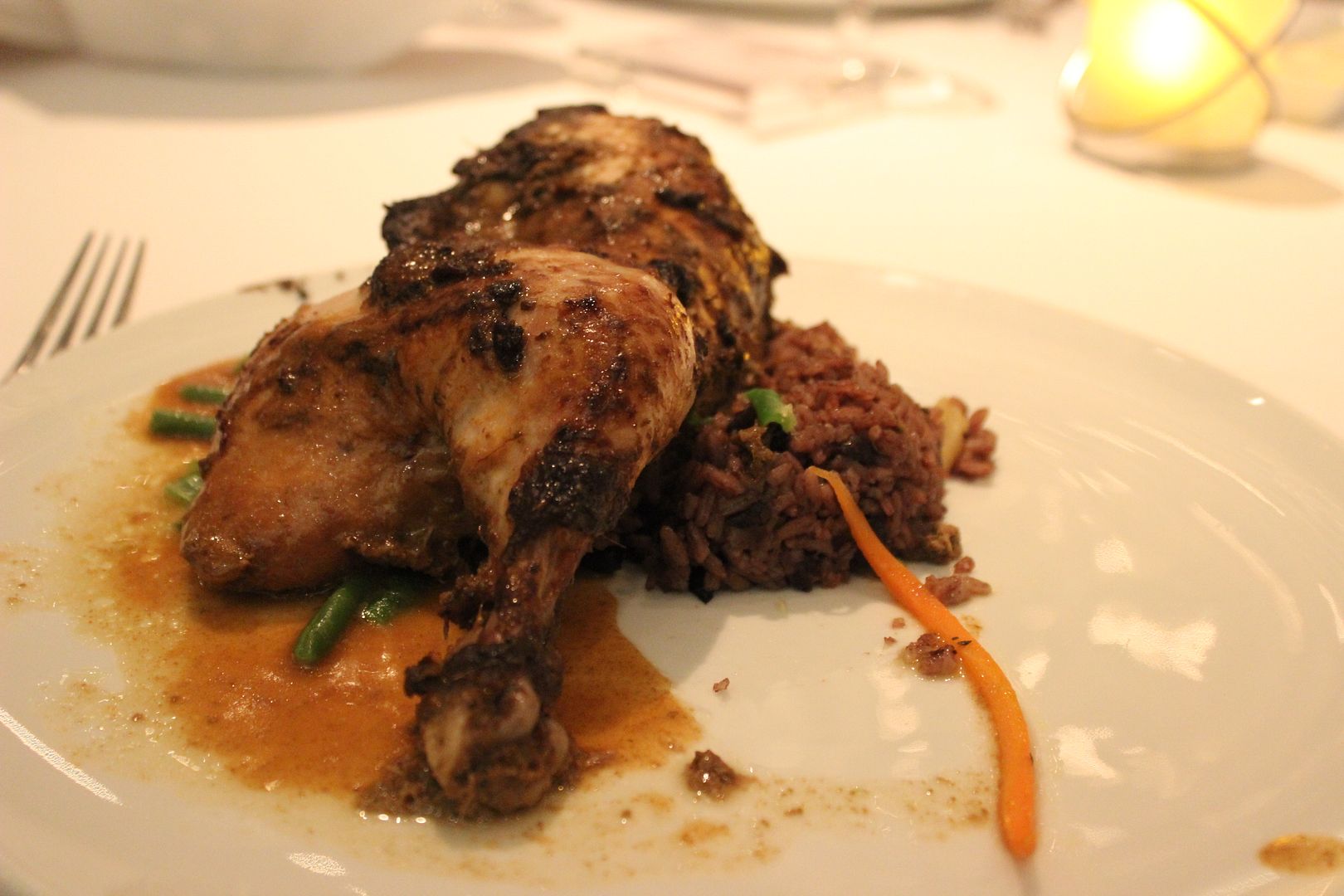 Wednesday, Cartagena

We had no plans for this port so we took our time that morning and had breakfast in the cafe. Poached eggs were really hard boiled but the fruit was very good. We watched people walk off the ship for a while before we went ashore. We hired a taxi tour just off the boat and enjoyed the main sights in town.


#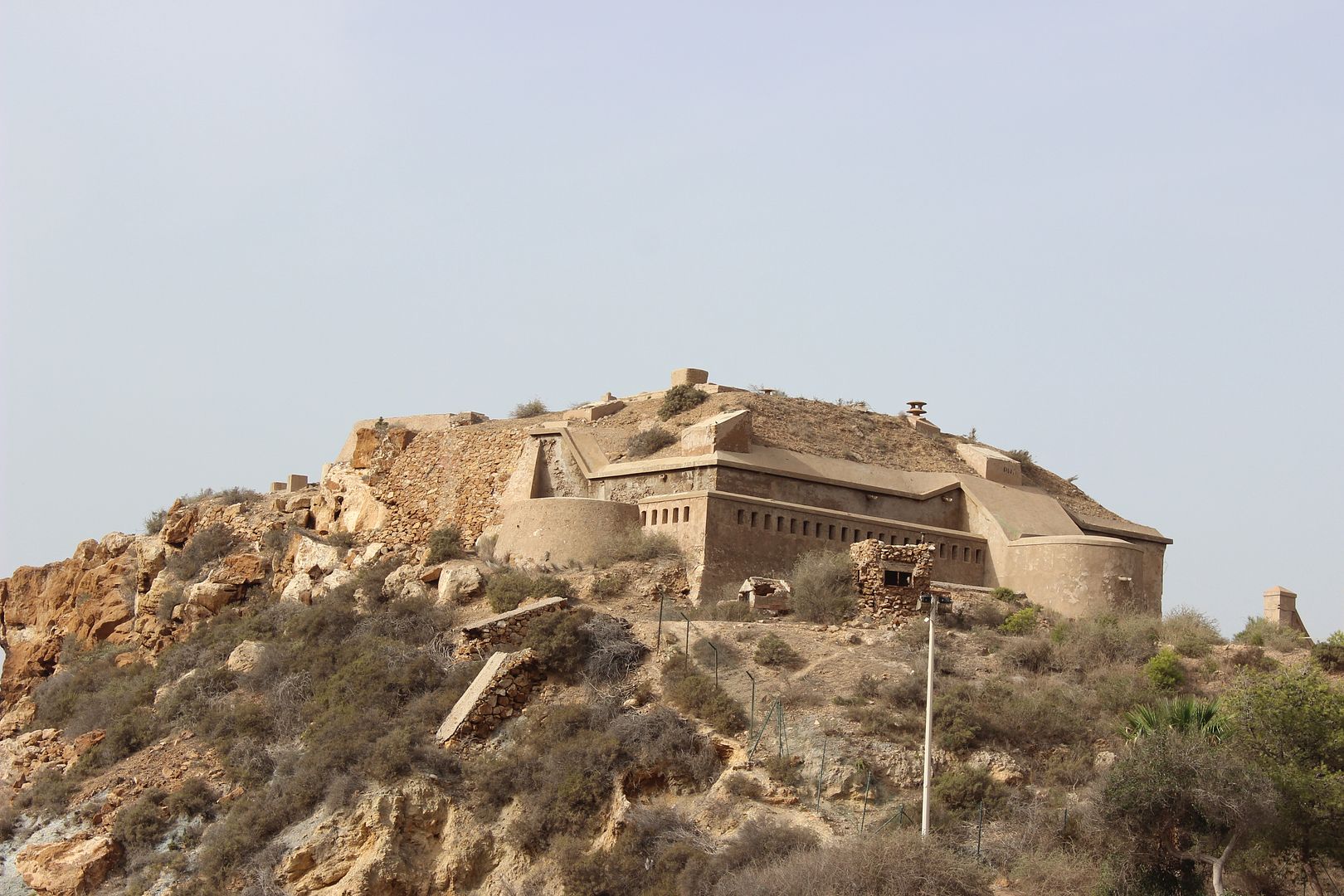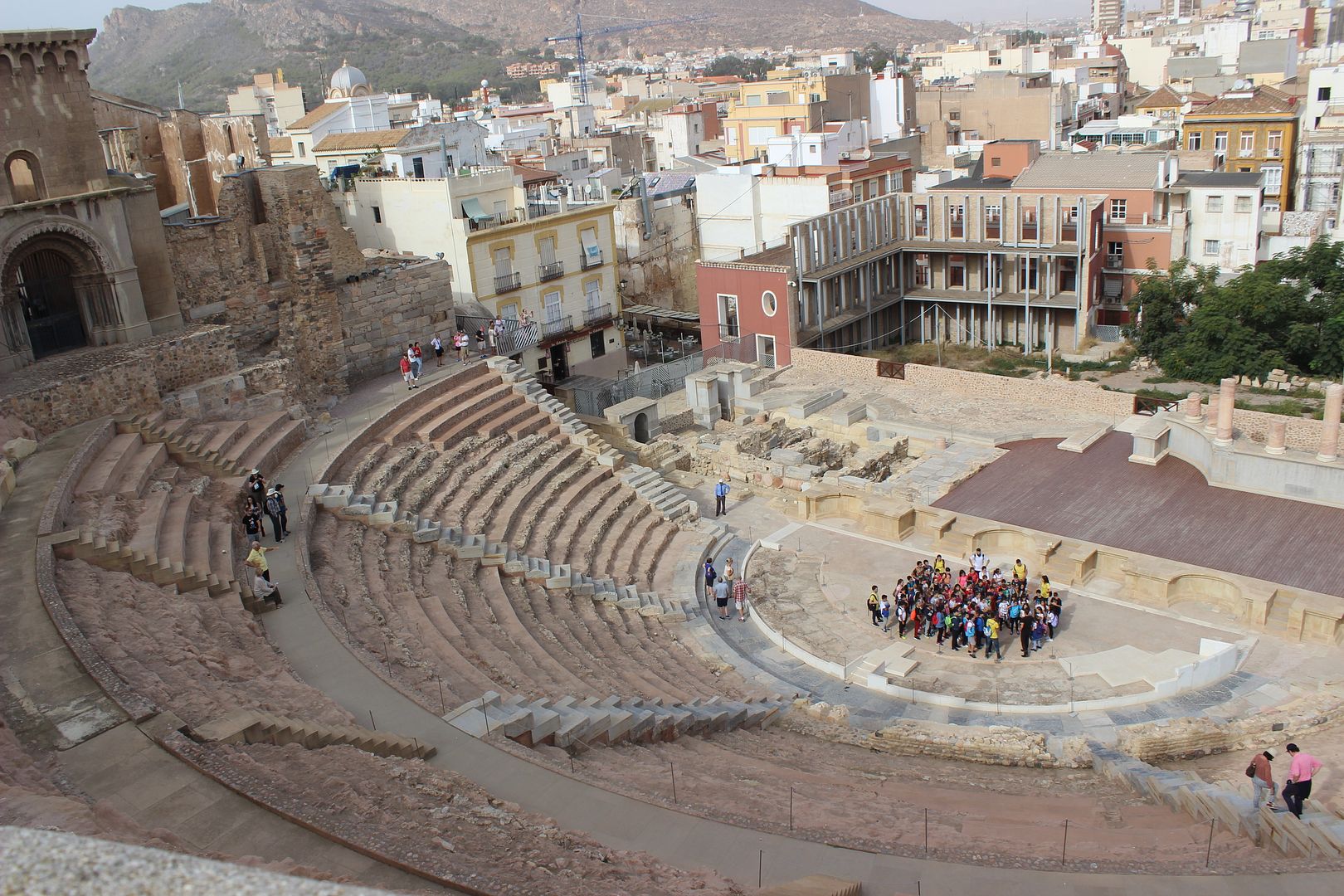 We came back for lunch and a nap.


Then went up for trivia and wandered around the ship. Trivia was always fun! There were only four of us for dinner that evening and I had the mushrooms with ginger. It was awesome! The show that evening was "Life" and we did enjoy the show. We also stopped to watch a bit of the silent disco which was fun to see. We made it an early night as tomorrow was one of the first 25 hour days since we got to turn the clock back an hour that evening.

I think this was the mushroom dinner
Thursday, October 27
Yeah, a day for rest! We took our time in the morning and slept in a bit. today we decided to try the dining room for breakfast and got there a bit after 9 am. We were seated at a table for for with another couple. They ordered fried eggs and were told it would take 25 minutes. We all thought that was strange but its a sea day and we had no plans. Mom and I ordered poached eggs (2 each). All but one in total were hard boiled. We ate them anyway and by now it was 10 am and I ran down to the knitting group, This was our first meeting and we had a great group including knitters, crochet and quilting. Our group lasted 1 1/2 hours until we all drifted off to other activities.

We went to the ocean view cafe for lunch, then to the pool to watch our cruise director Alejandro teach Latin dance. It was not Latin dance, it was more like zumba but folks were having fun. I still would like to learn Latin dance though. At 1:30 we went to the Beyond the Podium series to see the "First European Doctors". I thought there was a lot of great info but he didn't put it together in a cohesive story line. Just lots of info thrown out. It was still fun though and a great topic.

Afterwards, we went to the cabin for a nap because we are on vacation and we can! It was formal night so we dressed for dinner and went down for a cocktail. We had a good time at dinner and the beef tornadoes were cooked perfectly but not very flavorful. Apple crumble dessert was great if you like really sweet stuff. My husband would love this!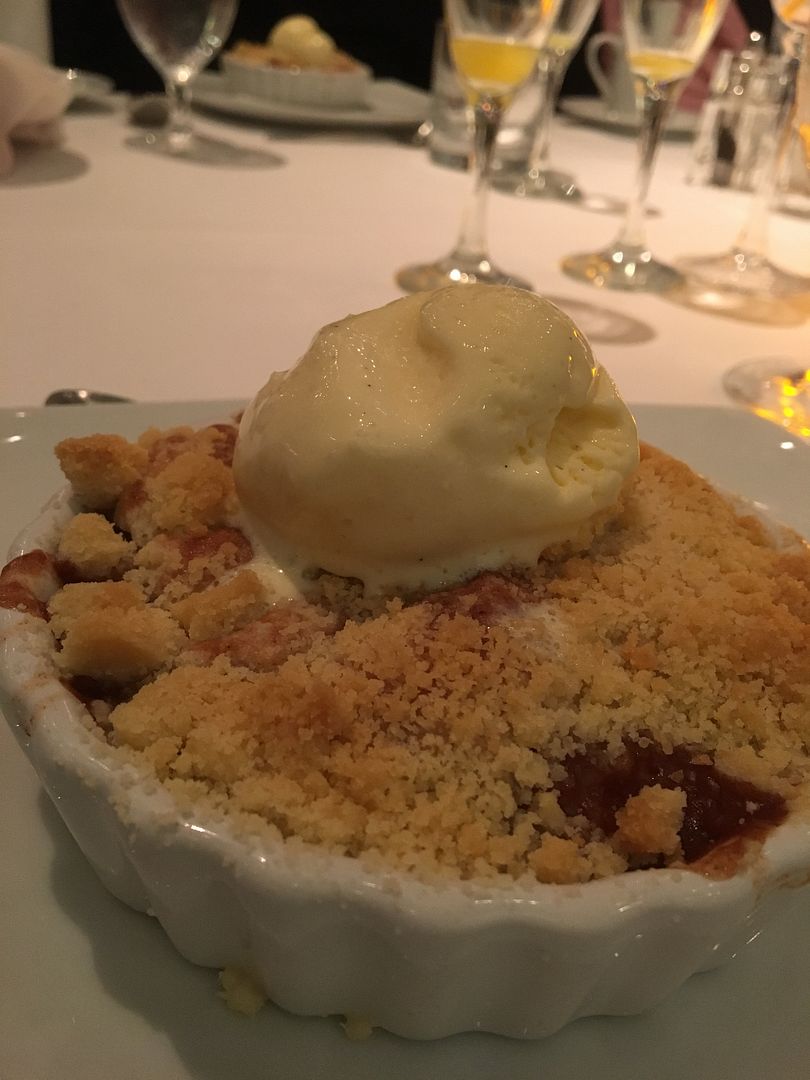 We went to the show. Paul Baker who was a singer from London's West End was the performer. He had a great voice and we had a good time. Off to bed after the show. In the theater we ordered drinks and I wanted to try brandy, so mom suggested Courvoisier. I could get used to this! I wanted to order again but there were just so man different things to try, I never did get around to ordering it again. Next time!

Friday, October 28 - Morocco
We had breakfast at the Ocean View cafe and noticed a group of housekeeping staff debarking the ship to go clean all the tour buses. They cleaned the inside of these buses very thoroughly. I'm not sure if this happens at each port, but this was the first time I noticed. we booked a ship excursion today so we headed to the theater and were on the bus quickly for the Agadir and Fantasia Show.

Once on the bus, we drove up a steep hill where we had great panoramic views. There were a few "camels" that would let you ride up and down the parking lot for $20 U.S. They smelled so bad that I didn't want to get close. There were also gentleman selling trinkets and for a few dollars you could hold their baby goat. Other "characters" kept offering to let you take their photo but I know from my research that if you did, they would then demand money in compensation. We took photos, soaked up the atmosphere and boarded the bus again for a tour of the city.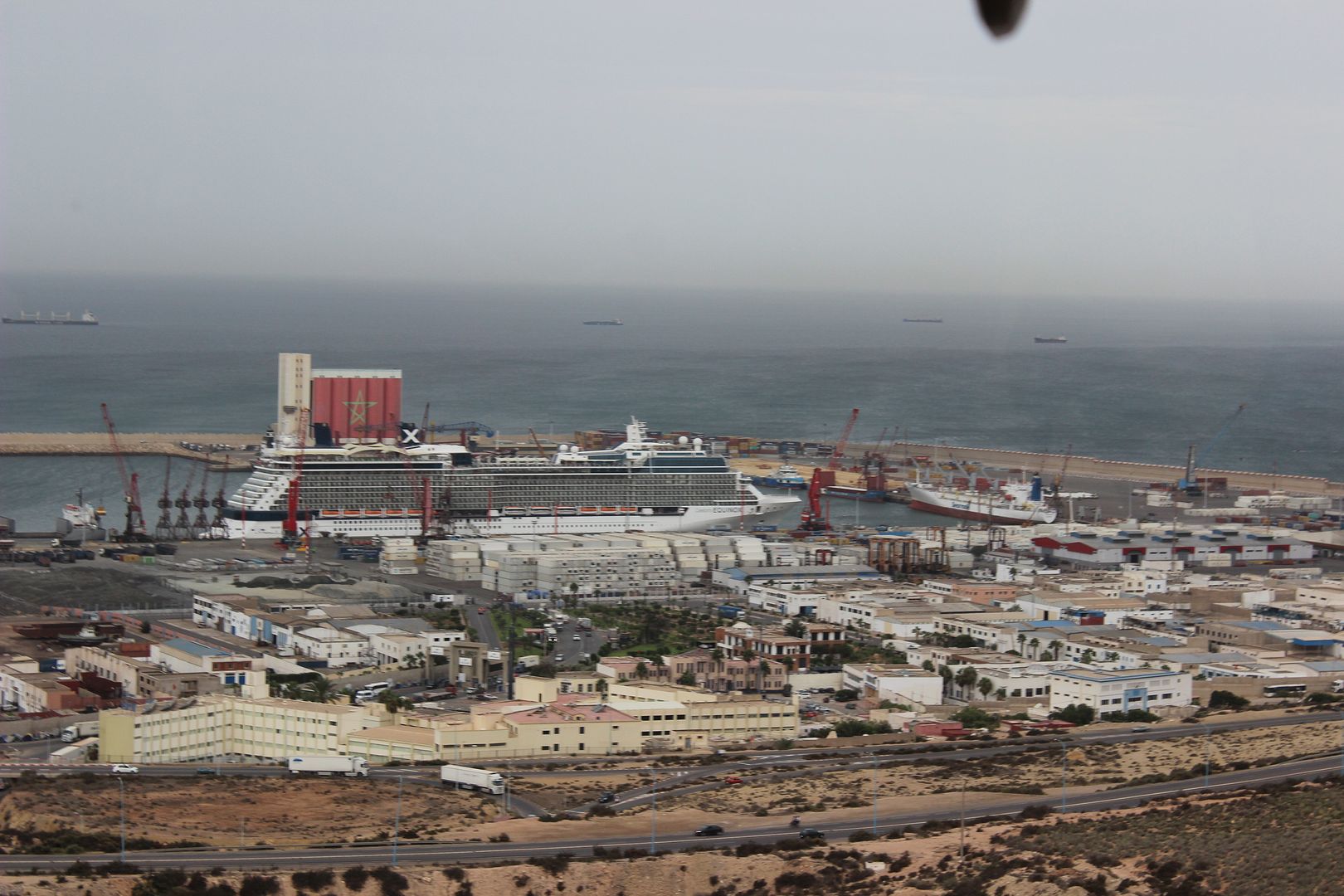 After the driving tour, we stopped for the Fantasia show.



As we entered there were small glasses of min tea with or without sugar and a small selection of cookie.



We were seated next to an open courtyard for the show. The women dancing weren't doing any type of Arabic dance, just shuffling around.




We were seated next to another passenger who was from the middle east. He was very disappointed. The acrobats were great and following each performance, five men on horseback would charge toward us firing rifles and stopping just short of the spectators.




Scared me each time but it was fun.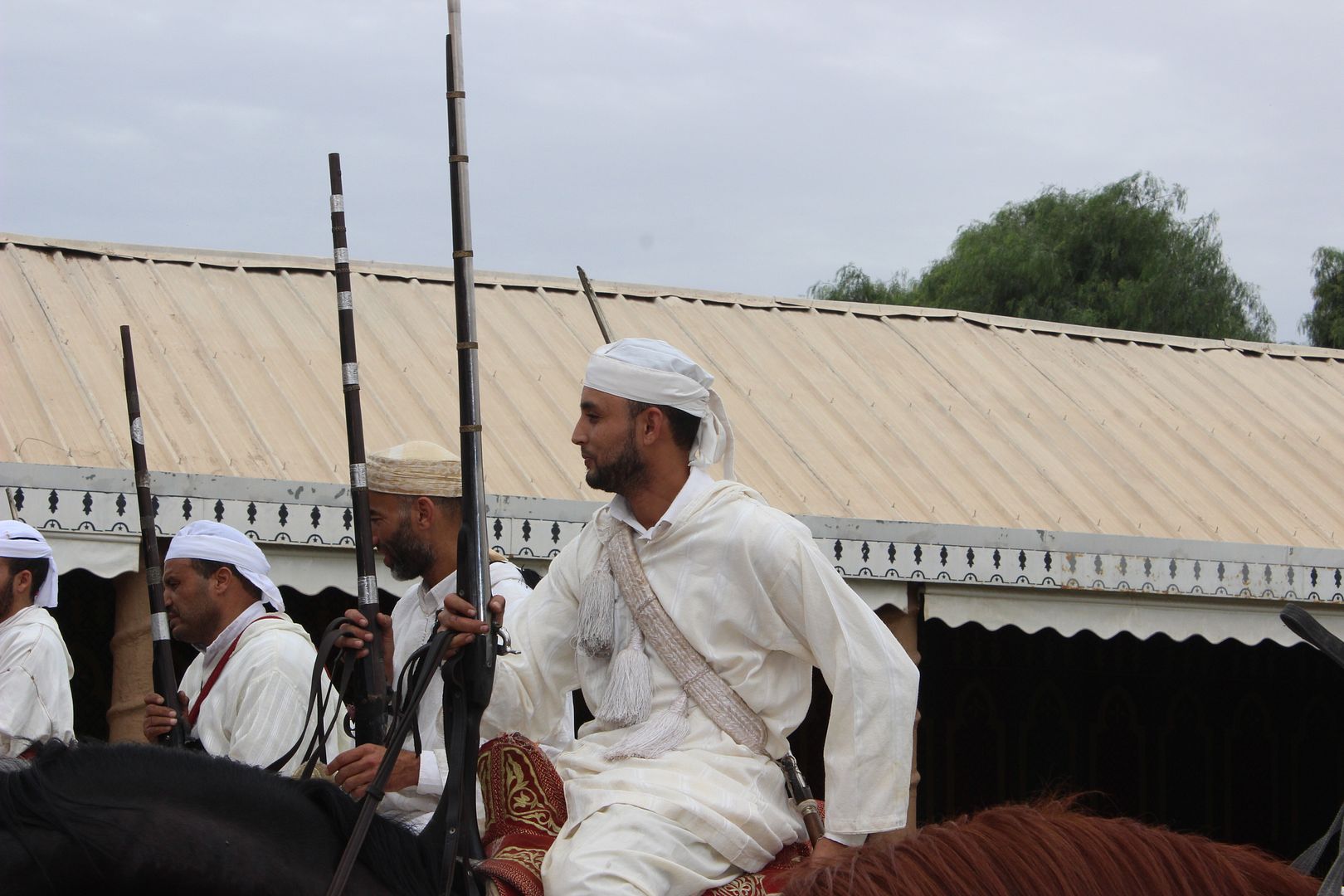 The last was a snake charmer. We all kind of freaked out when he dumped a bag of 5 snakes and they started slithering toward our chairs. He quickly corralled them though he also played with what looked like a cobra.




There was no narrative or explanation provided. Our tour guide Mohammad announced the show was over and we went back to the bus. The last stop was the Souk. our guide did a quick walking tour through and gave us 30 minutes to shop. Mom was a bit worn out from the long and fast paced walk through the souk so we went back to the bus and I set out to find souvenirs for us both. I found a few of those loose flowing shirts and garments that are great for wearing in hot weather. I also found a few shawls for mom as part of her Christmas shopping. Most spoke a little English and they loved to barter.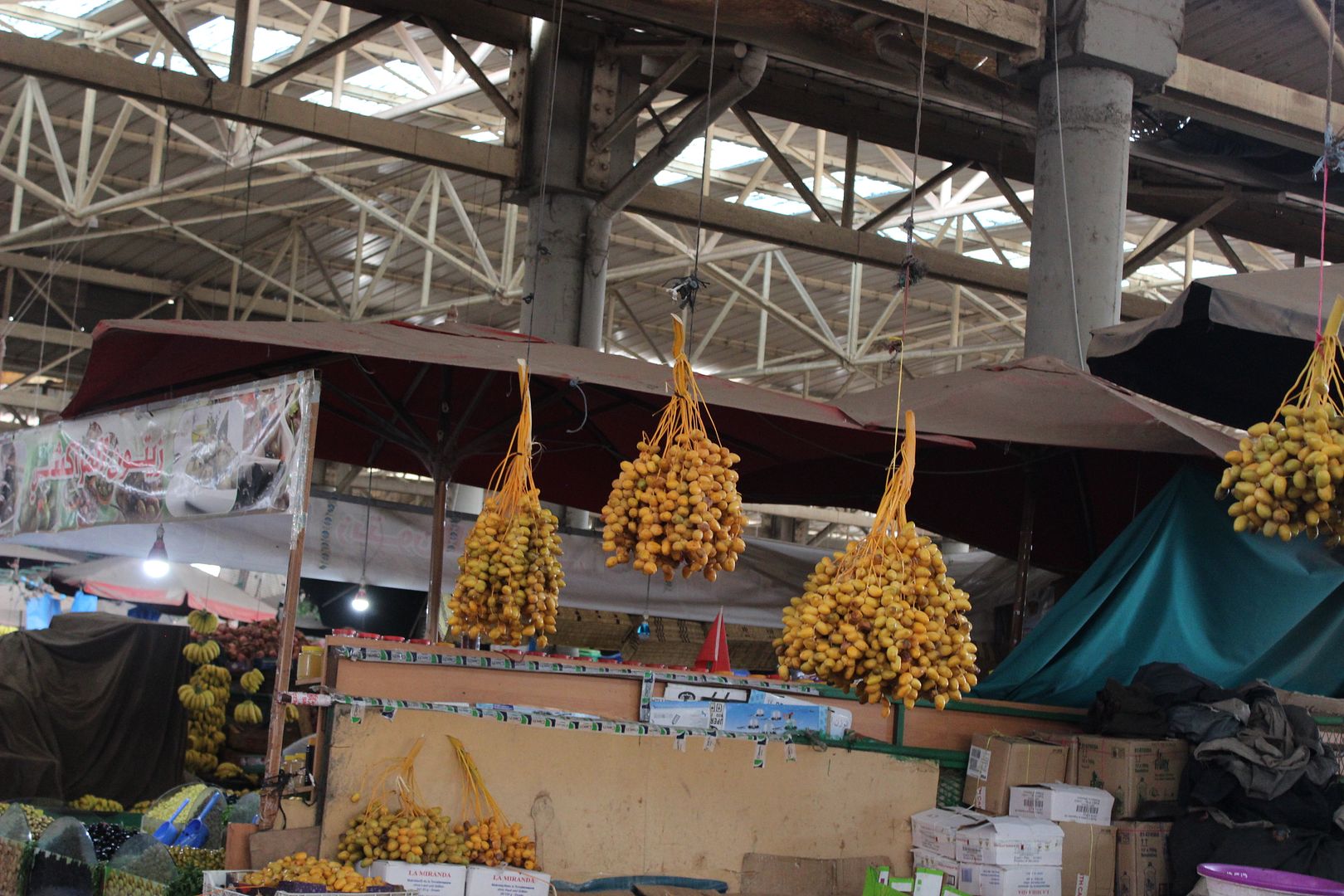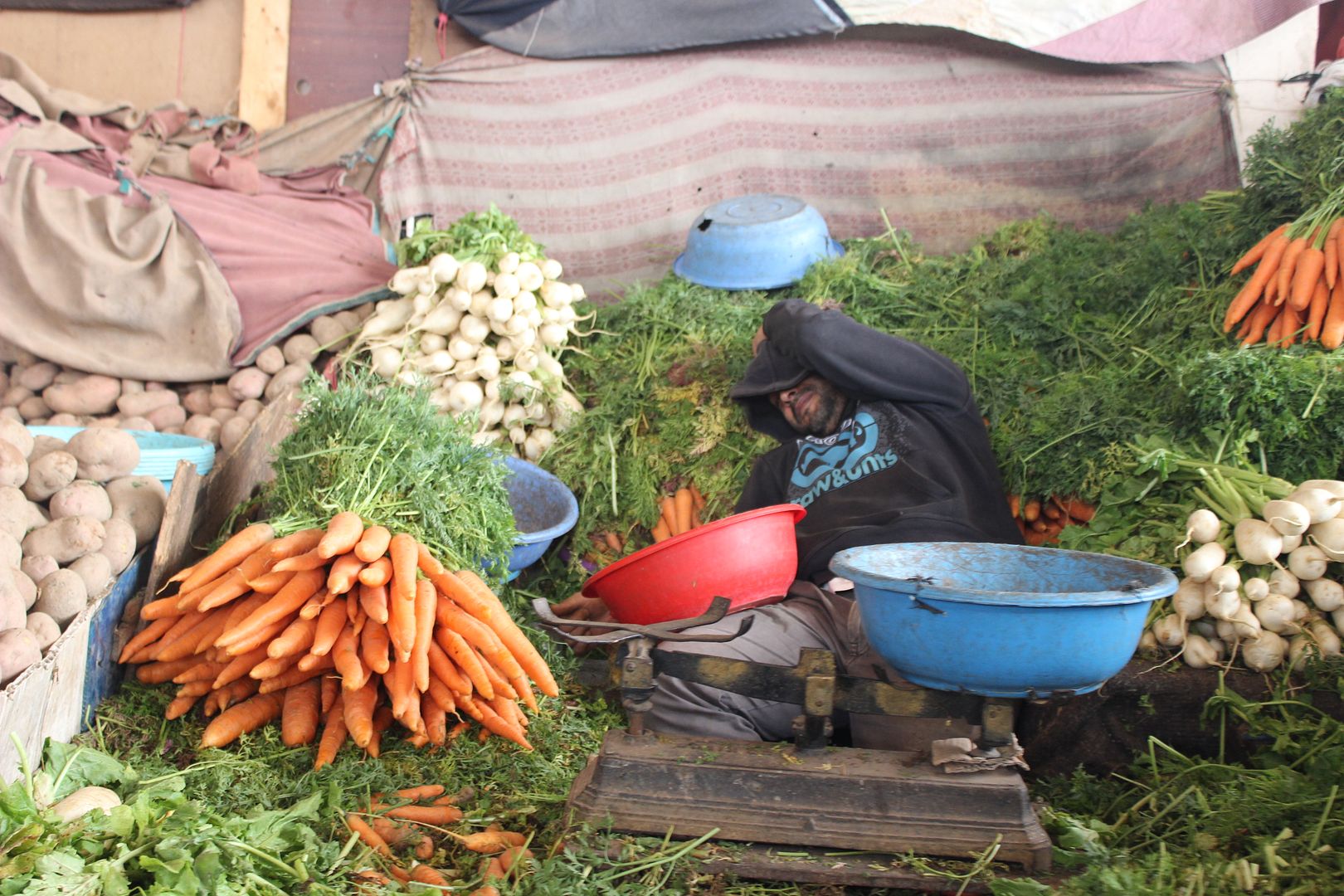 Back to the ship and up tot he cafe for lunch and rest. We found Caren from Cruise Critic sitting in the cafe and and enjoyed sitting with her for a while. Afterwards we went to the room for a nap and then walked around the ship a bit. WE did trivia but didn't win. We went to watch the thriller flash dance rehearsal but only 3 people showed up. We then went to the foyer for a drink. We tried the gastro bar which is also where people were boarding so it was hectic. It was then about dinner time so we chatted with the man selling premium dining as folks boarded the ship from the port. The sushi on Five sounded good to me and mom agreed to go even though she does not care for sushi. As we walked over, we saw Caren and asked if she would like to join us for dinner. She did and the three of us went to Sushi on Five.



The edamame was good along with the wantons.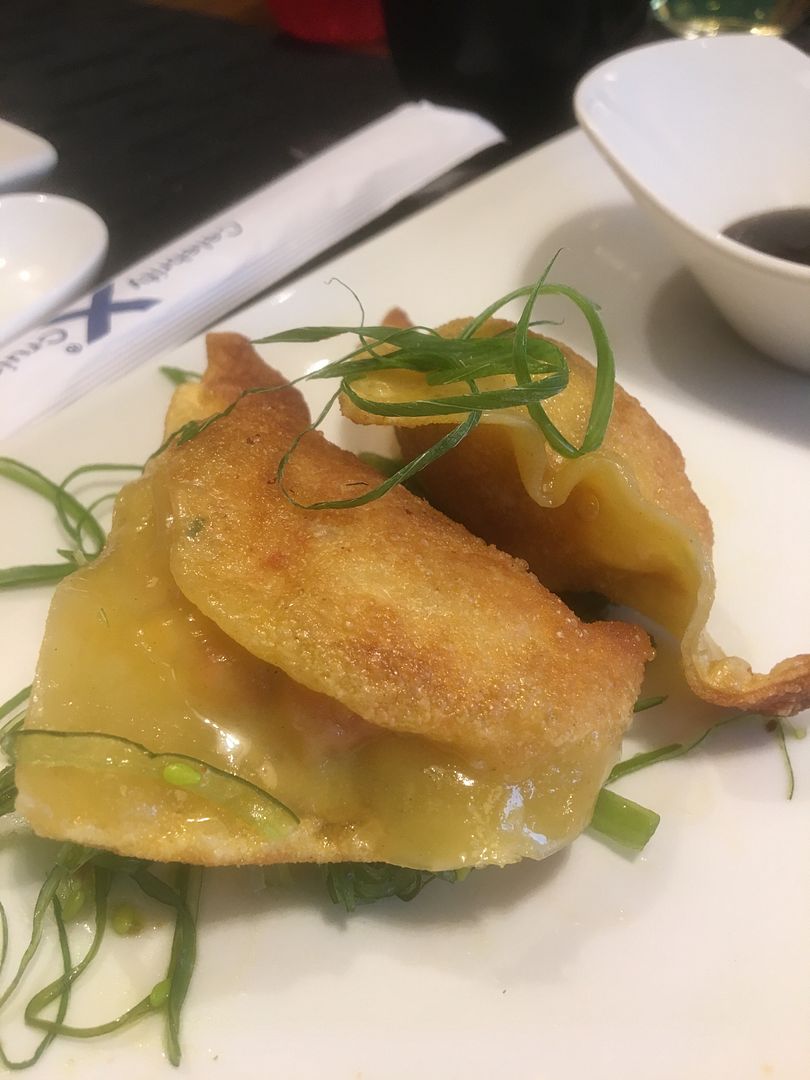 Mom had the lobster pot but it was disappointing. The lobster was very tough and rubber so she just ate around it and enjoyed the rest. The broth and noodles were very tasty!



I had the roll with tuna and mango which was my favorite.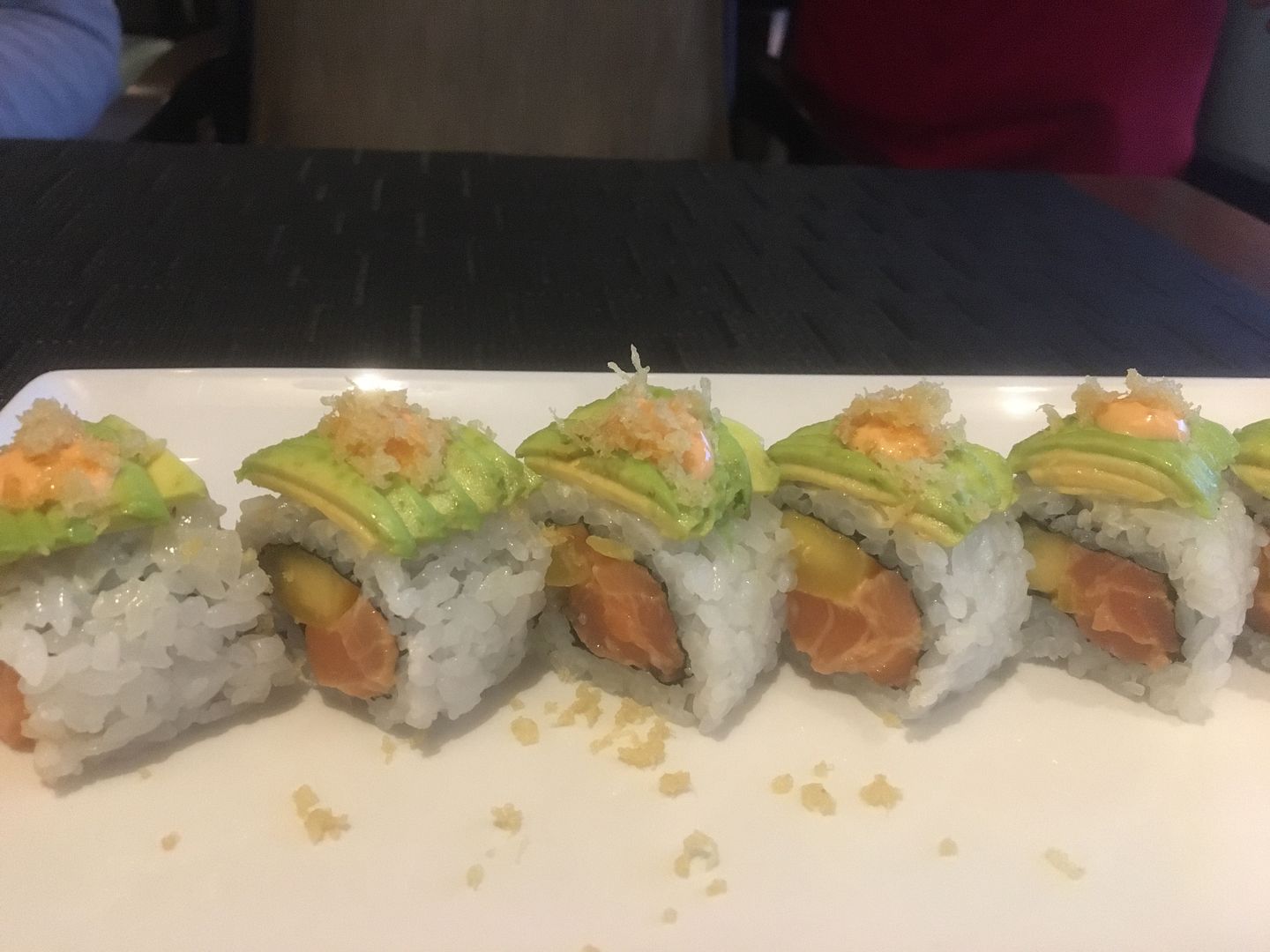 The one with baked scallops was OK but the warm scallops on top of cold sushi was not my thing.




We had a great dinner, but missed the show so we went for ice cream instead. I tried on my shirt from the Souk and loved it but it smelled strange so I washed it out in the sink and hung it up to dry.

Saturday, October 29 - Lanzarote

The previous day we had tried to connect with Rini to pay for our private Lanzarote tour but we kept missing each other. We finally connected this morning and paid so we were confirmed on the tour! We slept late and didn't get up until 0900. A quick breakfast at the cafe and then we sat on the balcony watching the dolphins as we cruised into Lanzarote. We didn't dock until noon and our tour started at 1:30 pm. So we had a very relaxing morning. We went to the cafe at noon for a quick lunch before the tour. They had kiwi sorbet so I had 2 scoops. Beef stew was very salty so figured the sorbet made up for it. We also booked the Tuscan grill grill for dinner and Murano for lunch the next day as they had incredible deals and we had onboard credit.

Lanzarote Experience Tours - we met just off the ship but had a bit of a long walk to the bus. There was 15 of us on the tour. We got in the van and started out. It was unusually hot and we felt that in the van (no air). The guide was great though and our first stop was a scenic overlook where we saw a great black sand beach and a green lake.



We took photos, admired the view and got back in the van.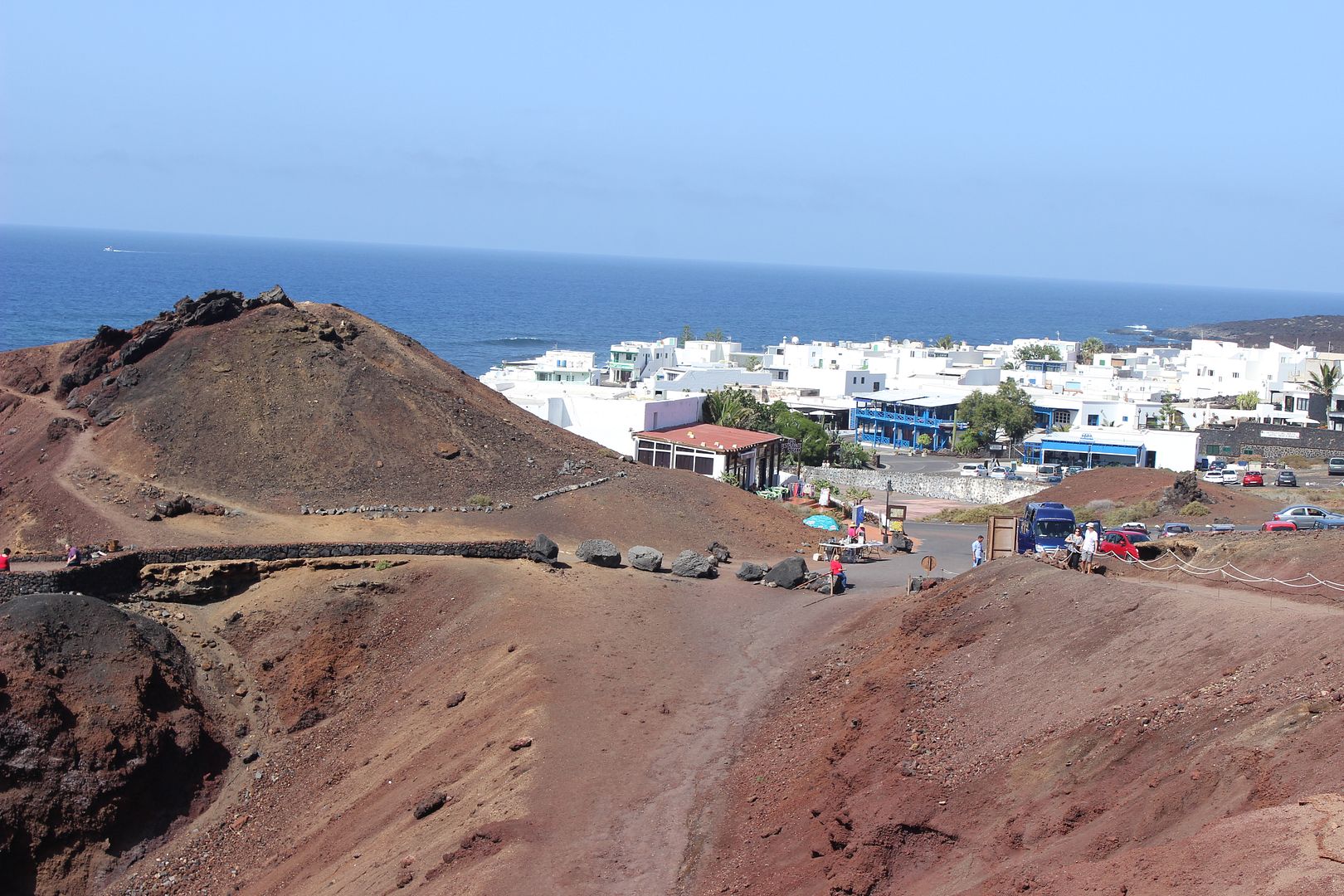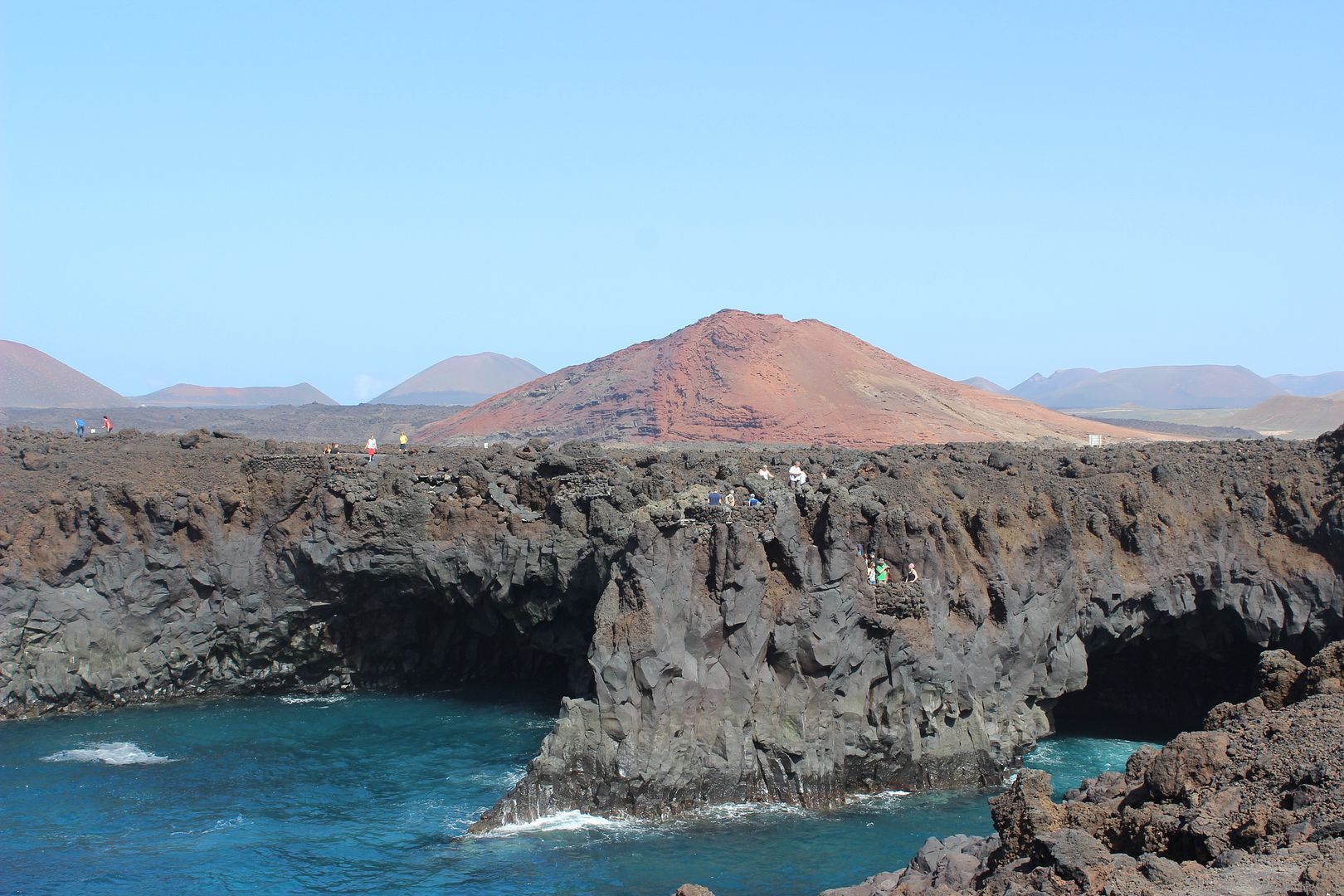 We drove to the next scenic stop which included some local offering camel rides along the road. We took a few pictures but declined to ride.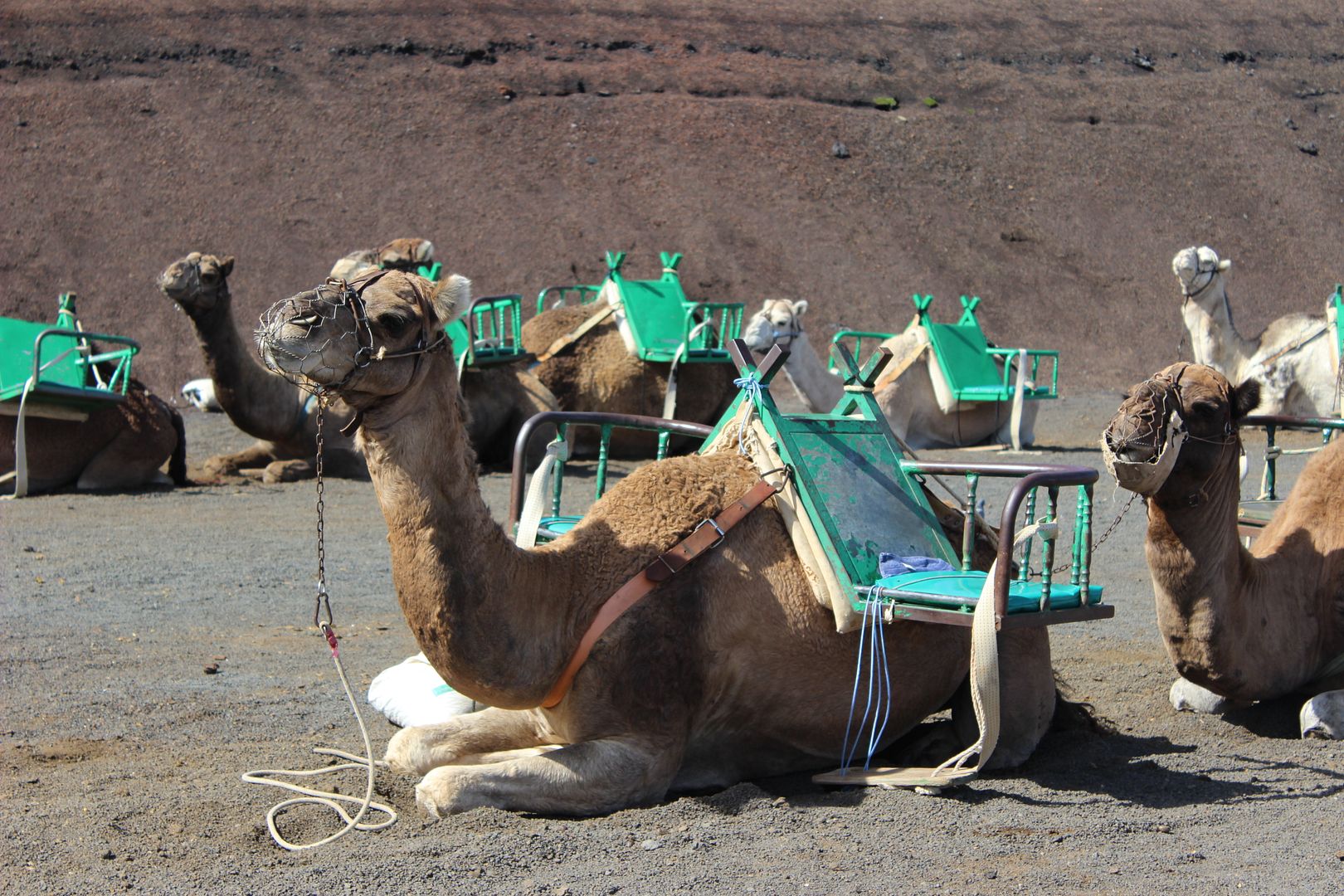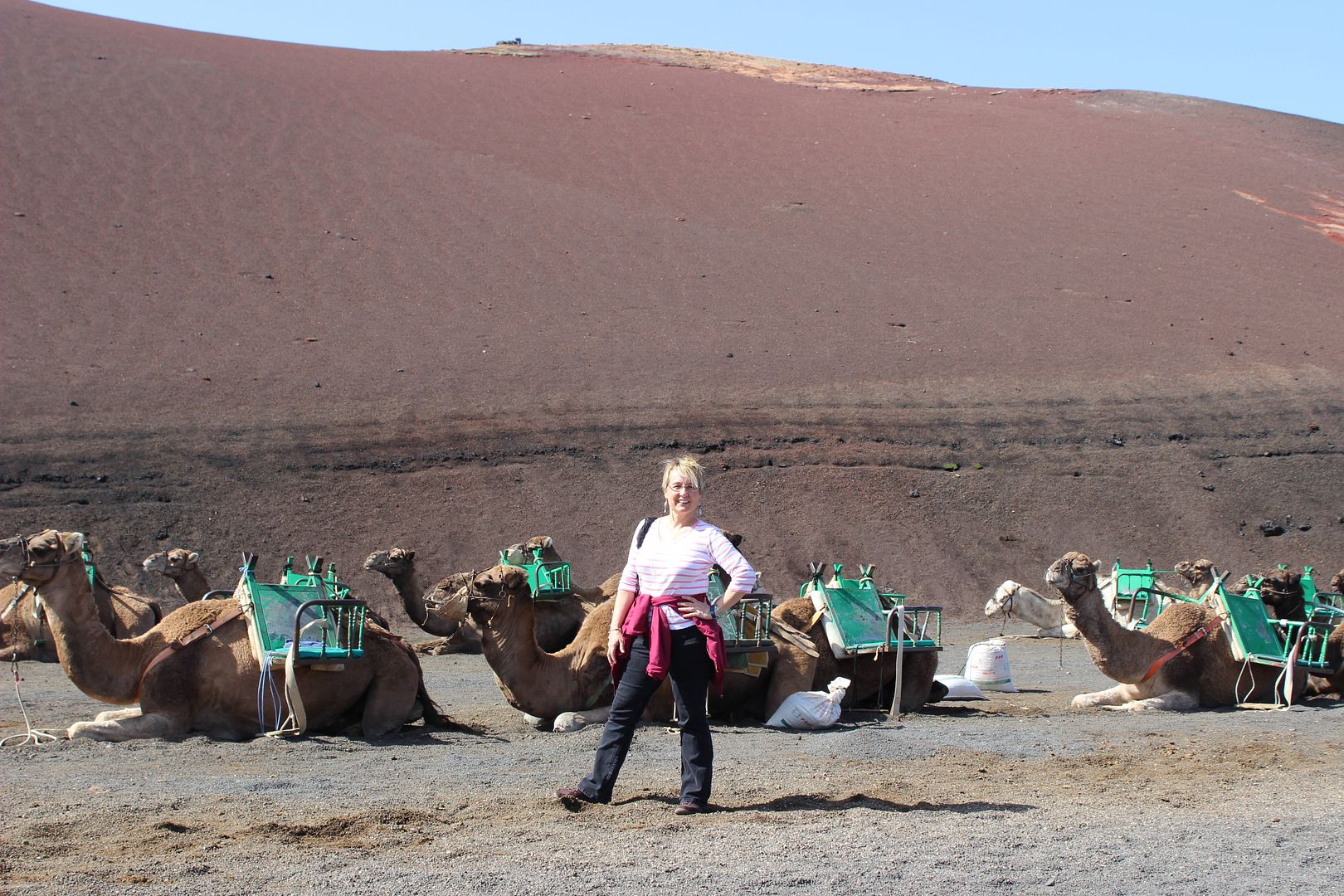 The last stop was de Fuego and included a demo on cooking with thermal heat.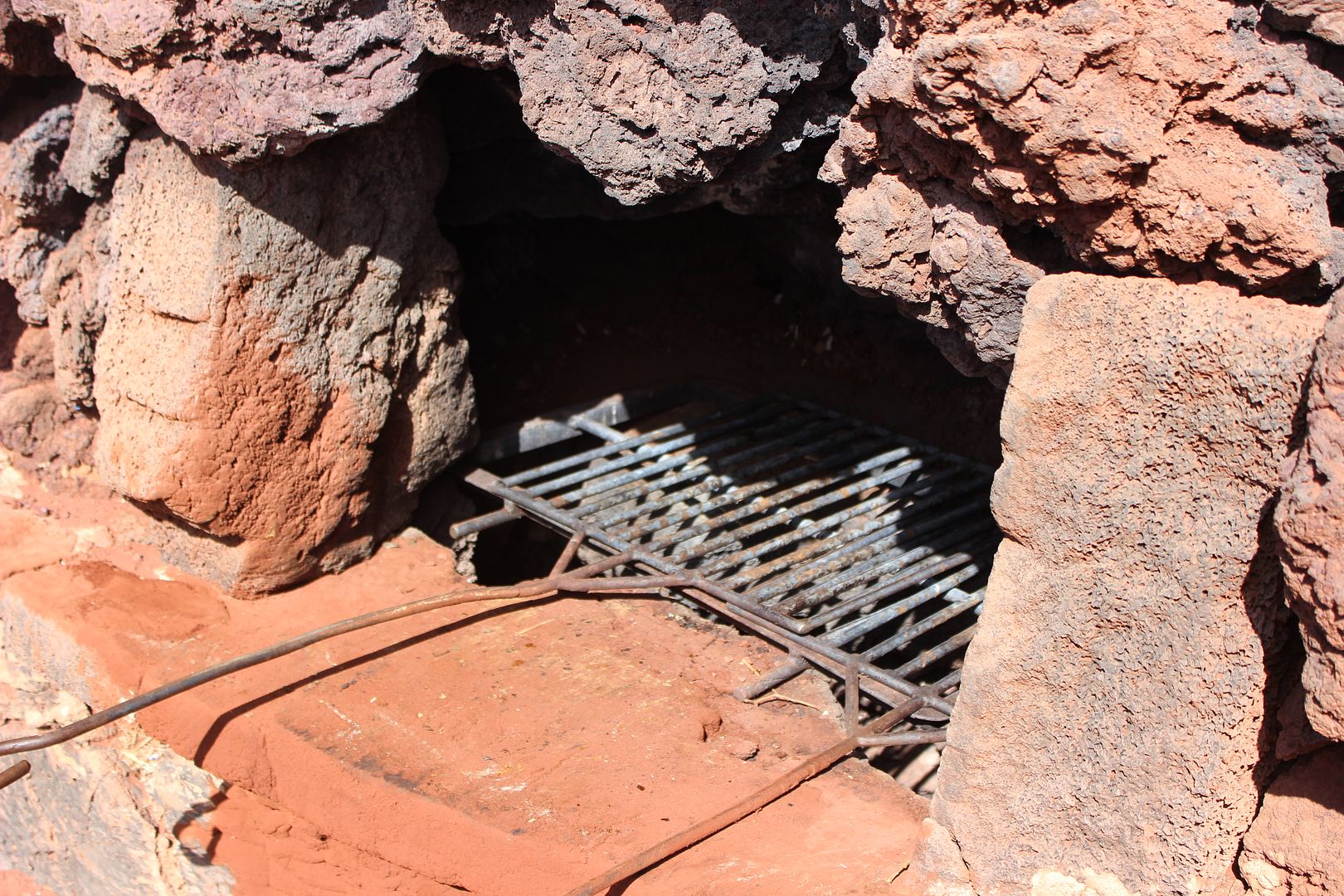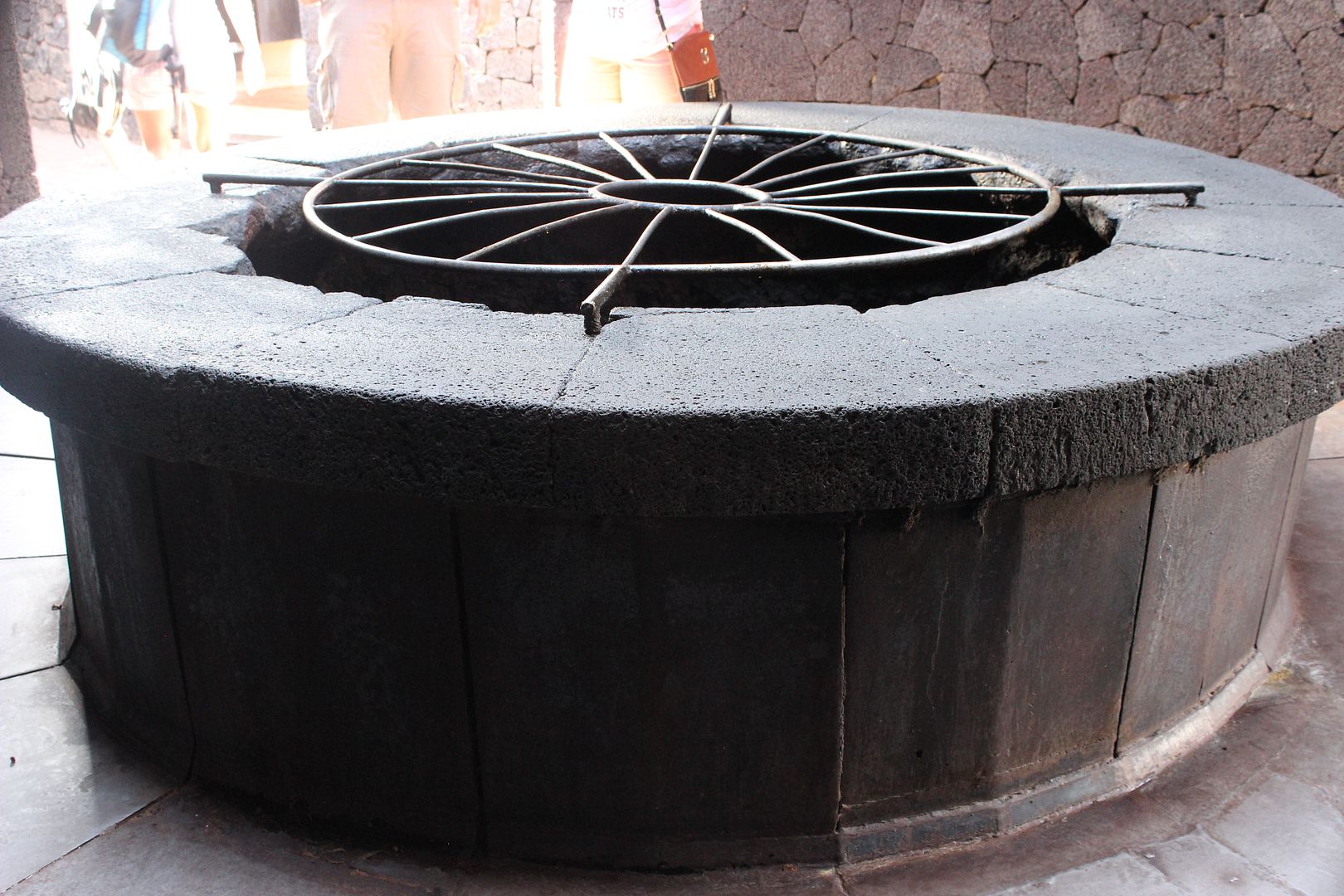 The tour included a bus ride around the volcano included areas with heights along the road. I declined the trip as I really don't like heights. I hung out around the visitor center while the others did the bus ride. They were gone about 30 minutes.


One more quick scenic stop, then back to the ship.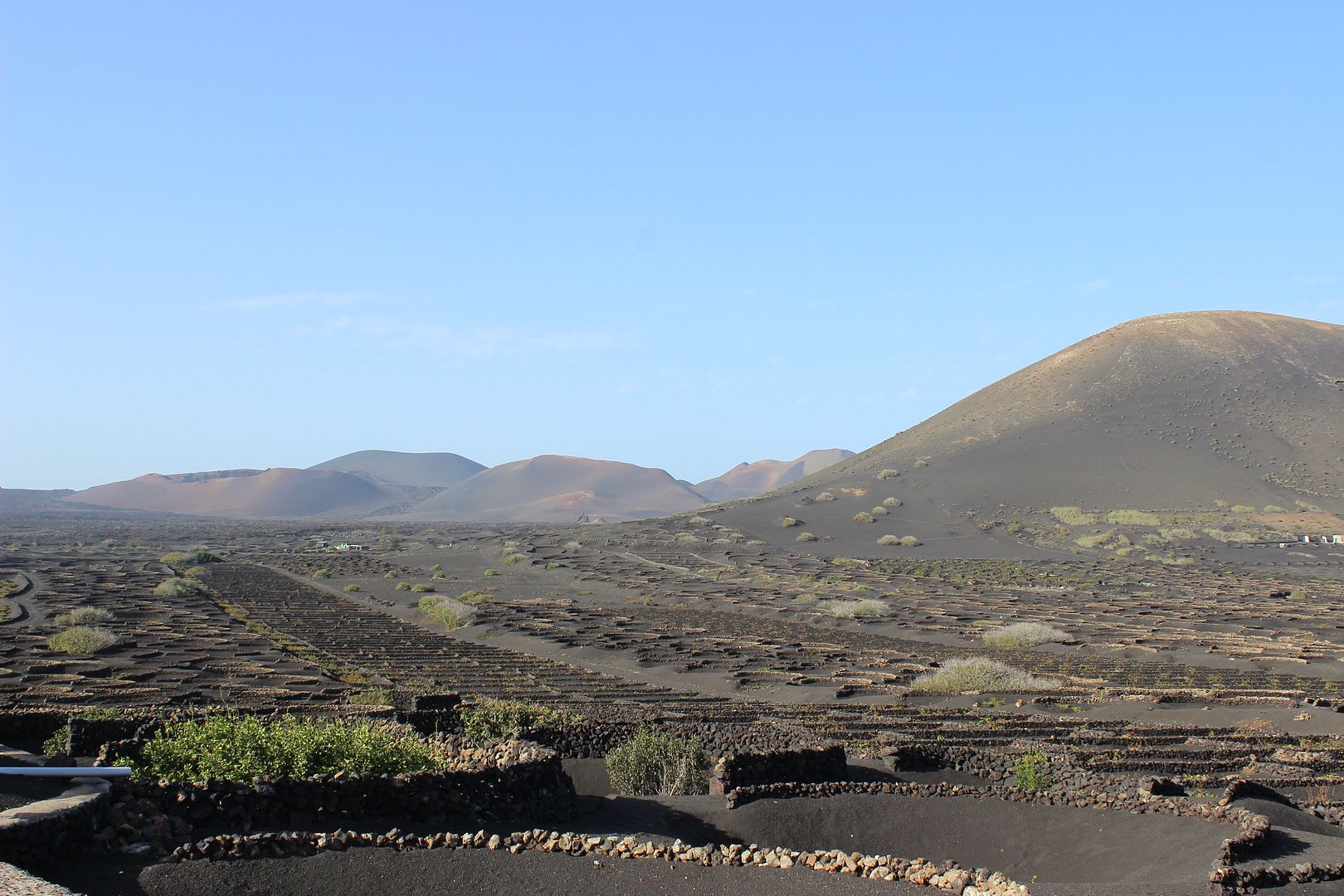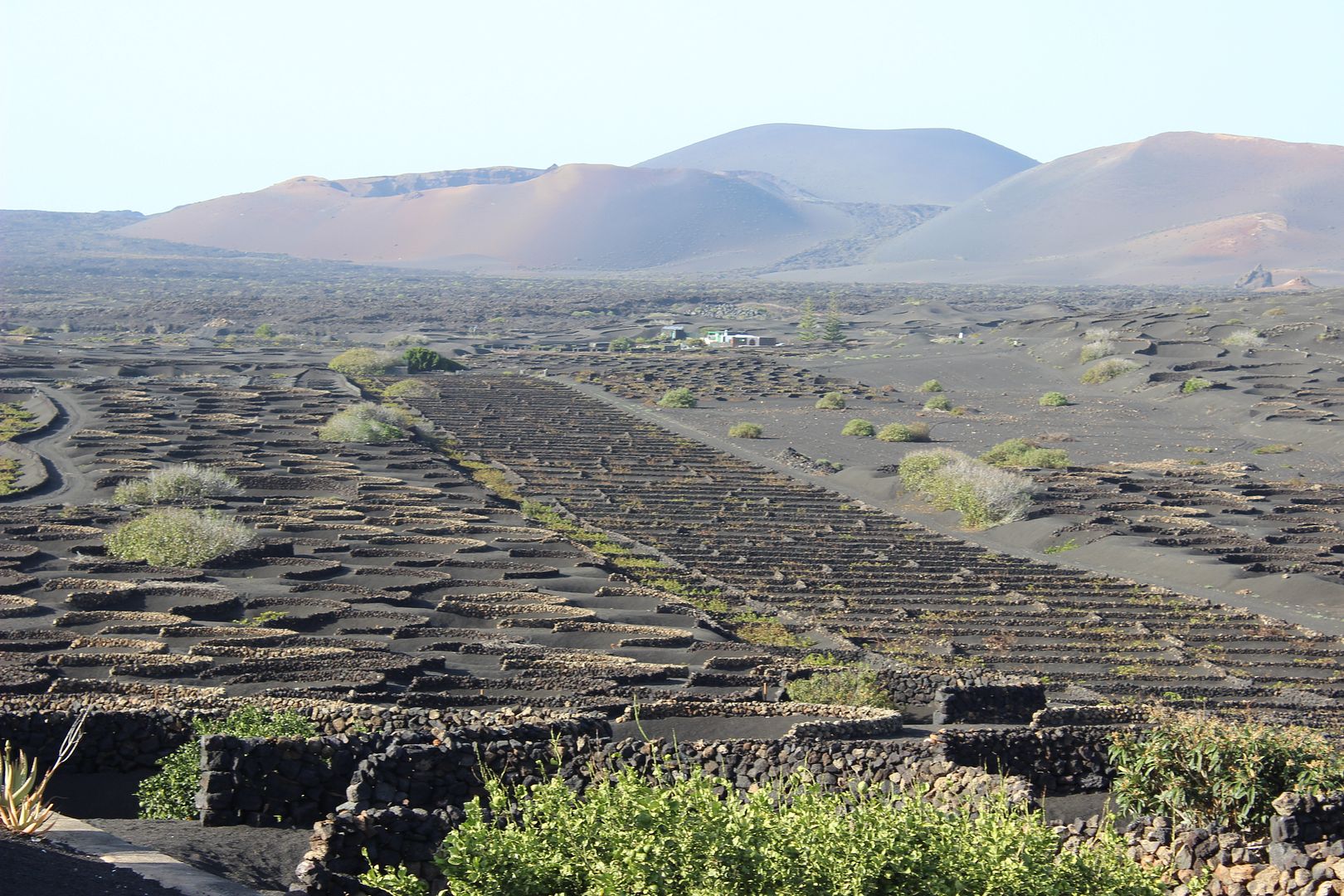 We went back to the ship and straight to dinner at the Tuscan Grill.



Dinner at the Tuscan Grill was wonderful but I did miss the truffle fries. They had all new side dishes. I had pasta for an appetizer, then the goat cheese salad followed with the Filet Mignon with blue cheese sauce. They didn't have a dessert sampler so I had pistachio creme brule which was very good. Mom had calamari and the short ribs pasta with cheesecake for dessert. We also tried the polenta fries but of course it was too much food and I couldn't even begin to eat it all. They offered us a tasting of Lemoncello - VERY NICE! After all that, they also bring mom a birthday cake!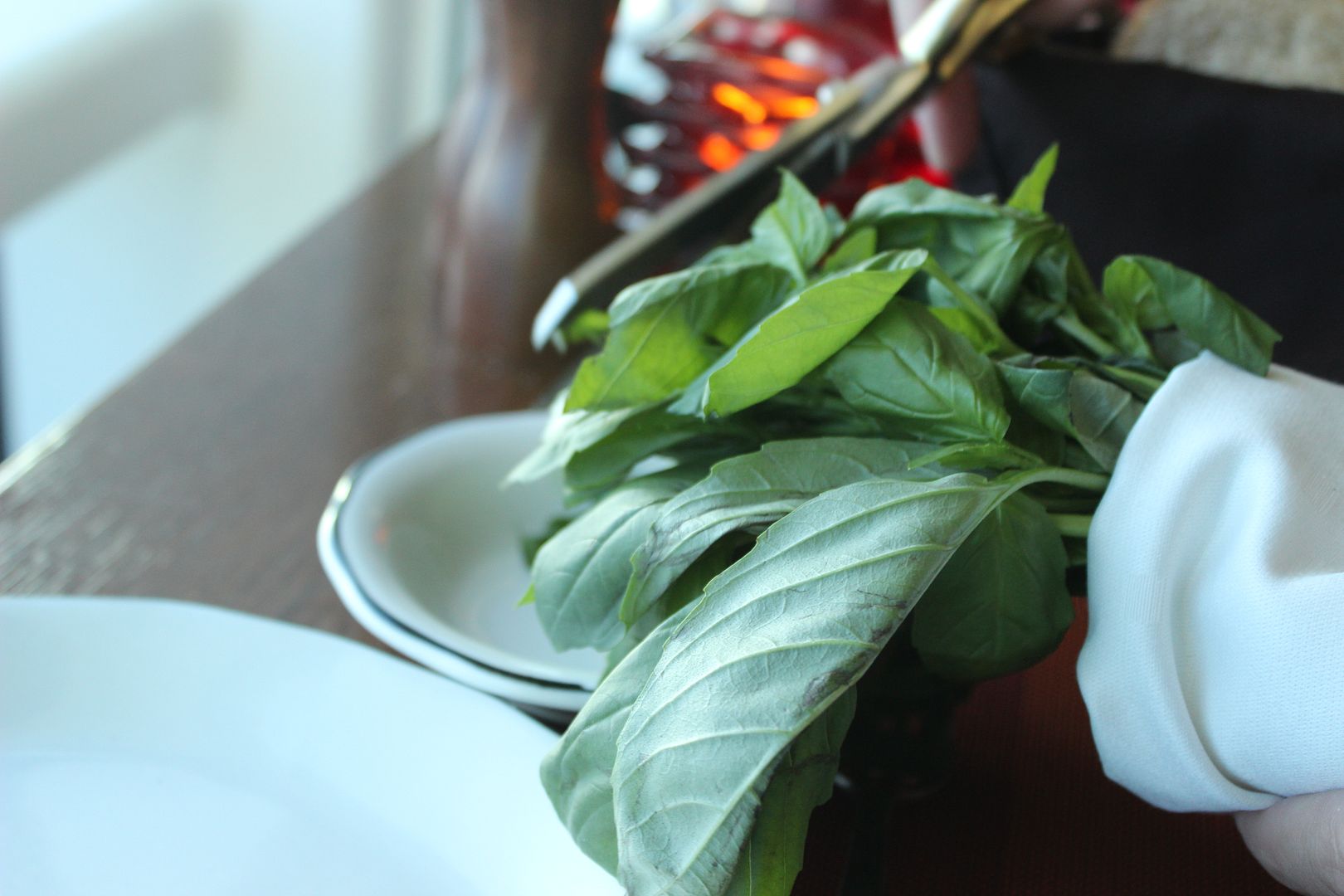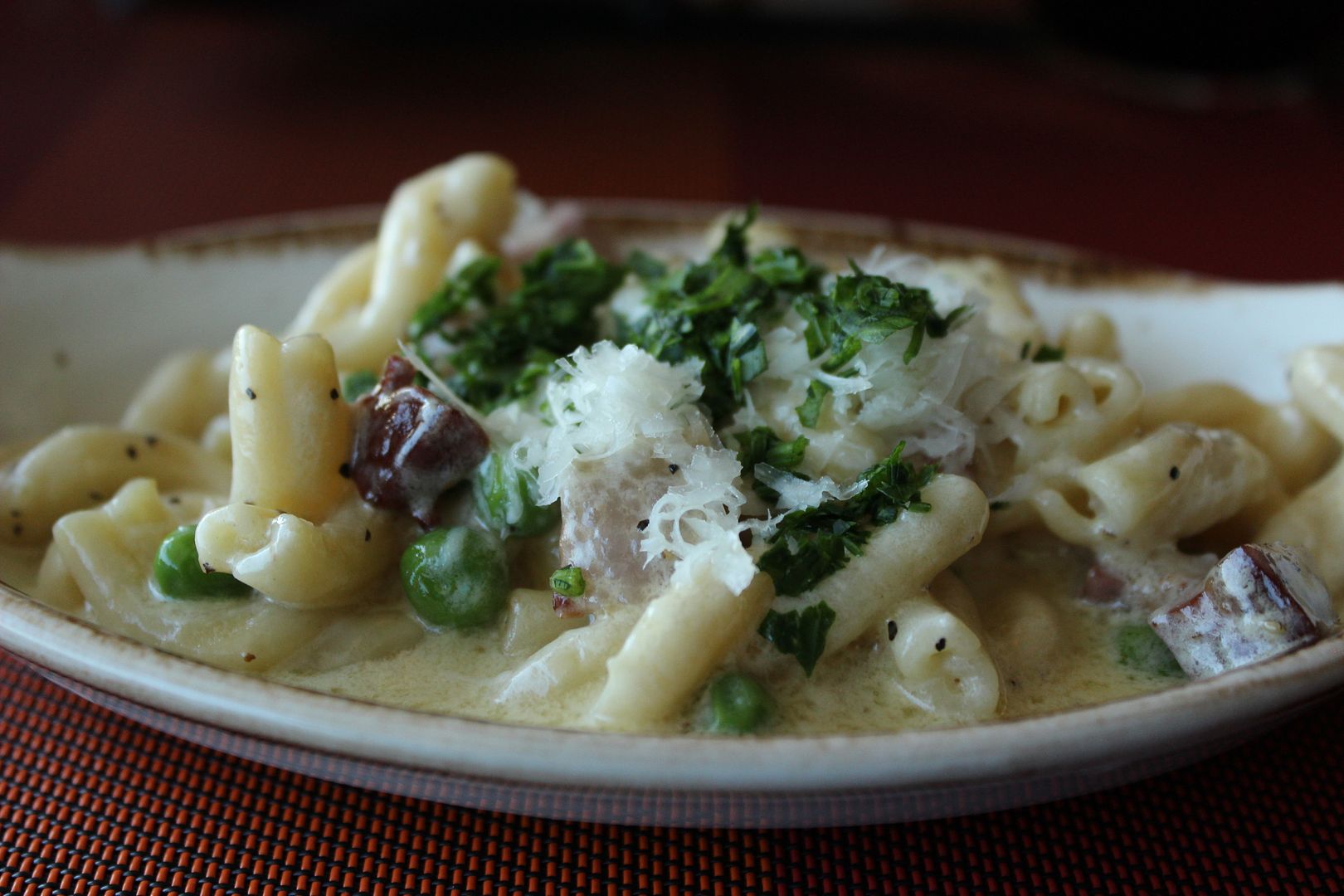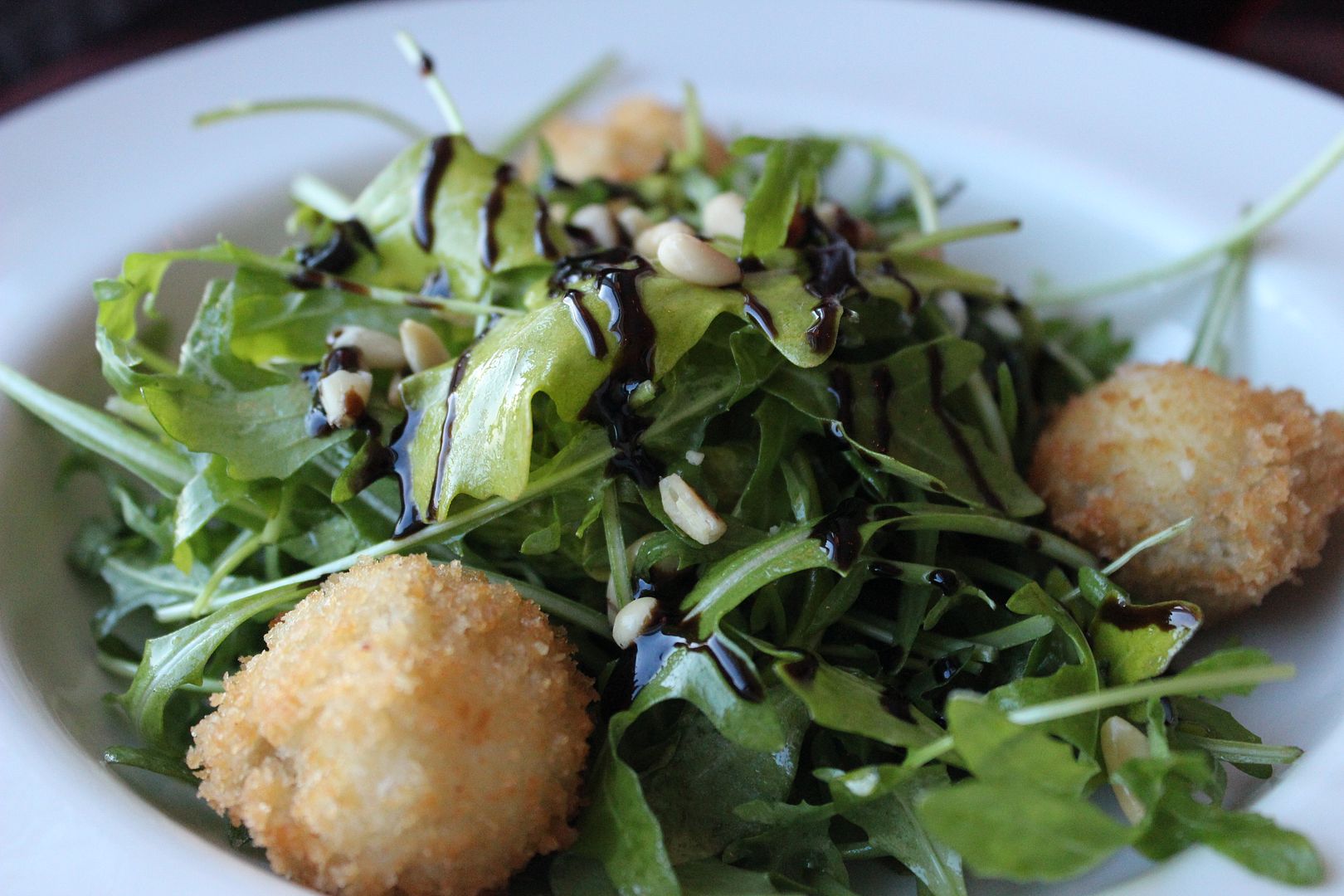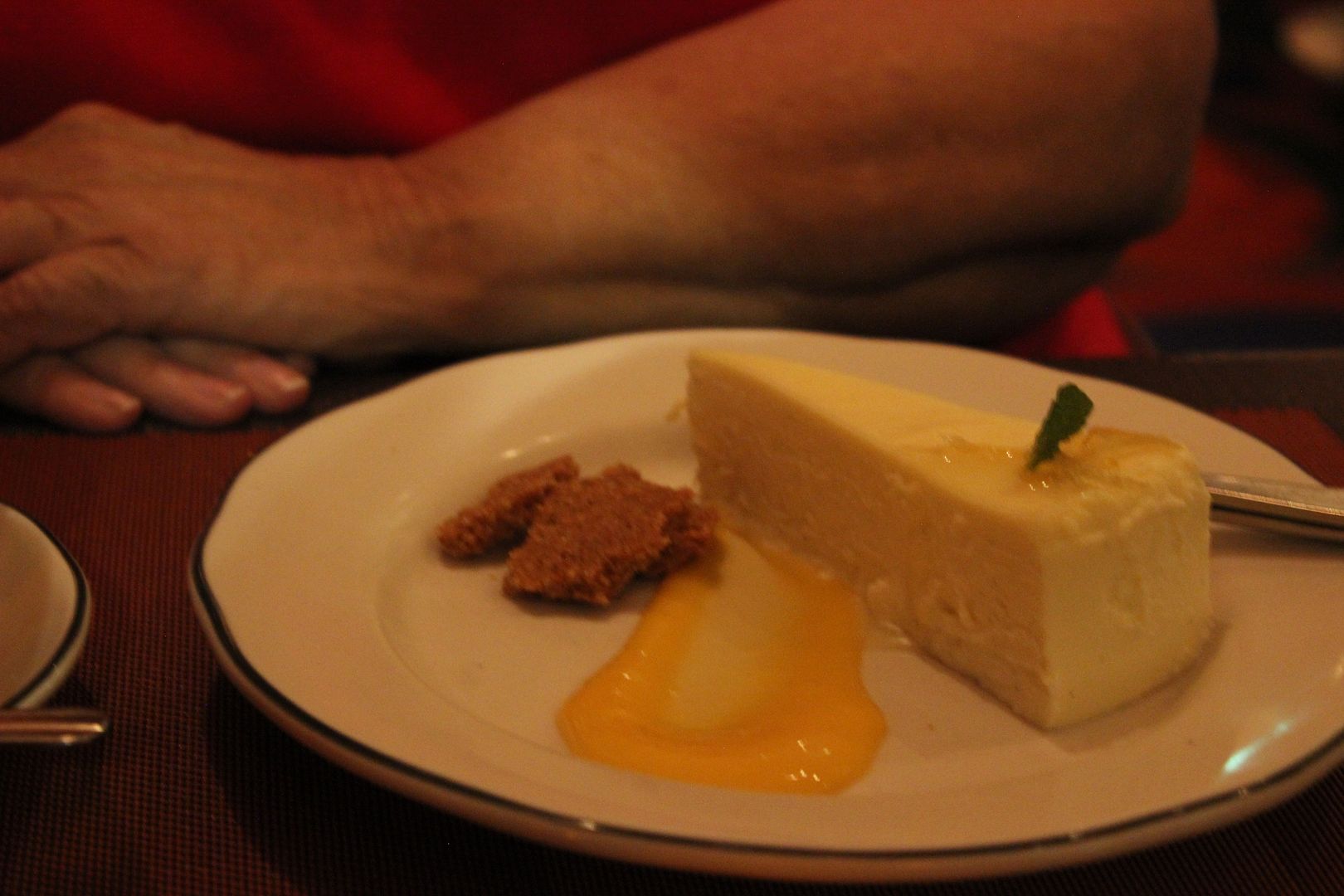 We were so full we skipped the show, walked the ship a bit to walk off dinner, then went to our room. We stayed up a bit that night just talking and watching reruns of Top Chef Season 12 on demand. I will always treasure this time I spent with my mom.
Sunday, October 30 - Tenerife
This private excursion was planned and full but one couple had to cancel at the last minute so I was lucky to grab their spot! We toured with Patsy Little and I had done her tour less than a year ago with my husband on our transatlantic cruise. We met off the ship and got on the tour bus. The beginning was the same as last year, we did a long walking tour of the city including a market. We then drove up through the mountains to see the 1000 year old tree and the wine tasting.

Patsy Little




The market - mom bought some spices and I wish I had too.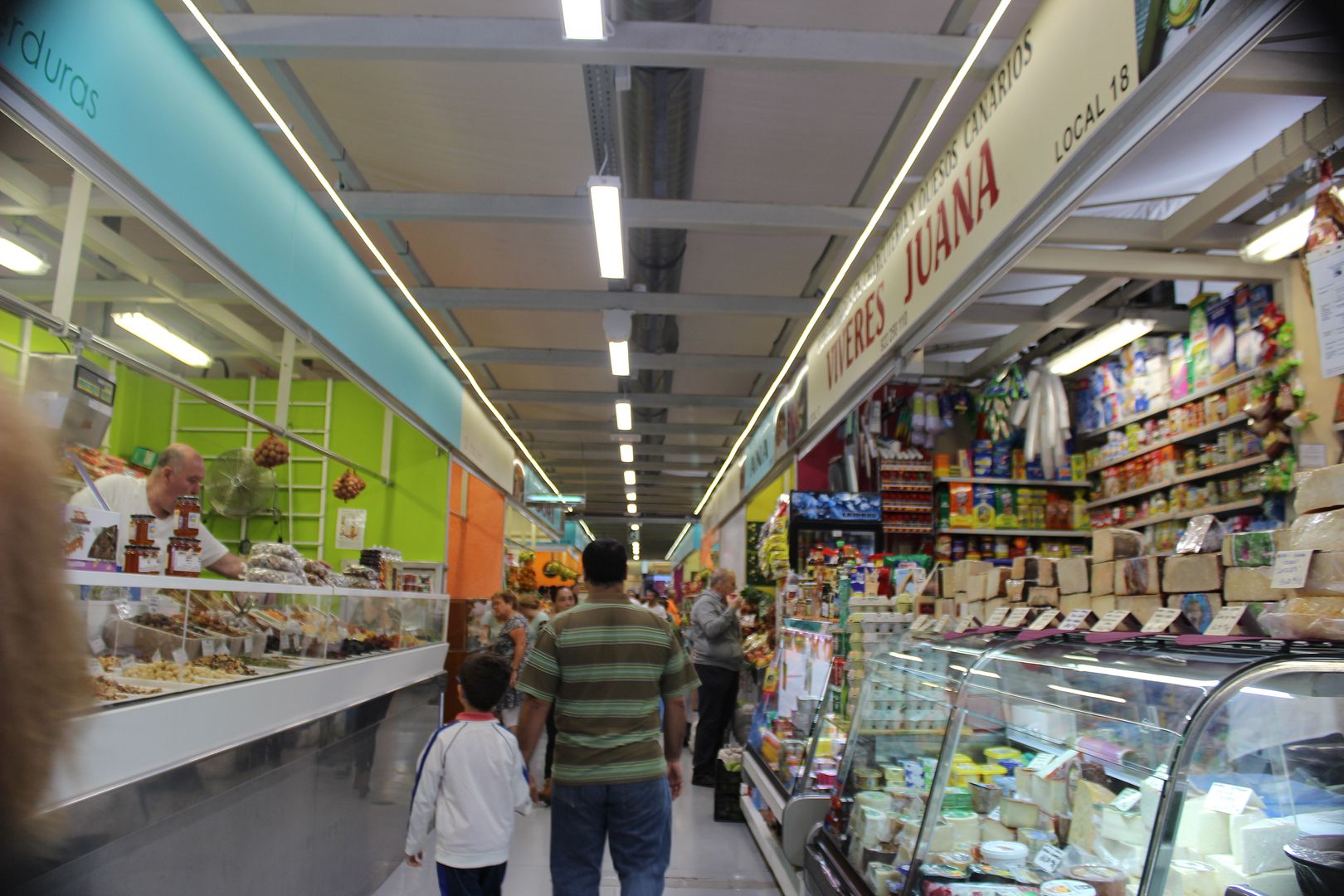 Walking through town



The town with the 1,000 year old tree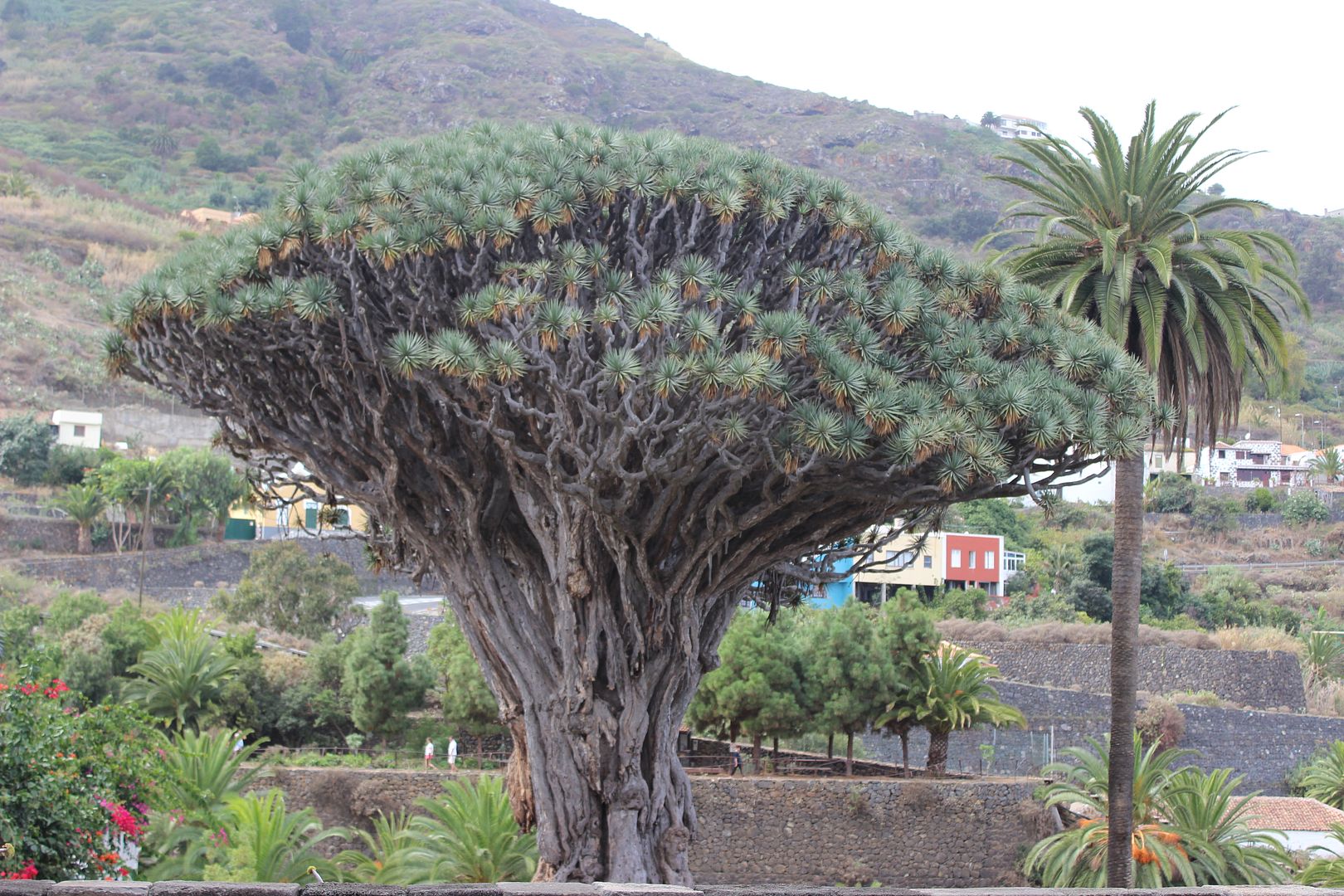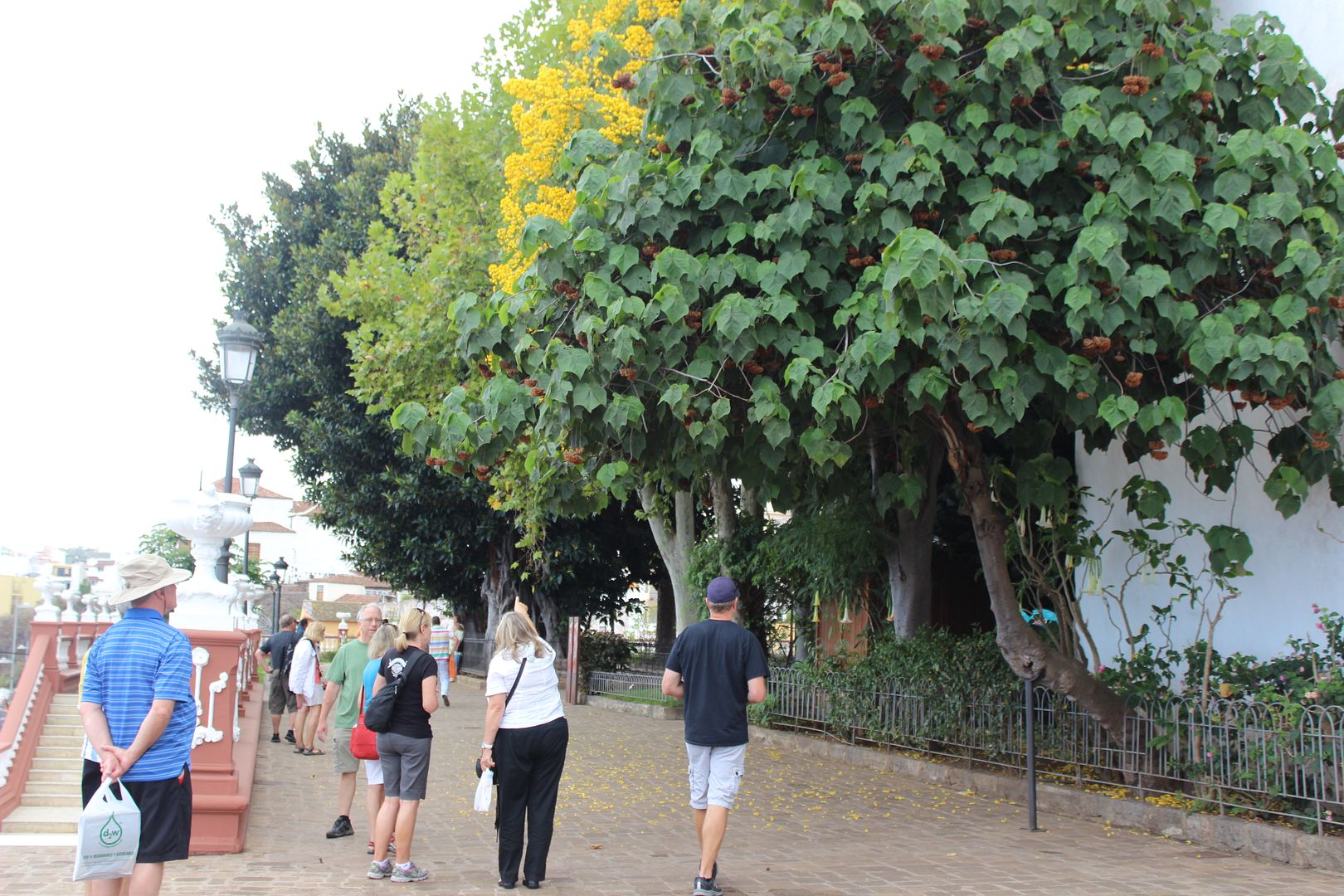 This time we did not go to the seaside town for shopping and free time, instead we had lunch as a group at a restaurant high in the hills. Lunch was good but the ribs were a bit tough and not what I'm used to. It was mostly open air on a concrete slab with a roof but open walls. There was also a huge fire pit where they cooked the meat. The menu was mostly meat and potatoes along with a dish of garbanzo beans. Dessert was a passion fruit pudding that was so good mine disappeared very quickly.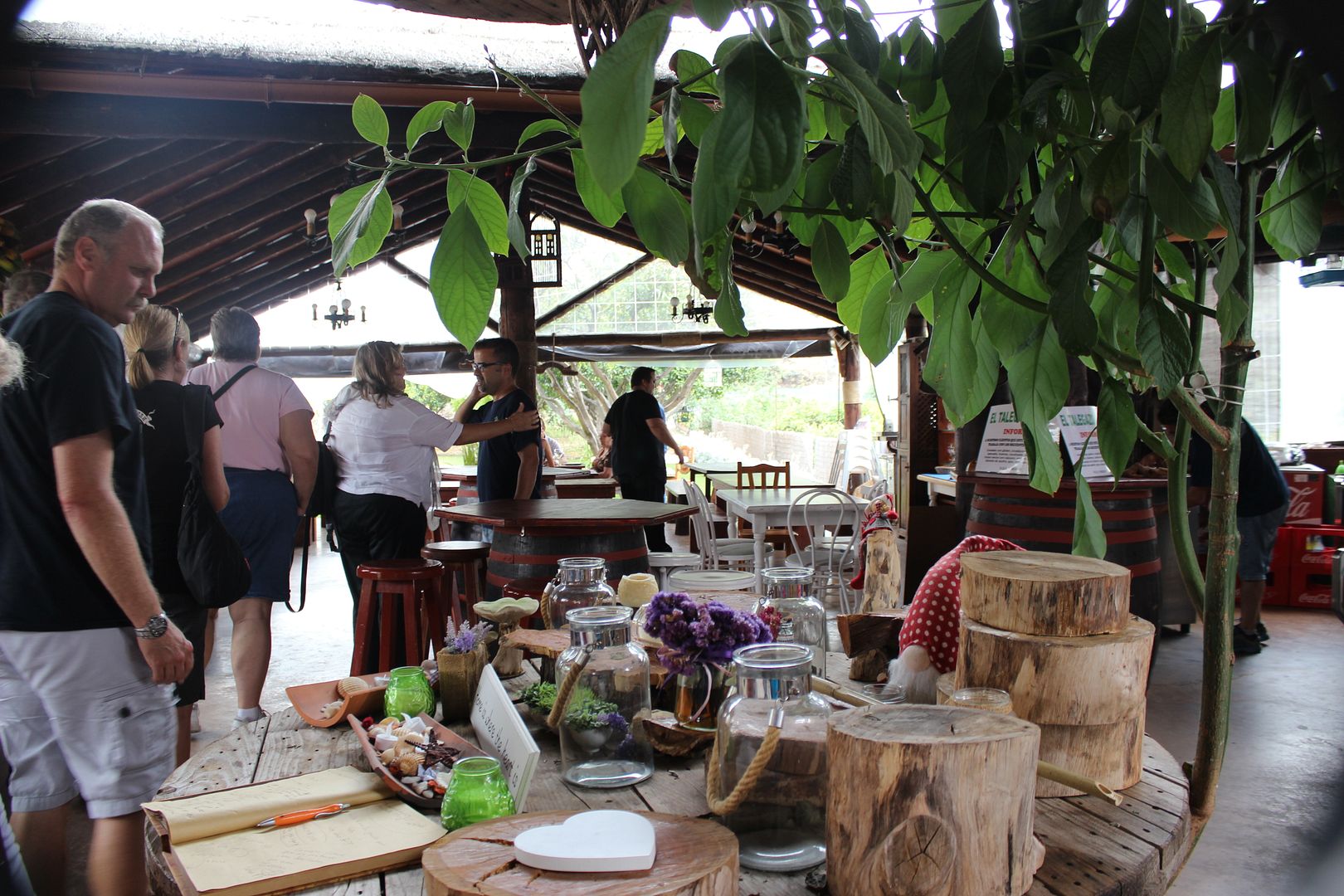 After lunch we got back in the van and went high in the hills to do a walking tour through the town. The walk included some very steep inclines so several of us stayed on the van and took a quick nap. That as the last stop before returning to the ship. I love Patsy Little and wouldn't go to Tenerife without doing her tour but this was was much more for active people and I'm not all that active anymore. I loved the morning but LOTs of walking up and own steep hills.

View of Tenerife from the ship




A reward for all our walking, ice cream with sprinkle. I can't remember the last time I had sprinkles!




We went to dinner that night but I don't even remember dinner. We did go to the show however and saw the violinist Hannah Starosta. Unfortunately the sound seemed not so good and you didn't really get the effect of her performance. It sounded hollow and they must have been having issues wit the sound system this night. We went to bed, tired after a long day. Since I can't remember dinner, some random photos from the main dining room dinners.


Monday, October 31 - Halloween - Sea Day
This was the beginning of our transatlantic crossing. We went to breakfast in the ocean view cafe, Poached eggs were still hard boiled today but oh well. After breakfast I went to knitting at the Martini bar and mom was on her own. We had fun at knitting until about noon, then I found mom and we tried to go to the aqua spa cafe for lunch but there were no seats and a lot of people milling about trying to find a place to sit. So we left and went back to the cafe for lunch. Afterwards we headed to the auditorium for the Beyond the podium speaker about dreams. She was very good but we had started to fall asleep so thought it best to leave. The ship was decorated for Halloween.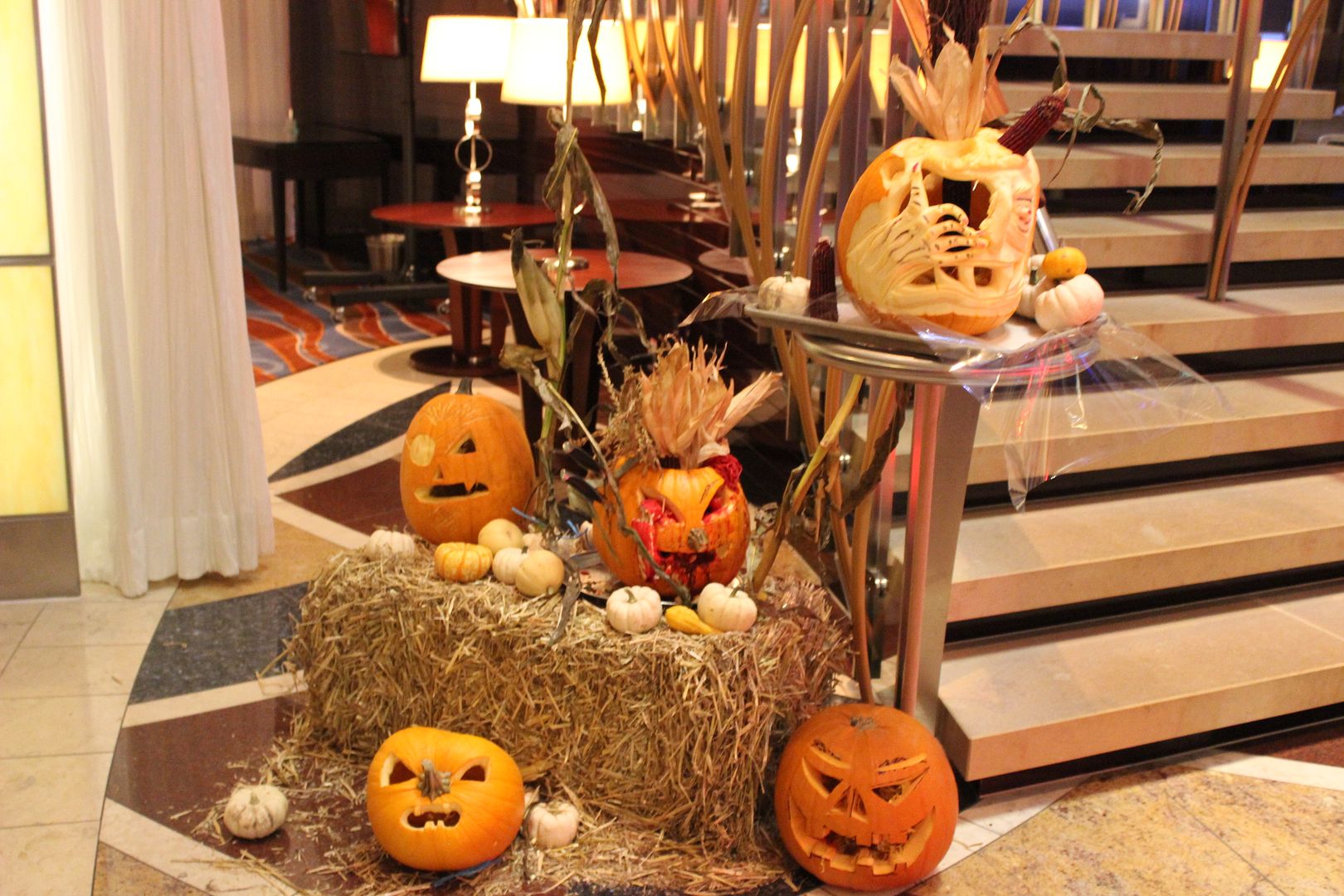 We wandered the ship a while before going back to our room to relax on the balcony. We freshened up, changed and left the cabin around 4:30 pm to go listen to some of the live music around the ship. We met a few nice people, chatted and then went to dinner. Mike and Laura were there and we had a great time discussing food, cooking and all sorts of things. I had the turkey and stuffing which was only OK. It seemed to be a turkey roll, not my favorite. Dessert was a passion fruit curd which really seemed to be a mousse but I didn't mind, I liked it! Mom had the cannolli but seemed to like mine better. After diner we watched more live music before going to the show.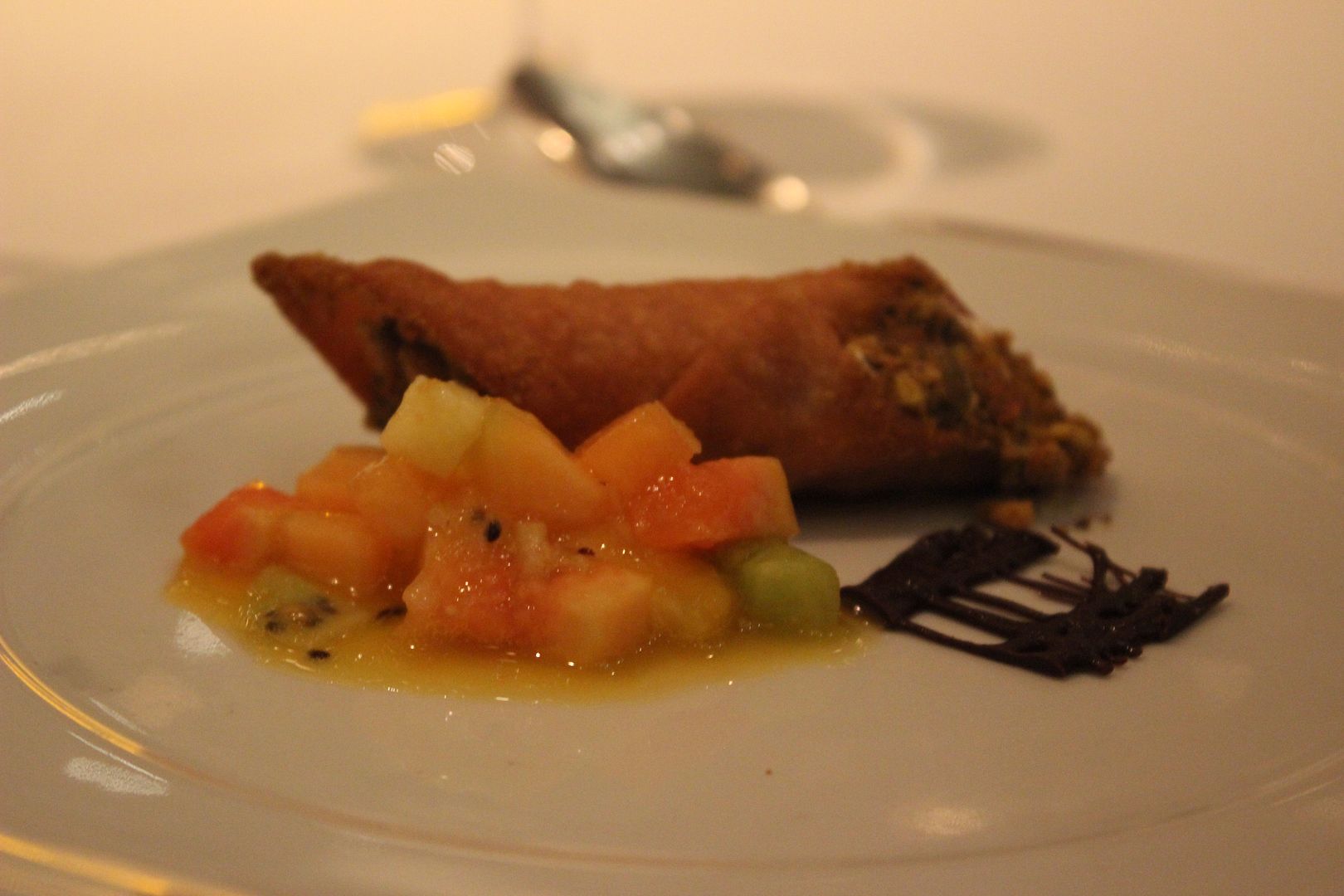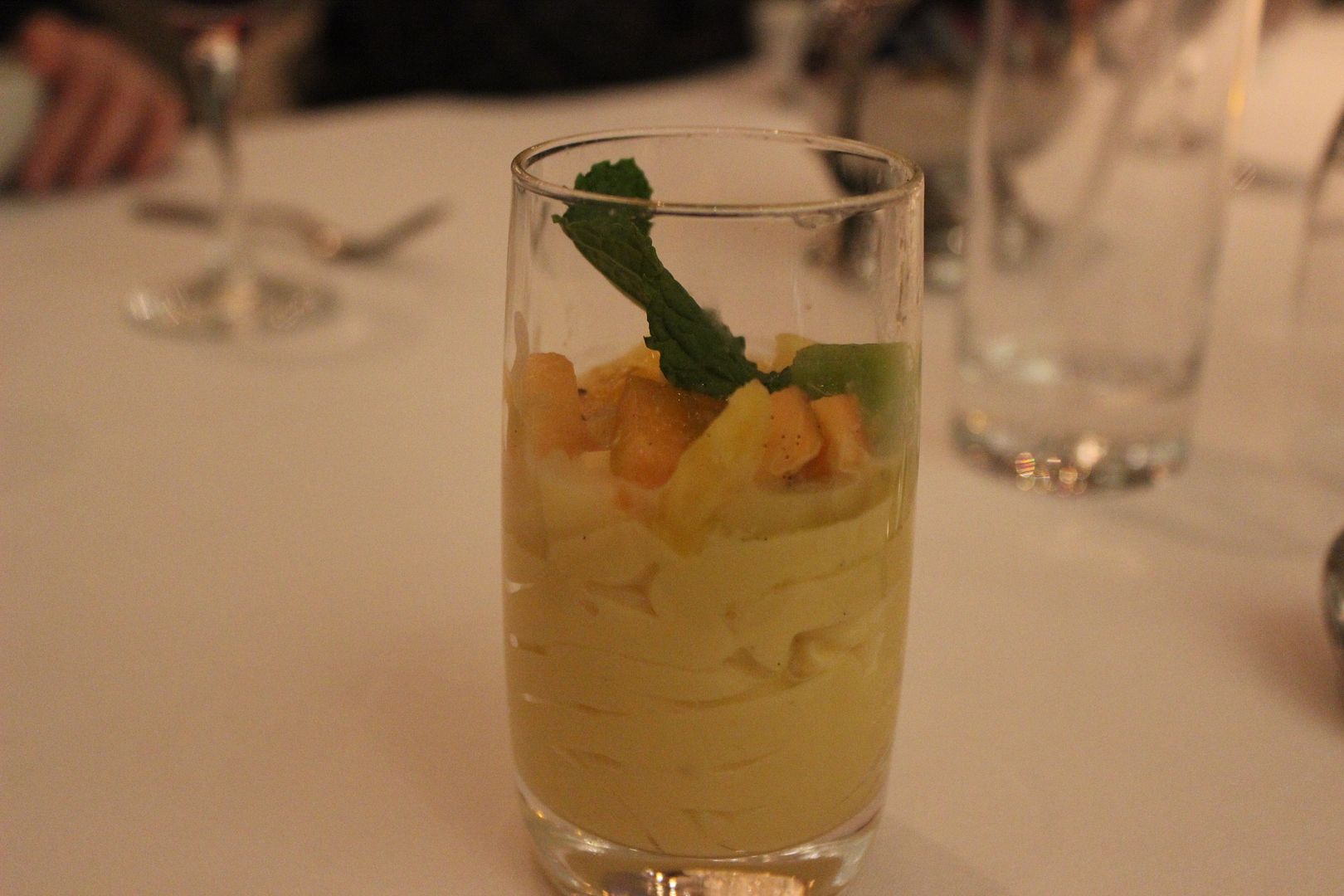 The singer tonight, Jayne Curry was my favorite show of the cruise. An incredible voice but she could have also been a comedian if not a singer. Her husband was a golf pro Steve Parry and I loved the golf stories. I tried to get a photo but she was moving so fast all I got was blur.

Also, during this day we were walking past the Gastro bar and they had the AZ Cardinal football game on - it was last quarter and things were tense. I talked mom into watching for a bit as my husband and I are AZ football fans even though this year we didn't get our season tickets. After watching for a bit, Mom said she didn't like the game of football as they weren't playing nice because one team was trying to take the ball from the other team. Arizona had stripped the ball on a tackle. So much for football, we went on our way. We also stopped by the Martini bar one evening for the LGBT happy hour - it was very entertaining and fun.
We woke up early and went to the cafe for 2 lattes. Then had a long leisurely breakfast before we separated and I went to my knitting group. Jeanne came to the group and gave an update on Barb who had fallen and broken her hip or leg or something in several places while walking down the pier to board the ship in the Canary Islands. She was sent to a local hospital and unable to return to the ship for the crossing. Barb had a suite with quite an alcohol stash and instructed Jeanne to share it with the Cruise Critic group. So here comes Jeanne to knitting toting a pile of beer.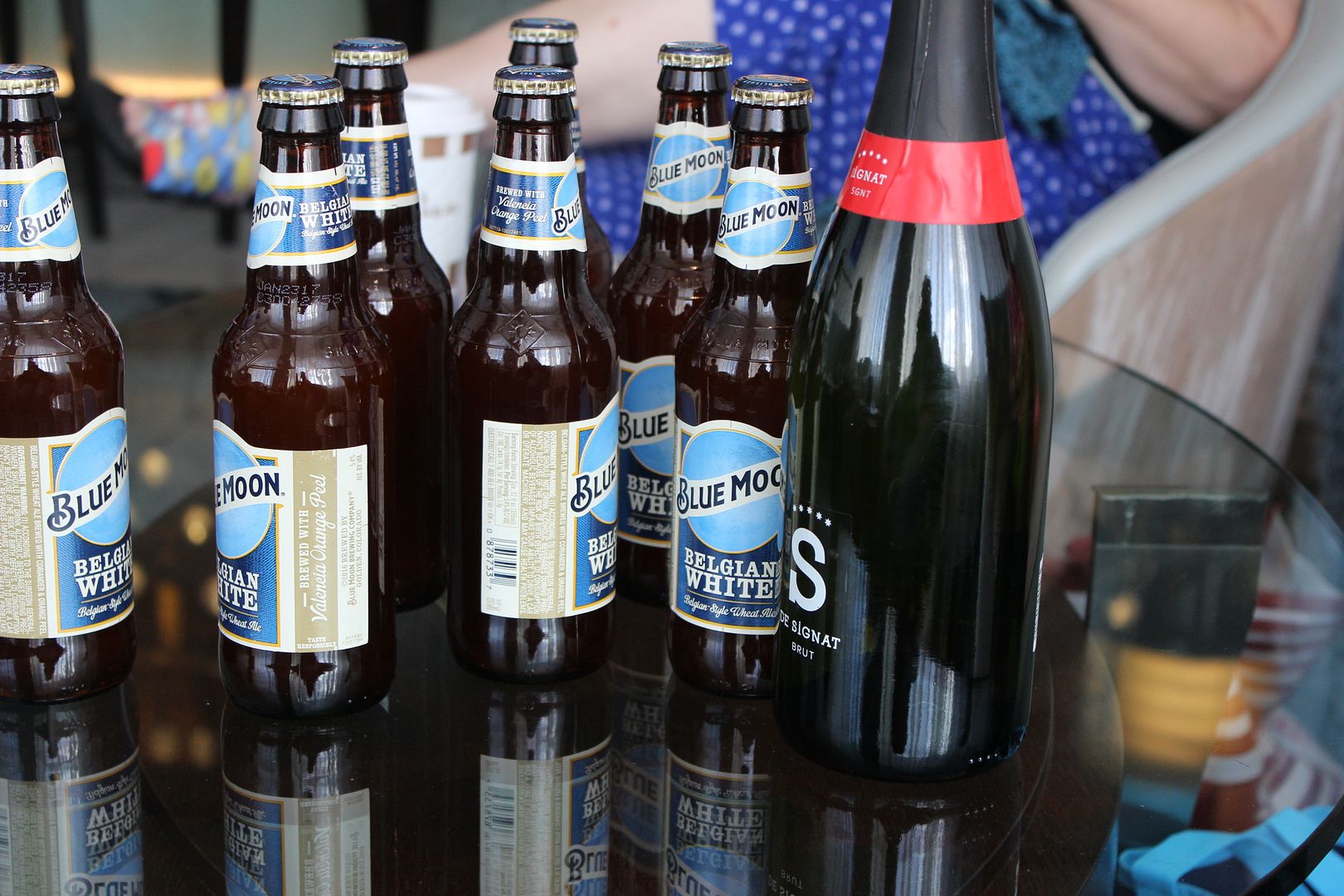 No one complained although we did not drink until after we finished knitting. Marianne finished the binding on her quilt and brought it to show us the finished product. I was also fascinated with Gina's travel purse because it was a Pacsafe, same as my backpack. This purse was a collaboration between PacSafe and Travel smith only sold on HSN.




Some of the projects from the knitting group show and tell.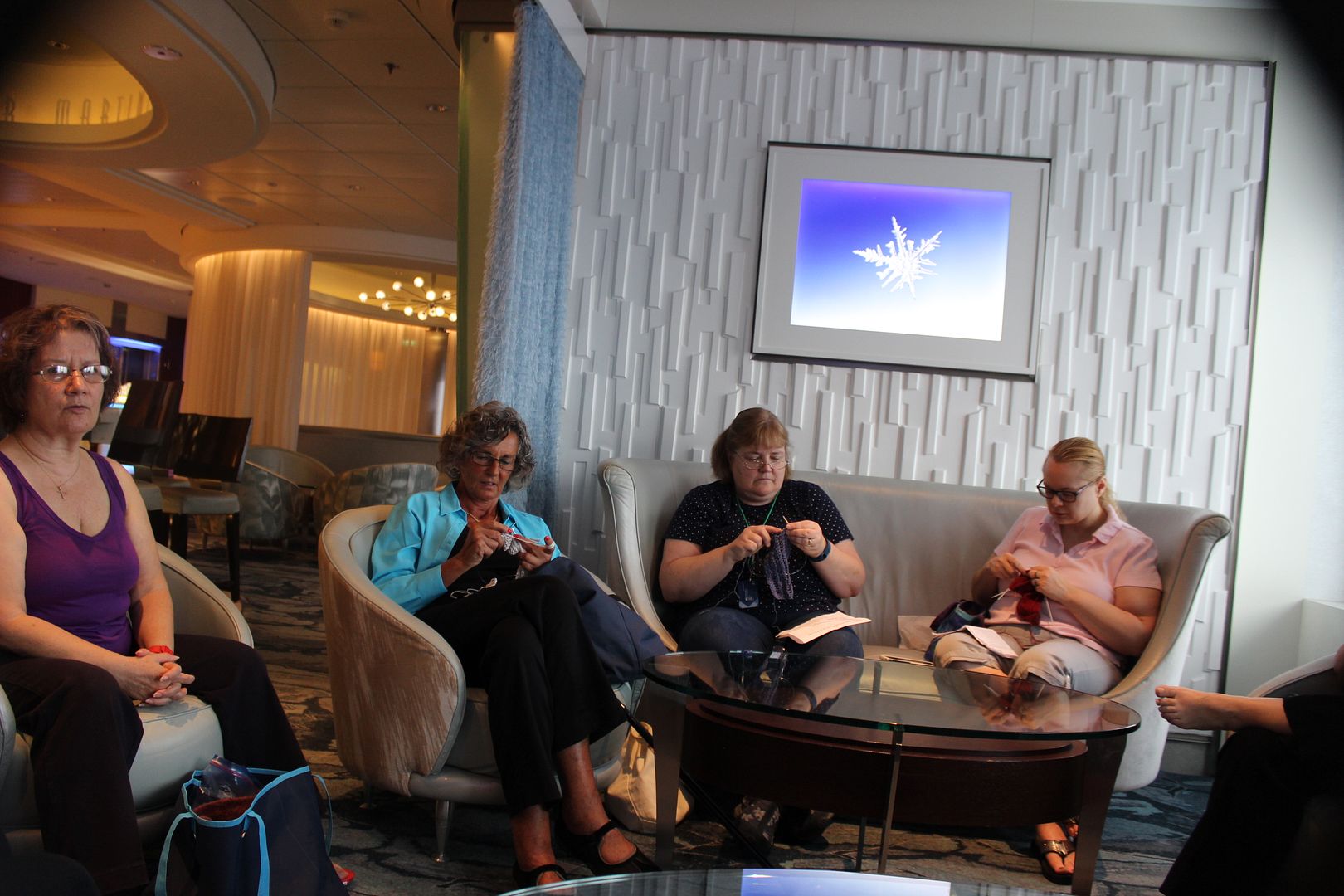 Mom and I spent this afternoon sitting in the shade by the pool listening to the live music. It was so decadent to just sit around doing nothing! The sky became cloudy so we went to the Ocean View cafe for afternoon tea and a scone. Such a nice leisurely day not doing much but hanging out and talking. After going to our room to change for dinner, we headed to the dining room. It was evening chic night. I like trying new things so I try to order something I haven't had before. Tonight was parsnip soup which I loved along with beef wrapped in phylo with sweet potato puree. Creme brule for dessert was worth remembering so I could order it again.




After diner we went to the show - a pianist, Katie Clark. She was very good but not as dynamic as Jane. Probably because I am just not into piano performance. Early to bed and set our clocks back another hour. I love 25 hour days on vacation!
Wednesday, November 2 - Sea Day

Bad weather today. I guess we were due sooner or later to have a day like this. Overcast and raining most of the day. My head is stuffy and hurts so I figured I deserved to splurge and buy myself an almond milk latte. I got my coffee and headed back to the room while mom dressed. We went to breakfast. I gave up on poached eggs and tried potatoes and sausage but not my thing. Oh well, I tried something new! Mom and I split a bagel and spent some time chatting with other people in the cafe. It was a nice morning to just sit and socialize. At 9:15 am mom and I parted and I went to the shops to find decongestant but they weren't open yet. So off for another almond milk latte because that will somehow make my head feel better. Next I settled into the alcove at the Martini bar waiting for the knitting group. Today, our discussion was about Knitted Knockers. I never heard of this but what a wonderful idea! Someone also gave me the easiest pattern for a cowl - SSK, K2toG, YO. I have to try this! I wrote down a book title "The motorcycle Diaries" so we must have discussed that at knitting also. Time to follow up on all my notes! I don't remember most of this day, I don't think we did much as my headache wasn't letting up much. We didn't make it to the show "Sean O'Shea" but I heard it was good. We did go to the dining room for lunch and I tried this Corn Forotto and it was decent - I would order it again. I am not sure if this was lunch on this day or the next but anyway - food photos are always good.




And a photo of the board by guest services with our knitting group. I didn't even know about this board until the group suggested we add our knitting group and I volunteered to talk to Guest Services. Note that I added by name to the writing request I submitted in case they had questions, I didn't mean to publish it but no big deal.


Thursday, November 3 - Sea Day

More sea days! Not much different today - same as always, breakfast, knitting group, however they had a special Murano lunch offer that mom and I had booked. It was only OK, I would not do this again. I liked dinner at Murano when I tried that on the Reflection, but lunch just wasn't worth it. Very limited menu, no table side preparation and my steak was finally, after along wait, served almost cold although it was cooked perfectly. Mom's lobster was the same. The desserts were wonderful though! Lunch at Murano is missing the atmosphere of dinner, it's more like the main dining room, order, get served, leave. None of the extra touches or service.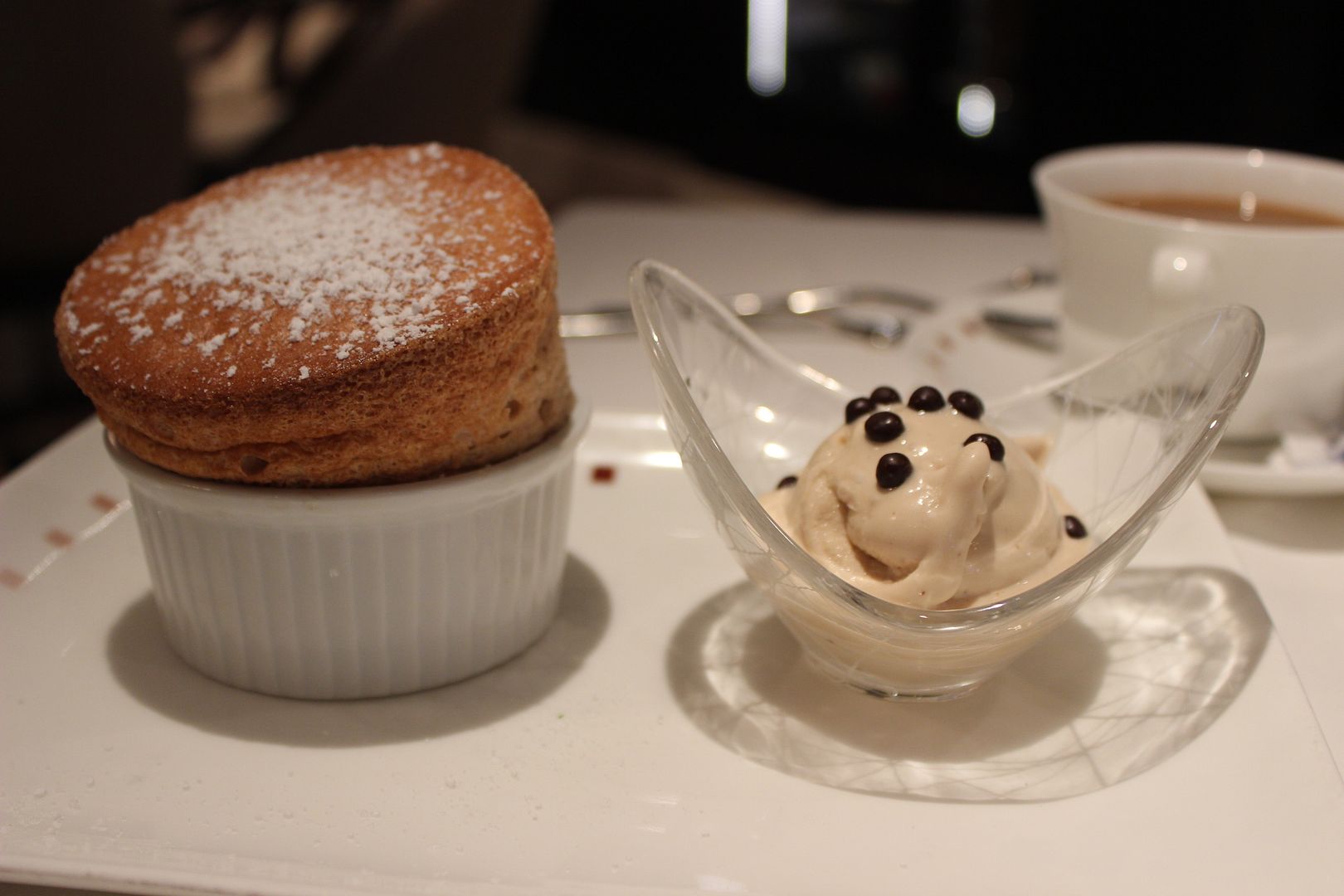 That night we had dinner at Silk Harvest with the Cruise Critic group. This was a fun dinner and the food was pretty good! Everything was ordered and passed around so we all got to try everythging. Some I liked better than others but honestly I can't remember. This is so much fun as a group. We were so large, they seated us at 2 tables. Our toast to Barb, wishing her a speedy recovery from her injury. And only one photo of us eating - I was too focused on eating to remember to take food photos.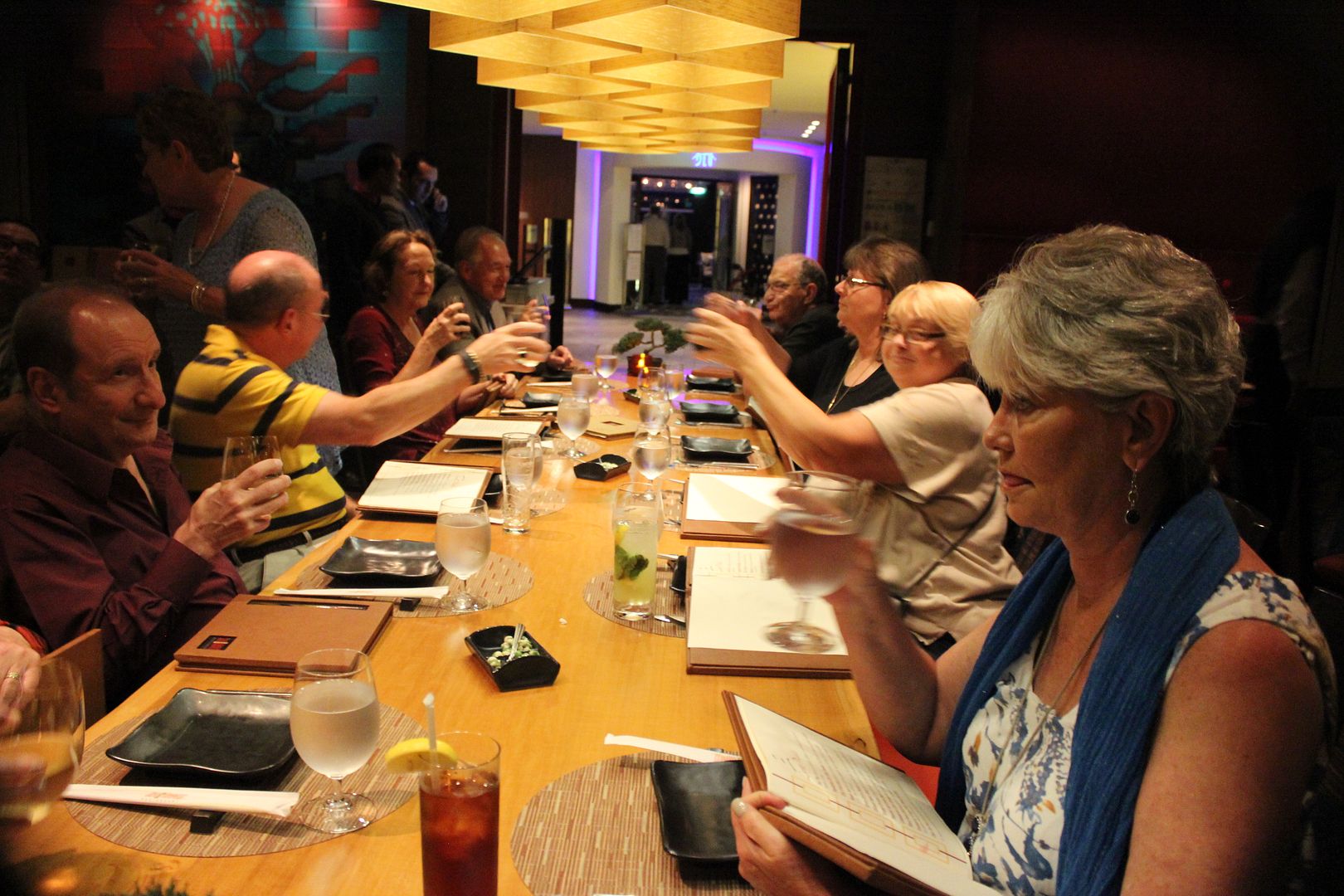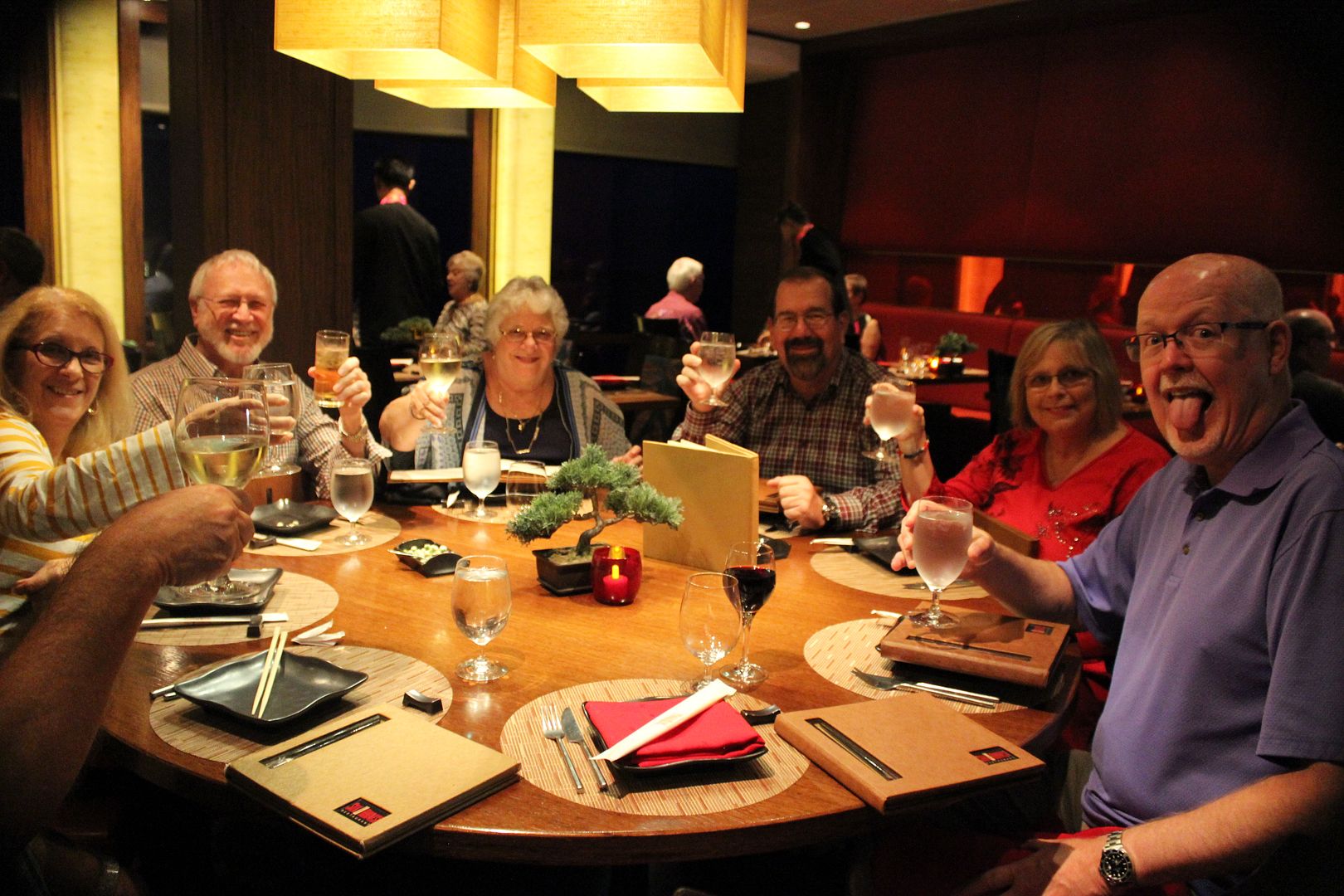 We had so much fun at dinner, we completely missed the show that evening, "The Comedy and Variety of Dan Bennett". We did however catch several of the "Beyond the Podium" lectures which were fascinating. I loved "The Medicine Your Grandmother Took". I meant to get to the Abbalicious Sing Along but couldn't stay awake. I'm just not a night person I guess.


Friday, November 4 - Sea Day

Oh I love transatlantic cruises.... so many days with no plans, no cooking, no cleaning, no laundry, nothing but whatever I want to do when I want to do it! Same kind of day, breakfast, knitting, lunch in the dining room and lounging about. Mom did join the Cruise Critic Slot Pull and won $43 while I was at knitting. I am knitting and my mom is having fun in the Casino... what is wrong with this picture? We did see the 2:30 show which was Jane Curry again. This show was even better than her first one. I think I'd book a cruise just for her as entrainment. We went to the Alaska destination talk - not so great. The lady tried hard but was very flat, unanimated and the slides were generic Alaska stuff right off their website it seemed. I didn't learn anything new. Back to the room for nap and dinner in the dining room. I can't remember what we had so here are random dining room dinner photos.




After dinner, we went to the auditorium to get our seats for the show that evening "Topper". I fell asleep waiting for the show to start so we gave up and went to bed early.


Saturday, November 5 - Sea Day

The sea days all start to run together now. Not much different, knitting, Beyond the Podium lectures, a few shows, socializing with others and eating too much. We did start watching MSNBC news as the election in the U.S. was getting heated and it was hard not to get drawn into the madness. So... more random food photos.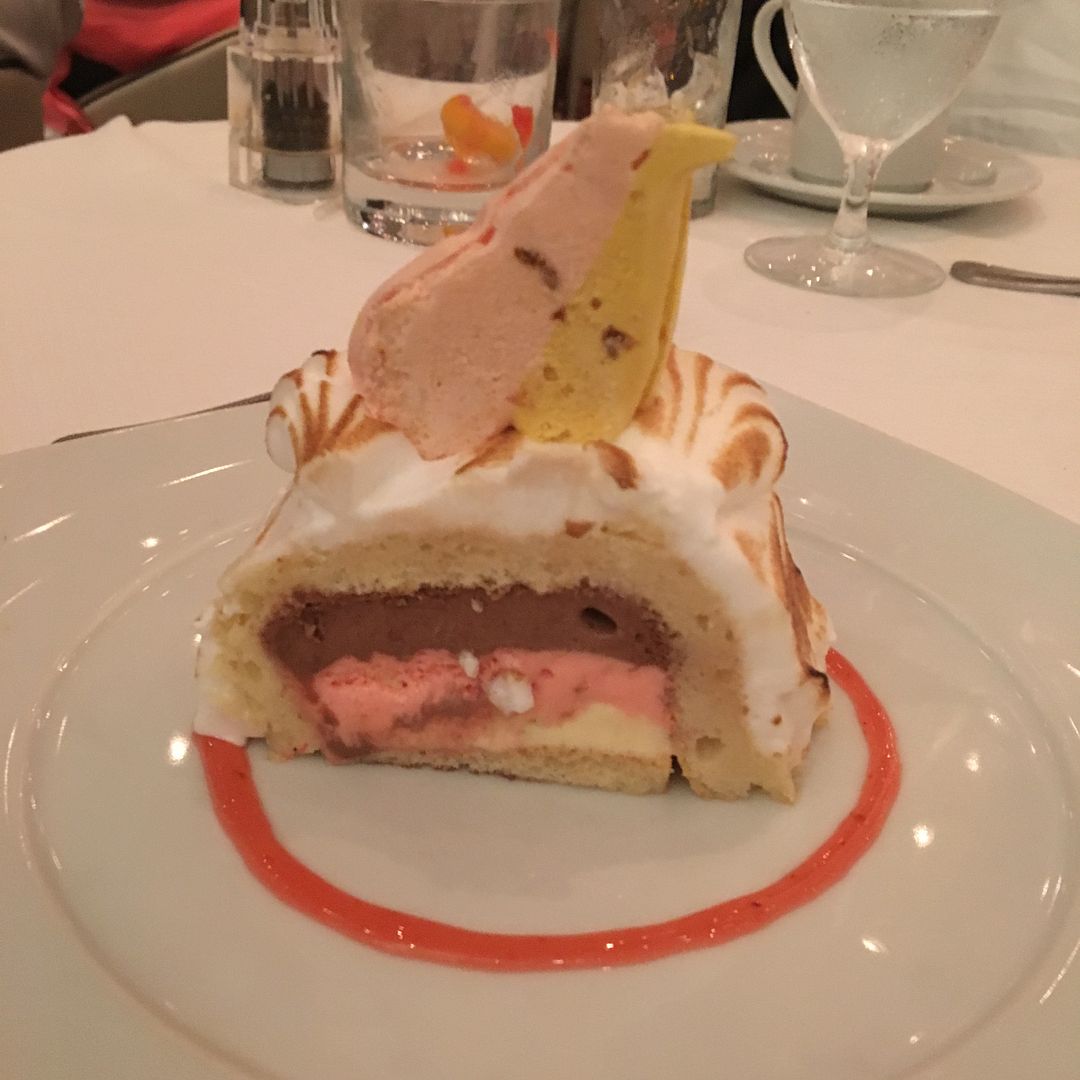 Sunday, November 6 - Sea Day

I think I finally found my favorite Ocean View cafe breakfast.... Muesli with some fruit added.




Another random photo I can't remember but it looks good!




I can't remember which night it was but they had something like a crew talent night. This was a lot of fun and they were amazing!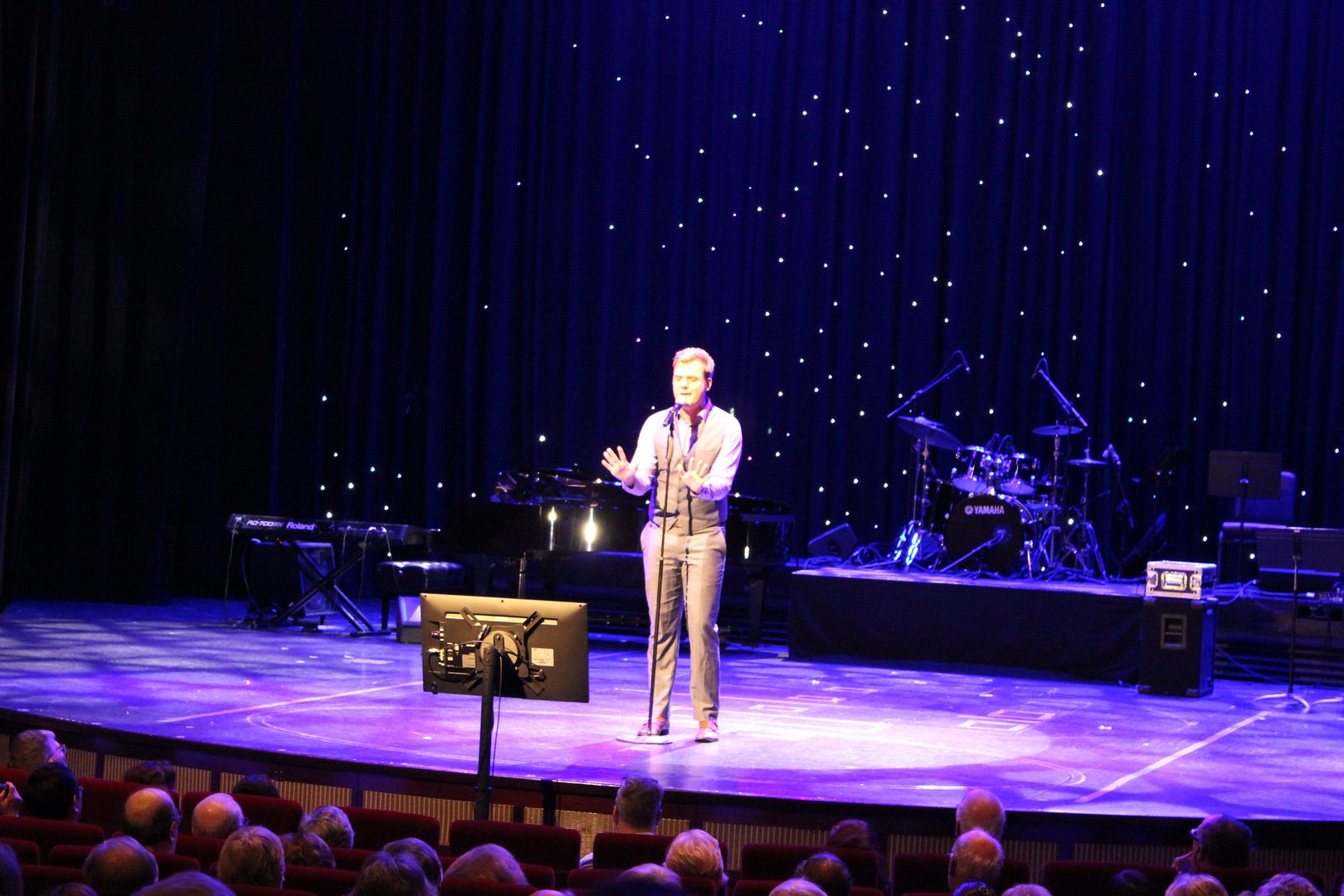 Monday, November 7 - Debarkation

Random photo from one of the sea days - mom watching the weather. It was very windy but fun to watch.




Debarkation wasn't bad. We put our luggage out the night before and we were in no hurry. I had rented a car and the plan was to get an Uber to the airport, pick up the car, mom drive home to Melbourne, FL and I had a later flight home to Phoenix. It all worked well and we spent the morning sitting at Cafe Bacio waiting for our number to be called. Although customs at Fort Lauderdale port were a bit jumbled. Again lots of walking and lots of standing - hard for those with limited mobility. You either have to be very healthy or wheel chair bound, there isn't much help for those in between who can walk some but can't stand for long. We both had Global Entry but it wasn't advertised at all. I finally found someone to ask and them moved a barricade and pointed us to a short line. Guess the answer is to always ask (if you can find someone). A long flight home but good to be back. I already miss the long days hanging out with mom and chatting.